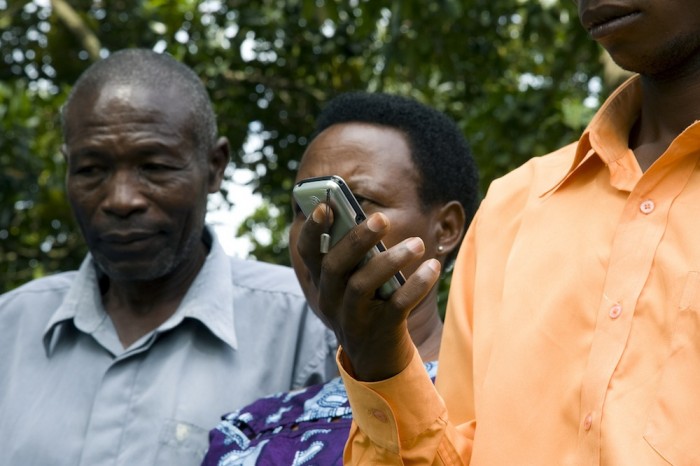 Mobile technology in Africa. Image courtesy of IICD.
In 2007 Rapelang Rabana graduated from the University of Cape Town with a Bachelor of Business Science degree with Honours in Computer Science, but instead of taking up a corporate job in order to pay off her bursary she and two of her classmates decided to start their own business.
"As students we were faced with the high cost of cellphones and we thought the internet should make an alternative available that it should be able to make other things possible like Skype and VoIP on cellphones. We imagined that we could do something on cellphones that could help solve the problem of expensive communication. It was mainly to try and address our own need."
Rabana launched her telecommunications company Yeigo Communications in 2007 with partners Lungisa Matshoda and Wilter du Toit. Yiego Communications was the first telecommunication company in the world to offer VoIP (Voice over Internet Protocol) services for mobile phones.
"Communication is a huge socioeconomic issue, it's unconscionable that it remains so expensive," says Rabana. "We wanted to enable people to connect more easily, to access information, to be able to engage with other people and the world at large, to be able to participate in what's happening. Access to the Internet underlies this."
Rabana gives examples of countries such as Kenya, Rwanda and Senegal where access to mobile technology has revolutionised banking and agricultural.
She goes on to explain that Kenya is probably one of the best example of what access can do. "I think the stats are something like 72% of adults in cities in Kenya access the internet every single day; this is hugely transformative. Other success stories include M-Pesa with 9 million registered users transferring on average $320 million per month. It just goes to show how much more inclusive services can becomes using a more accessible medium like mobile phones.
She goes on to talk about another example in Kenya's agricultural sector where insurance against drought or floods is administered on a mobile payment platform, Kilimo Salama, or Safe Agriculture. The project, which is a partnership between Syngenta Foundation for Sustainable Agriculture, UAP Insurance, and telecoms operator Safaricom, offers farmers, who plant on as little as one acre, insurance policies to shield them from significant financial losses when drought or excess rain are expected to wreak havoc on their harvests. The weather-based index insurance on inputs facilitates a faster recovery for farmers and the local economy following a drought, as farmers can use the insurance payment, done through the mobile platform, to replant and meet other household needs.
Many of these solutions are driven from the ground up. Rabana believes that tapping into local wisdom within the community, which reflects their experiential intelligence, trumps any amount of brilliance or resource that an external party can bring: "By solving problems in a more inclusive way, suddenly you have far more powerful solutions. Being able to bring in more people into the discussion and decision-making processes, instead of being passive recipients of whatever is happening around them is critical to ensure traction for solutions."
Rabana is currently heading up a new organisation called ReKindle Learning that looks at mobile learning applications specifically to create new learning experiences on mobile devices, for school learners as well as corporate employees.
"Learning and education is about access to critical spaces and industries that every person needs to engage in, in order to be a productive adult in the world," she says. "Ultimately every adult and child should be able to own their learning and educational process through access to training material that enables their continued development."
Rekindle specifically focuses on what happens once you've left the classroom and how knowledge is reinforced and consolidated: "What you really need is a mechanism for learning to receive personal feedback according to your performance so that you can master what you don't know until you do. But this is usually very resource intensive and I have a sense that it is something that we could deliver on a mobile platform. After class you can continue learning on a mobile phone, reinforcing the specific content that you covered in a class or workshop."
For Rabana it is about redefining learning experience and creating new educational paradigms that could also alleviate some of the deficiencies that are experienced in traditional educational environments.
"For me creativity is the ability to rephrase a problem. Generally when you look at a problem there is a traditional way of seeing the creators, victims and factors contributing to the problem but changing how the role players in that situation are perceived rephrases the problem that allows everyone to be a part of the solution, leaving everyone more empowered to change that situation."
Read more about four apps developed in Africa addressing contextual issues of argiculture and health care.