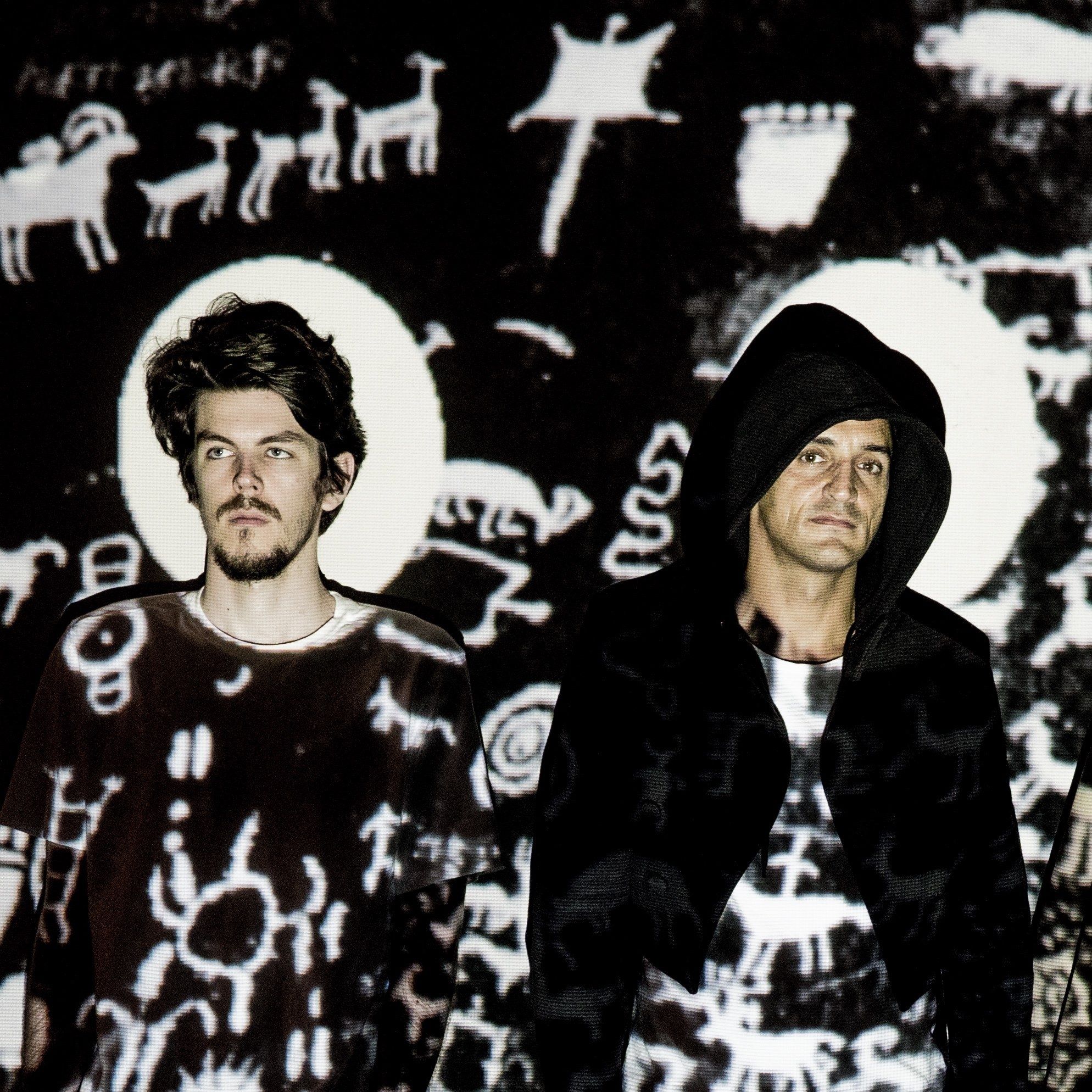 Known for their combination of music and large-scale visual setups, Original Swimming Party have been creating hypnotic, dreamy, African-influenced electronica together since 2013.
Ahead of their performance at Design Indaba 2017, we sit down with band members Jeremy De Tolly and Thomas Glendinning (the latter joined the chat via an intermittent Skype connection) to talk influences, the resurgence of South African hip hop and what audiences can expect from them at this year's DI Nightscape.
Who is Original Swimming Party?
Jeremy De Tolly: Original Swimming Party is, in essence, Thomas Glendinning and myself. We are a duo who works with a lot of collaborators both visually and sonically. Tom is London based at the moment, and I am Cape Town based. We are essentially a…what's that term again, Tom?
Thomas Glendinning: An audiovisual band…
J: Ya, we're an audiovisual band, if you like…
T: … a long-distance audiovisual band.
Is there a story as to how you guys arrived at such a unique name?
J: There is. It just so happened that I was on Lake Titicaca in Peru on a boat – and that's at about 4000 feet, it's monstrously high altitude in Peru – and the water was extremely cold and the air very thin and I was with friends diving into this water. One of my friends screamed, "We're the original swimming party!" And I thought that that was such a great band name! That was about five years ago.
How would you describe your sound?
T: I think we'd describe it as African influenced electronica. We pull a lot of influence from Western forms of electronica that are quite dreamy or alternative but then we bring in some local South African and general African influences. A term we've used before is 'Afrotronica'…
J: We're great fans of Gqom and Kwaito and SA House, as well as Niger groves and Cameroonian grooves and Angolan grooves – you know, harmonic structures and bass sounds and all sorts of stuff like that but we also just mix it with western electronica. It's also vocal as well, there's a distinct singing style to it.
How do African rhythms affect/influence your sound?
J: It influences us massively! We're excited about all of the current South African music including the massive resurgence in hip hop and new age Kwaito that's coming through as well as SA house – especially Durban house and Kwaito House which is incredible. So we're pretty plugged into it and we've even started a dance based journey. We've been working with Maxwell Xolani Rani investigating Pantsula and dance forms like that and that really mixes into the new age Kwaito and Gqom and house scene stuff and it mixes into our art as well. We've got quite, uh, awkward Pantsula moves but we have Pantsula moves.
What inspires the visual aspects of your live performances?
J: Well, we started doing the visuals from the first show really – so it's not really about what it adds, that's just what we are. We consider the visuals at all times when we're working musically especially in terms of performance. The visuals provide a whole other dimension to our show. Where the songs tell their own individual story, we use the visuals and the arc of the performance to create a ritual space and to creative a kind of narrative thread throughout the whole show. They allow us to express things that aren't in the individual songs that we want to express on a macro level: things that are going on in South African politics and culture, our massively skewed economy and our kind of post colonial heritage that we're quite tweaked by and want to talk about.
Your previous work featured some unexpected political themes/lyrics – can fans expect something similar from your new material?
J: We are about to release an album, which will be out mid-February, and yeah, that's definitely part of what we write about. It's a peculiar time on an international economics and ecological level. I mean, we scoffed at Y2K, but things are getting a little bit apocalyptic now you know, with Trump coming into office, Brexit, the rise of nationalism and an absolute inertia about climate change amongst us all. It's a deep complex subject by which we're all caught in a system that doesn't really work so it's absolutely going to emerge in what we write about.
And sonically, what will your new material be like?
J: Relative to our previous EP's, our new material is probably a lot more danceable. It features a lot grooves that were really influenced by house and Gqom.
T: I definitely feel like our sound on the album as a whole has evolved a lot from where it was. It's a lot more refined; we've explored rhythm – as Jeremy said – a heck of a lot more. There are a lot more African sounds and rhythms incorporated into our new material. And we've gone, or at least we've tried to, go over and above where we went before in terms of sound design, sound choices, and field recording than we have on previous EP's. We've also got a number of collaborators on the album, which is going to be pretty cool and just sounds great.
J: Just to give you an idea, there's one track we did that has a somewhat jazz meets Afro-house groove to it. Tom went into the water tunnels underneath Cape Town and he was doing binaural recordings in the tunnels – which are amazing, they're huge! We were exploring the stories some of the original peoples who inhabited Cape Town and ran a trading station long before the Europeans got here. So all of these hidden stories in the water underneath the city is just such a great metaphor for all of the stories buried beneath the land that need to come back up.
So if we were to define indigenous sounds as being 'of the land' or 'from the land', how does this feature in the music?
J: We've tried to, with our field recordings, record the sounds of our life depending where we are in South Africa and these can be sounds of nature or for example in the tunnels or even from our homes. You forget when you're sitting around your house how much of a constant roar there is from the city – it's not silent at all. So those kinds of sounds provide useful fodder to create amazing ambience. And it's going on around us all the time, even as we sit here.
How would you describe the South African music scene, as it exists today?
T: It's definitely growing in leaps and bounds and I think is starting to get the attention that it deserves overseas, especially in terms of the genres we've mentioned like Gqom and Shangaan electro. We're also seeing more and more local bands breaking out in Europe and in the States as well. But the more commercial scene as well is also starting to gain a lot of traction – I mean, someone like Black Coffee is considered to be among some of the best in the world.
Can you tell us a little bit about what audiences can expect from your performance at DI this year?
J: I would say they can expect an explosively danceable, massively emotional, extremely fun, quite strangely touching show. I think we will touch people in a way that they're not normally touched…that sounded a bit weird…Tom, you might want to rephrase that… [laughs]
T: …yeah we probably should…
J: It's a pity you're not recording this glitchy Skype interview, it would make great song material….
T: That's true…
J: But yeah, we'll have our visual show which will be extremely beautiful. There'll be quite a big dance element to the show as well, so people will be seeing some next level moves. We'll also be featuring many of the tracks from our new album. Our performance at DI will literally be the debut of our new album, Hypergiant, on stage in South Africa.