Limpopo-born Design Indaba Emerging Creative Kutlwano Angela Monyai, who currently lives in Pretoria, is a full-time artist, art researcher and writer. She holds a degree in Fine and Applied Arts from the Tshwane University of Technology, majoring in sculpture and painting.
Design Indaba spoke to her about ancestral bondage, reclaiming the Black female experience, and the expressive power of crochet.
1. Your work has undergone some interesting shifts, from painting and mixed media to crochet. Can you tell us more about the process?
I've been finding my way through experimentation, and whenever I come across familiar materials that speak to me – which I feel I could employ in giving voice to my narratives – I pause.
I take the time to reflect and examine the material, then find techniques and methodologies that I can use to better communicate the relationships between the material and my own experiences.
I consider painting as a thinking process. This is where most of my ideas start materialising. Within this painting process, I merge mixed media like Nwenda fabric, which is linked with my heritage, by cutting the material into various shapes and colours to create the desired patterns.
I learnt to crochet at a tender age, but during the first year of the pandemic I decided to look more closely into it. My mother has been crocheting medium-sized carpets for her home for as long as I can remember, and one weekend I decided to take a break from my usual painting routine to crochet with her. In that moment, I decided to listen to the idea I've had at the back of my mind to translate the images from my paintings into a crocheted tapestry.
2. Maps are very important in your work. Why is this, and what are you hoping to map?
When I was still in my primary and secondary years of schooling, textbooks were my artbooks, especially my geography textbook. I used to be obsessed with the images. My visual diary was flooded with doodles of maps, integrated with other drawings. I even went as far as to make a contoured landscape sculpture out of corrugated cardboard. The logic of translating landscapes into that kind of abstracted yet simplified form of image to suit a universal understanding of an object or a place was interesting to me, and still is.
I therefore use maps as a visual tool and a metaphorical site for a personal examination and interpretation of life experiences, in the hope of mapping the abstract relationships between landscapes and bodies, dreams and spiritual paradigms, economic and family dynamics.
My maternal lineage is fundamental to my art, from painting to crocheting, and I draw inspiration from my lived experiences and from the use of different materials.
3. Who are some of your biggest influences, and how have they affected your work?
I'm influenced by several creatives, like El Anatsui, who is a Ghanaian sculptor. He uses found materials to create his massive, abstracted tapestries. Secondly, I'm influenced by Wangechi Mutu, who is a multidisciplinary artist working in film, painting, sculpting and more. She manages to draw me into her imaginary world of landscapes and bodies.
These two artists influence me visually as well as in terms of their work ethic, making it possible to put my visions to the test and bring them to life.
I must also mention the literary works of Toni Morrison, with her effortless yet sophisticated way of writing about the Black experience, and Ben Okri, who shifts smoothly between the spirit world and the real world.
4. Tell us about some of the projects you're working on at present. How are they stretching you as an artist?
I'm currently working on an ongoing theme of making for the body and space by recreating objects that embody the human experience, particularly the Black female experience (in line with personal, maternal experiences). This project is stretching me towards abstraction and conceptualisation, exploring forms and patterns, and teaching me how to be minimal yet effective by manipulating plastic materials into crocheted sculptural forms.
The academic projects are mainly stretching my writing methods and my research techniques, as well as my reading capacity.
The painting project I'm currently busy with is a continued study of mapping bodies with abstract landscapes, with the intention of looking closely into meticulous visual details.
5. Any career highlights to date?
My current career highlight is the residency Young Womxn Studio Bursary that I'm undertaking at the Bag Factory. Being selected for Design Indaba's Emerging Creatives Class of 2022 is also a highlight! Thirdly, I've been invited to participate in Berman Contemporary's The New Vanguard, a mentoring group for artists with emerging practices.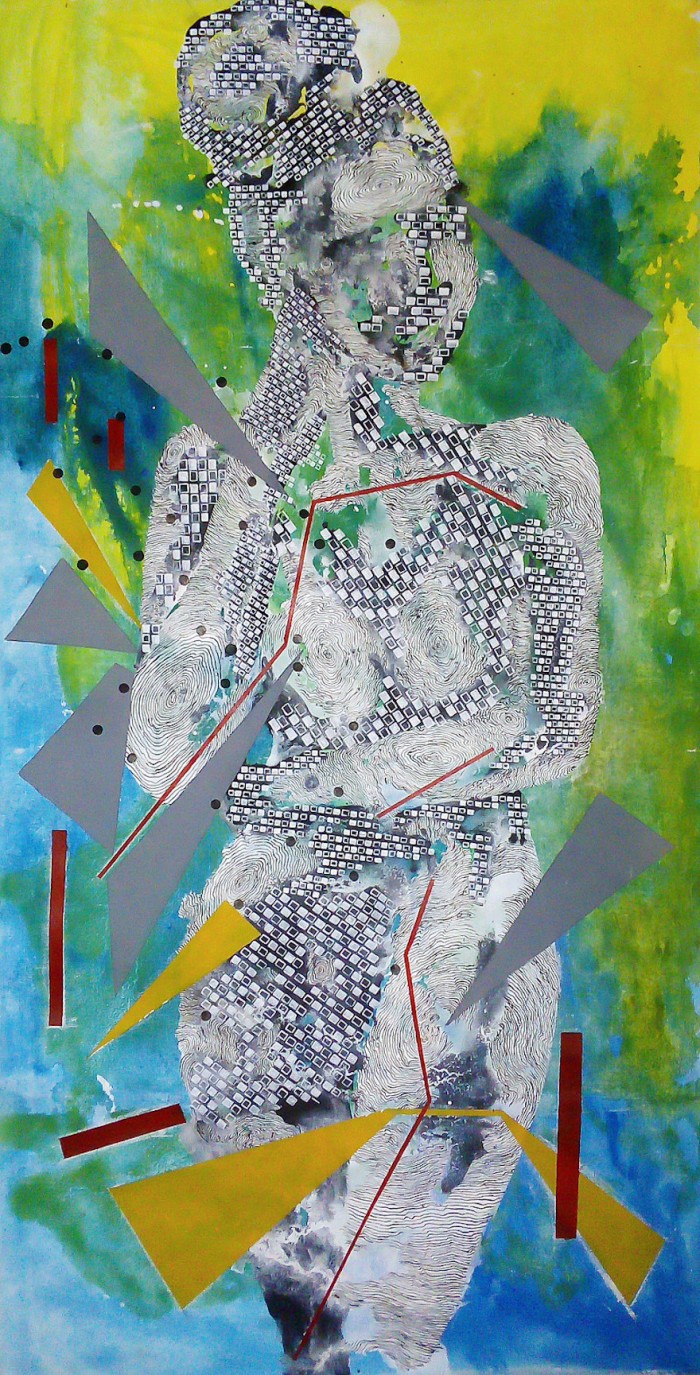 Read more:
Announcing Design Indaba's Emerging Creatives Class of 2022.
Credits: Kutlwano Angela Monyai