Multidisciplinary artist Akshar Maganbeharie, a Design Indaba Emerging Creative for 2022, is primarily inspired by pop culture – specifically Britney Spears, Starbucks, and Kylie Jenner. But his apparently light-hearted artwork makes trenchant comments about the dark side of capitalism and the destructive nature of cultural imperialism. The Cape Town-based creative, tells us what lies at the heart of his evocative, semi-abstract artworks that focus on the stars of Hollywood, Bollywood and the music industry.
How did you become interested in the arts, and what led you to explore different media?
I had always been interested in drawing and painting from a young age. I was encouraged by my parents, who nurtured my creativity throughout my childhood. It was only when I got to high school that I become aware of art as a solid career. I went on to study Fine Art at the University of the Witwatersrand and was able to explore different forms of making. Interestingly enough, I was quite drawn to photography and installation as a medium for some time, but returned to painting and drawing as they are the media I enjoy the most.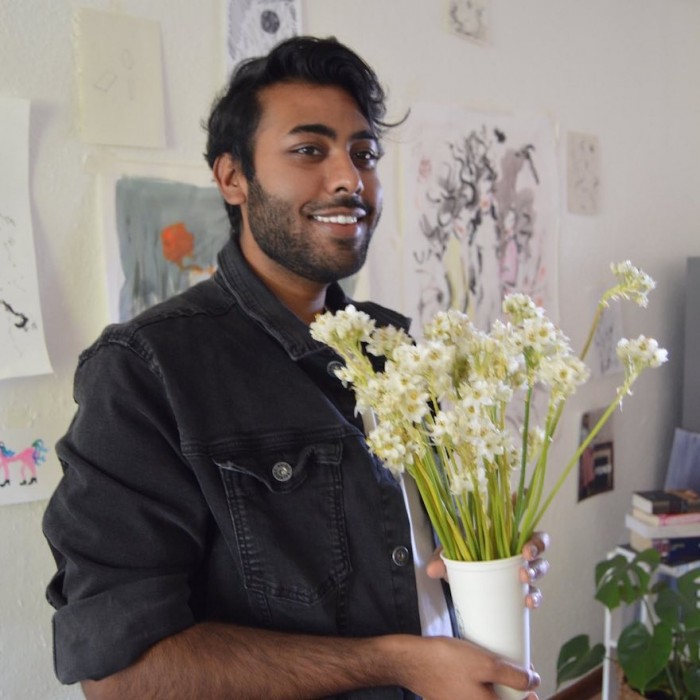 Your work draws heavily on pop culture – can you tell us a little bit more about this fascination, and how it's represented in your paintings?
I'm the biggest Britney Spears fan. I think I've always been aware of the media I grew up watching, which included pop girls, lots of Disney Channel, Gossip Girl, Pretty Little Liars and a whole lot of Bollywood. My fascination with pop culture came as a sort of escape from the mundane reality of everyday life. Watching celebrities like Britney being extraordinary on screen convinced me that I could also be extraordinary, which is something that I like to explore in my paintings and drawings. I like to take fragments of shapes, colour palettes, and symbols from images, movie and music videos and break them down into abstract forms, transforming them into different things.
How does your work address broader issues like capitalism, cultural imperialism and neo-colonialism?
There is definitely a darker side to the glamorous façade of pop culture, which capitalises off people. Pop stars become products and the whole machine moves in such subtle algorithms. The entertainment industry also sells dreams all over the world (Bollywood, K-Pop, Hollywood and so on.) It's with that in mind that I create my works. The distortion of forms and figures is an abject reminder of what capitalism is. I uncover what lies beneath the aesthetic of Instagram photos while celebrating them at the same time – almost as if I'm in on the joke. Mega-companies like Starbucks and the Kardashians are also influences in my work. I find it helps to explore and interrogate these themes by working through acrylic paint's plasticky surface, colours and shapes. Instagram and broader social media definitely form part of the capitalist machine as well, as they've become avenues for us to consume and produce culture.
Who are your greatest influences, and why?
Britney Spears, Kylie Jenner, and Starbucks are my greatest influence(r)s at this point. The South Korean K-Pop girl group LOONA is one, too, but I'm sure it's just a phase. I guess they're just iconic figures that have stuck out for me. I was also a part of Stan Twitter from a young age, so references to the Twitter and Tumblr eras of the early 2010s are definitely influential in my practice.
What are some of your career highlights to date?
One highlight is being part of the Kutti Collective. We are a collective of collaborating and individual South African Indian artists and our members are Tyra Naidoo, Alka Dass, Youlendree Appasamy, Saaiq'a, Tazme Pillay, Kate'Lyn Chetty, Talia Ramkilawan and me. We came together as a response to a lack of representation of South African Indian artists in the art industry and we collaborated on a few projects last year, one of them an exhibition titled 'It Means Bitch' at the P72 project space in Johannesburg. It was our first physical group exhibition as a collective and it meant so much to all of us. Being part of the collective has really helped me to feel confident in my art career as the members provide a space for support and encouragement. I'm so grateful to all of them and the work that they do.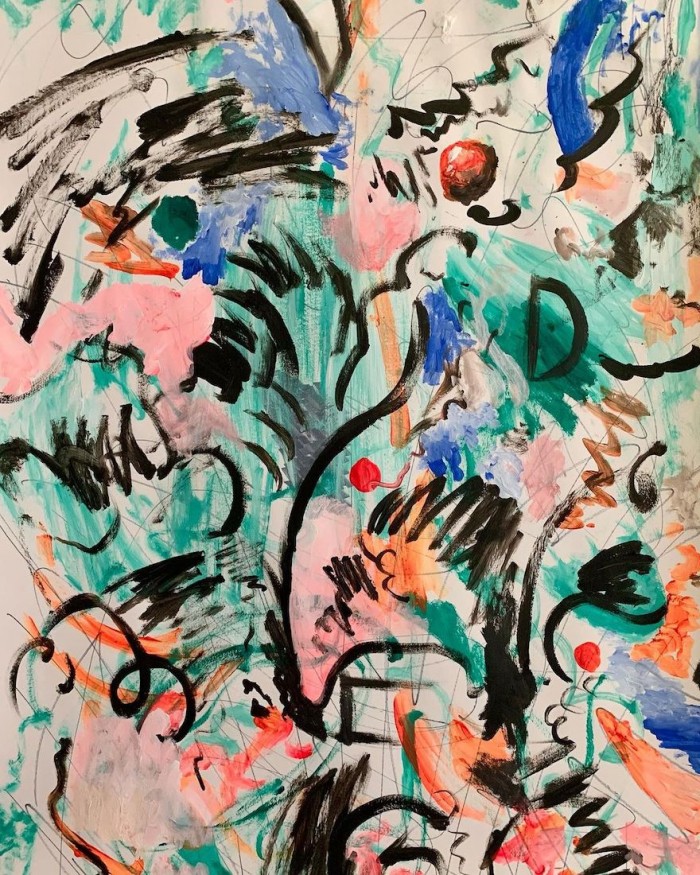 What's next on the agenda?
My work will be included in a few group exhibitions in Cape Town, in February 2022. One of them is at The Fourth, a dynamic new gallery space in St. George's Mall. There will be more projects with the Kutti Collective this year and I'm also hoping to put together a solo exhibition in the near future!
Read more:
Announcing Design Indaba's Emerging Creatives Class of 2022.
#DI Emerging Creative Pule Magopa tells us about how graffiti shaped his artistic career.
Bag some time with former #DI Emerging Creative and Mebala founder, Tlhalefang Moeletsi.
Credits: Akshar Maganbeharie