Johannesburg-based Nandipha Yanta, a Design Indaba Emerging Creative for 2022, is hoping to pursue a Master's in Fine Art. The painter and photographer focuses on representing Black women practising radical self-care and prioritising their mental health – a unique approach in contemporary artwork. Design Indaba asked her about her work processes and influences.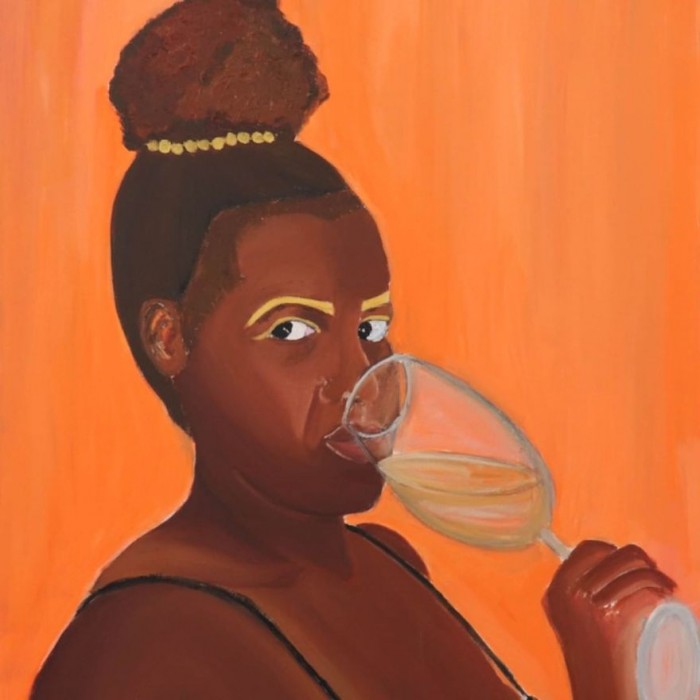 1. You have come to painting relatively recently, but seem very comfortable with the medium. Tell us about this journey.
Painting is something I have recently gained confidence in. I dabbled with it in my first and second undergraduate years, but I didn't really get serious about it until my third year.

I started by painting self-portraits and went on to paint different people. The more I painted, the more I grew to love the medium, especially oil paint. While I was trying to find my unique style of painting – which I hope to master – I often looked at the way in which other artists painted, which inspired me and helped me immensely. It's all a work in progress.
2. Your focus on self-care for Black women is timely. What led you to explore this in your art, and what messages would you like to get across to Black women?
First and foremost, I have had my own issues navigating life as a Black woman, so I am going to automatically support my sisters. I have seen and read about the sexism and racism that Black women have been subjected to, which include stereotypes like the 'strong' Black women. This trope doesn't allow Black women to be vulnerable and feel safe enough to care for themselves.

My intention is to tell Black women that it is okay to not be okay; that they should focus on their mental health first, invest in the utmost amount of care, and take action that will make them feel great.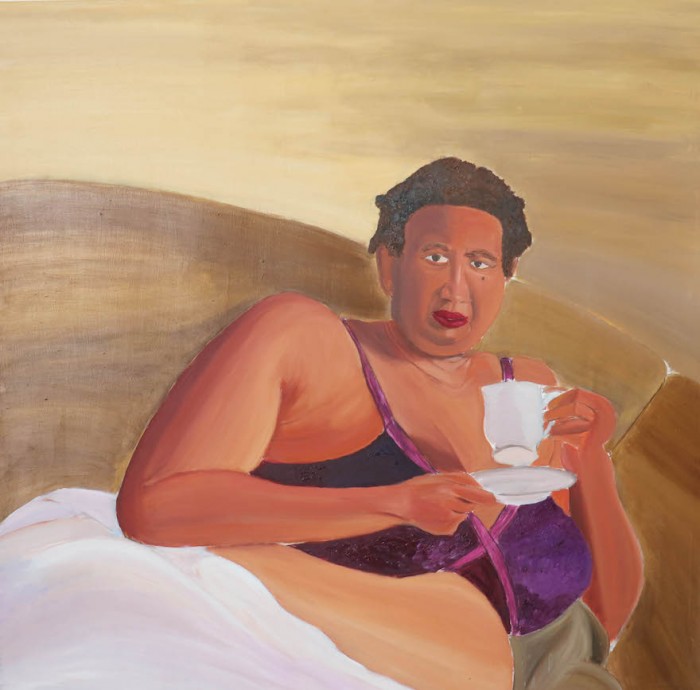 3. Tell us about some of the symbolism in your work, and what it signifies?
I painted different Black women who allowed me to take photographs in their homes, where they are most comfortable. The women in my paintings have a motif that symbolises how they would describe their self-care regimen. For example, in the painting titled 'KGAAKGE', the woman (my mother) is relaxed on her couch, drinking a cup of tea, which is how she defines self-care – unwinding after a long day.

When it comes to my colour palette and style, I enjoy different shades of brown, from the burnt sienna to burnt umber – and there's one type of paintbrush I stick to that I can't seem to let go of whenever I paint.
4. You also take photographs. In what way is photography very different to painting, in terms of what you want to express?
With the photographs, I use the subject's body as the reference first, and play around with the background afterwards. Because the photographs seem more explicit and fleshier, the subjects feel more comfortable with them being used as references. As I took the photos, I interviewed the women to learn how they prioritise and practise self-care, as part of my research and to assist my creative process.
5. Which artists have influenced you, and in what way?
Throughout my painting journey, I have and will always be inspired by Mickalene Thomas, Jordan Casteel, Amy Sherald, Kehinde Wiley, Thenjiwe Nkosi, and Cassi Namoda because of the way they portray Black people in their art – as beautiful, powerful, desirable beings.

Reading a lot of books and journals that pertain to Black feminism and womanism helps a lot when it comes to my creative process. I read Audre Lorde and bell hooks books to better understand radical self-care and self-discovery.
6. Career highlights to date?
I was recently privileged to be part of the Joburg Fringe where I exhibited two paintings that were made in 2020. Another career highlight would be exhibiting at the Imba Ya Sarai Gallery, an online gallery curated by Banthatile Molefe.

The most recent career highlight (very dear to my heart) was a dual exhibition I had with a classmate/friend, which was held at The Point of Order, an exhibition space owned by Wits University. One of the biggest achievements so far has been my selection as an Emerging Creative by Design Indaba.
7. What's next for you?
I am excited to continue with my painting journey and research more about Black mental health and representation as I grow more and more passionate about the discourse. I am also looking forward to furthering my studies by pursuing a Master's in Fine Arts, if I am lucky enough to get in – fingers crossed!

As scary and unpredictable as life can be, I can honestly say that I have a lot to look forward to.
Read more:
Announcing Design Indaba's Emerging Creatives Class of 2022.
Futureworld.
Travel, exploration and wonder.
Credits: Nandipha Yanta