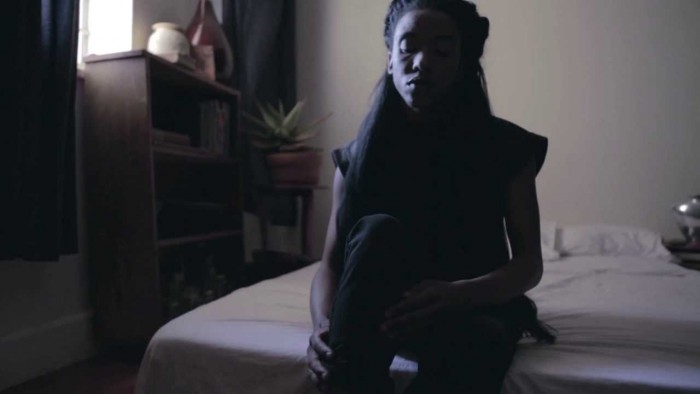 89plus: Kyla Philander.
Whose voices represent half of the world's population? Those born in 1989 and later.
They are only now beginning to be heard and made more prolific by the digital age which also so happened to come about in 1989 with the creation of the World Wide Web. Many things changed around the globe, and in South Africa it was on the cusp of finally becoming free and democratic in 1994.
Mapping what motivates and informs their practice, and how they innovate as digital natives for the Cape Town inaugural 89plus post panel at Design Indaba 2014, we now introduce filmaker and rapper Kyla Philander.
Together with 89plus co-founders Hans Ulrich Obrist, and Simon Castets and myself, Missla Libsekal (Another Africa founder) we talked with Kyla, a digital native belonging to 50% of South Africa's median age group.

Kyla candidly shares his resonating insights and thoughts on how empathy is her major design tool, how the internet is both strong and dangerous.
If your work could be described by keywords what would they be?
Kyla Philander | #empathy #brown #future #love #hurt #plasmapools #education #eq #innernet
What catalysed your discovery that video was the ultimate medium for your storytelling?
A bunch of different films. James and the Giant Peach being one from my more formative years, then I watched Kids by Larry Clark. The inclination to be on screen in a physical sense morphed into wanting to be in control of the film in its entirety. I think the fact that I'm so moved by stories in film/video format instinctively guided me here.
Can you tell us more about projects you have not yet been able to realise?
I think finances have played a major role with regards to unrealised dreams and works, of course. Navigating leaving-the-nest whilst avoiding exploitative internships for big production companies have lead to waiting tables and hustling hard for free studio space. No project of mine will go to waste though – my work is inter-connected and an idea will never be lost; regardless of the spaces I end up occupying, irrespective of how I choose to realise said ideas, they will happen.
As a storyteller, where do you find inspiration for your videos, lyrics, collaborations etc?
Taking public transport in South Africa and working in South Africa. Being South African. Having a vagina. Oh and the internet. Godessa. Garlic Brown. Kanye West. Brown Girls. Everything.
Within your contemporaries, whose work do you most relate to? Do you sometimes work collaboratively?
 Do you see generational creative patterns? Are you part a group of artists? A movement?
There is a young writer called "Desire" whom I connected with online. Desire writes and I read and I feel so much. Desire Marea saves me with the word. You will see.
My foster sister and I rap together as a unit, a duo. I have featured on a track called 'Living Dangerously' with Umlilo (which is huge, because he is the nicest thing on the South African music scene right now) regarding film making, I am the the director so I would say pretty much all my work is collaborative, yes.
How does location figure into your practice?
It figures as much as it aesthetically suits what I'm trying to articulate. Location in terms of my life, which in turn influences my practice, however is VERY important. Many of the heteronormative spaces I grew up frequenting have become quite unsafe spaces for me. 2-3 weeks ago at the Cape Town Electronic Music Festival, I was verbally and almost physically assaulted by someone whom I have known for over 5 years!! I'm still reeling, I wrote a song about it… He's a rapper too; perhaps this is my first beef.
What is the connection between rap music and video? and how does the Internet factor into the mix?
From the youngest age I remember being so so obsessed with music videos. I'd stay up really late and wait till my folks were asleep then I'd go through to the lounge and put on Simunye because you know they will be playing the freshest stuff after 12 and I'd watch TV till the gospel songs came on at which point I knew I would have to go to sleep to be functional in my day. Also, whenever my family would go visit rich, white people, my sister and I would stay glued to MTV and Channel O for the duration of the visit.
The connection is just that I developed a visual narrative through music videos and the way the internet ties in with that is that it is ANOTHER platform I could distribute my stories on. And perhaps reach larger groups of people.
How would you describe your relationship to online socialization, and do you see it playing a part in your work?
Ah the internet and me – we are in some type of relationship. The internet is a strong tool in a multifaceted way. It is also very dangerous. I try and occupy my online social spaces in engaging and empathic tones and references because IRL too many people are othered and marginalised in such intense ways, usually borne out of gender, race or cultural relations. I just want to be that brah who creates a safe online social space for people to meaningfully engage and share their thoughts and feelings about social, political or spiritual constructs. Because for real online is about information. I want to be a pool of meaningful info.
How can hip-hop shift consciousness? How do you hope to accomplish this through your music? What about in your videos?
I think that there is a common misconception within the general understanding of Hip Hop and that is that it caters to a specific sound and market. Maar asseblief mense verstaan: Hip Hop, unlike other genres is this ever-evolving, LIVING, organism which originated in struggle and was borne out of expressing the struggle – when I make music empathically and that perhaps moves someone to seeing something differently that is for sure a shift.
In terms of my video (but I plan to make shorts and features and documentaries too) it will be about expressing the most sincere and honest stories that I can.
How did you come to art?
The distinction between the have and have nots has always been a very obvious thing for me. When I was a kid (a younger kid) I wanted to change the world, because it felt wrong! Then one grows up and ideologies change. Right now I am focused on how I could actively become a positive contributor to THIS society and so my journey to my art was borne out of a necessity to be the difference I want in this life.
What will change everything? or "The future is…
The future is all these brown people I see in the streets with these fires I can feel in my heart.
Watch the Talk with Kyla Philander