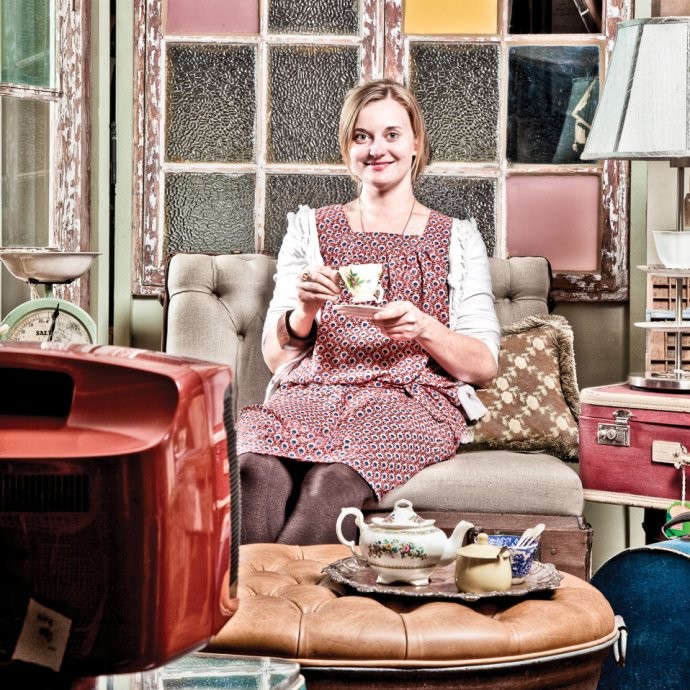 1. What items would you put into a time capsule?  
My collection of favourite suitcases, old family photo of my mom, depending on the size of capsule - my mom!
2. If you were told that you had to live inside a work of art, which would you choose?  
One of Monet's water lily paintings
3. How do you define creative success?
Being honest and original in your work. Loving what you are doing at the same time helps too!
4. What makes you laugh out loud?  
Most things. Which is rather unfortunate as my laugh is not far from the cry of a hyena!
5. How old were you when you made your first design and what was it? 
As far as I can remember, in school at art we had to make an artwork that represented our personalities. I was the only person who "decorated" a chair, everyone else made exquisite canvases. After that, at design school, I designed a standing lamp with the base being a pair of old retro shoes – yellow patent leather – vile!
6. Are there certain characteristics that all creatives possess?  
I'm going to go with a no on this one.
7. What is the question you ask yourself the most?  
What am I doing?!
8. What is something that you have learnt in the past five years?  
Anything and everything is possible, just ask someone for help. If they tell you it's not possible, ask someone else,  someone else,  someone else … until you get the answers and help you want.
9. In your subjective view, what makes a piece of design good?
 Is it truly original, has it been created before in another shape or form? Does it make your heart skip a beat?
10. What do you do on Sundays?
Sleep late, often go out for Sunday breakfast or lunch, work in my garden, grocery shopping (sad but true) and be back on the couch for the 8pm movie.
11. Who in the world, dead or alive, would you most like to have a drink with?
Papa. My grandfather died when I was 2 and I don't remember him. He is spoken about at every single family dinner as if he is there so I feel like I should know him and he sounds wild! Apparently he adored me, I was his 1st grandchild. Would love just five minutes!
12. Do you have a creative/business muse?
Never thought of her as a muse but I suppose I would say my mom. She is definitely my role model and a seriously energetic super hero.
13. What's the best design advice you've ever received?
Design. Then stop. Don't over design. Keep the other four million ideas for the next project!
14. How do you deal with failure?
Get up and carry on. Focus on the next opportunity and less on past failures.
15. Which qualities do you most admire in others?
Kindness, enthusiasm, generosity and ambition.
16. How do you know when a piece of design is complete?
When it looks just like how I had imagined it would be.
17. What is something you know you do differently to most people?
I do often wonder if everyone's mind has the same washing machine turbo cycle that mine does or if the minds of the general public are just on the usual rinse and spin cycle?
18. What has been your favourite project to date?
The first Decorex exhibition stand I did when launching Recreate in April 2009. It was fun, it was the very beginning. Most importantly I was absolutely oblivious to what was about to hit me.
19. Do you recycle?
Yes of course, but it is not easy. It irritates me a lot but I do it (my small kitchen looks like a sorting depot). Recycling should really not be such a chore and in my next life I will surely be able to think of an easier way for the everyday household person to recycle!
20. Can design save the world?
Design alone cannot save the world, but it can be a big contributing factor.