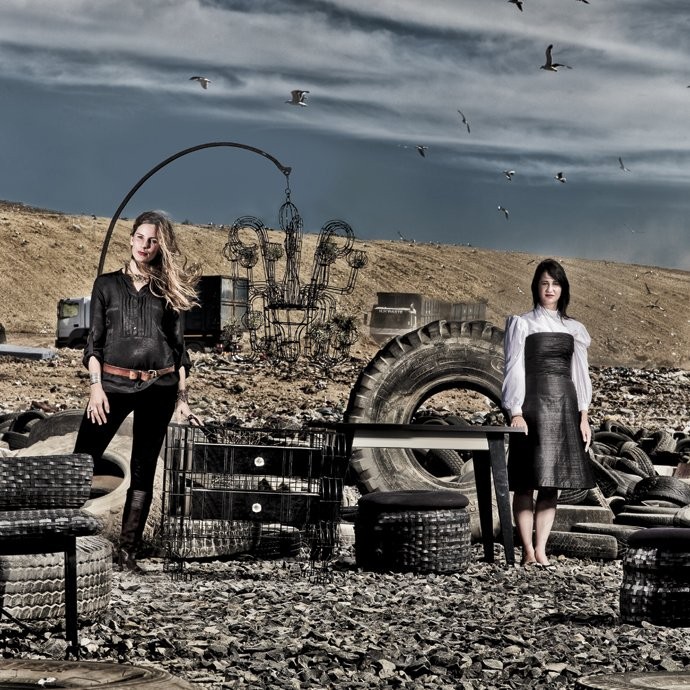 1. What items would you put into a time capsule?  
My 1950's world radio transmitter.
2. If you were told that you had to live inside a work of art, which would you choose?  
Right now I would choose the painting called "Departure of the Winged Ship" by the early surrealist Vladimir Kush. It consists of a ship, with butterflies as sails, gliding into the unknown. I would be the captain.
3. How do you define creative success?
The ability to live an artists dream through creativity for the good of the whole and to be able to buy an island with the profits (after paying for the rehabilitation of a rainforest and solving world poverty).
4. What makes you laugh out loud?
 My two-year-old niece, Hadar, in her authenticity.
5. How old were you when you made your first design and what was it? 
I was six years old. I painted an enamel still life of a real chicken. It is still on my wall.
6. Are there certain characteristics that all creatives possess?
Problem solving the unseen...
7. What is the question you ask yourself the most?
 Who are all these parts of me and what are they doing in my head?
8. What is something that you have learnt in the past five years?
Peanut butter and lettuce goes fabulously on a sandwich.
9. In your subjective view, what makes a piece of design good?
I think that good design must be able to stand independently in the world, without a need for explanation, and serve a real purpose. It should address its environment, both socially and economically and aid in the counteraction of a "throw-away culture". It must be designed with awareness from its conception to its destruction.
10. What do you do on Sundays?
I usually enjoy spending my time away in nature, exploring the depths of its perfect intelligence.
11. Who in the world, dead or alive, would you most like to have a drink with?
Buckminster Fuller.
12. Do you have a creative/business muse?
To date it has been my partner Ewaldi with all her quintessentials. I am also constantly inspired by all the creatives and friends in my life on a day-to-day basis. We are all working in the same direction of the same collective dream.
13. What's the best design advice you've ever received?
Focus until all details are finished, including the paperwork.
14. How do you deal with failure?
I cry.
15. Which qualities do you most admire in others?
Integrity, loyalty, freedom of expression, sensitivity, concentration to details, determination, authenticity, truth, logic, understanding and love.
16. How do you know when a piece of design is complete?
We add a price tag.
17. What is something you know you do differently to most people?
Since I was in grade one I have held my pen differently to the rest of my contemporaries. To the shock and horror of my teachers and parents, it has worked for me.
18. What has been your favorite project to date?
The No Kak Fresh Talent workshop held in Khayelitsha. The workshop was run b 'The Eco Design Initiative and sponsored by SWID. It consisted of five eco-designers from Sweden, LIV Green Design and 25 sustainable design competition finalists from South Africa. We put sustainable design to the test in a five day design workshop where we revamped an "Earthchild Project" yoga studio, play area and shade area in a school. It felt wonderful designing for change, awareness and purpose. We will be joining the winners in Sweden in May for an "Eco Design initiative" sustainable design tour.
19. Do you recycle?
Yes, I even recycle my veggies to my pet worms.
20. Can design save the world?
I like to think so.