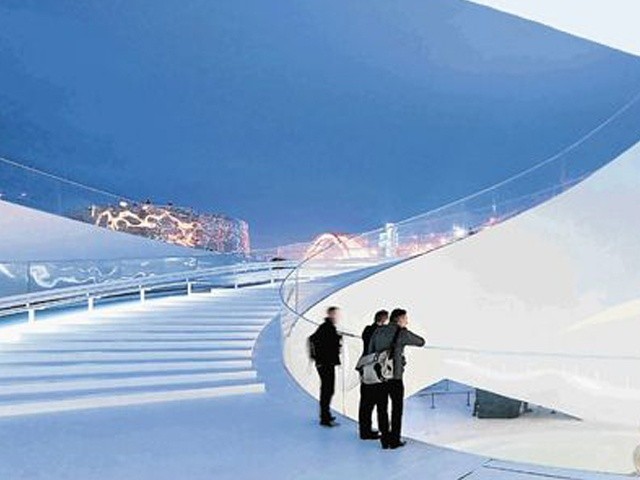 Consider this: In Johannesburg alone, residents and businesses generate about 1.6million tons of waste a year. And here's another fact: Eskom, SA's national energy provider, has the dubious honour of being the second-biggest carbon dioxide emitter in the world.
Now, imagine if you could channel your waste into energy, and with the non-toxic smoke that is emitted from the process, turn it into an installation so visually fetching that people come from far and wide to gaze at it in wonderment.
Sound a bit like the pipe dream of a tree-hugger?
Welcome to the world of Bjarke Ingels (pictured), the award-winning Danish architect who is inventing solutions to a host of spatial and social conundrums - from how to create workable buildings in difficult spots to turning the byproducts of our technological lives into something useful.
"I think wherever you have pollution, you have an abundant resource that is not yet in demand," says Ingels. "If you can use the trash from your household to heat your home, light your apartment and turn on your television, then you have an infinite resource."
We're sitting in a lounge at the Cape Town Convention Centre, minutes after Ingels enjoyed a standing ovation at this year's Design Indaba. I point out that South Africa's track record when it comes to rubbish and dirty fuels is in stark contrast to that of the Danes.
During his presentation he noted that 90% of Copenhagen household energy comes from the excess waste from power production. While SA seems committed to nuclear power (by 2023 we should have six new Koebergs dotting our landscape), the Danes prefer re-tooling what little waste they have into more fuel.
A case in point being Amagerforbrændingen, the waste-to-energy incinerator Ingels's BIG firm (the letters stand for Bjarke Ingels Group) designed.
It features a ski slope (the Danish landscape is notoriously flat, so the design enables Danes to take to the slopes closer to home) and a chimney which blows out intriguing smoke rings.
The playful design reflects Ingels's concept of "hedonistic sustainability".
"Waste is when you have something that you don't use," he says.
"We need to invest in ways of channeling that back into the ecosystem so that you end up with a perpetual-motion engine with no dead ends, where nothing piles up so that it becomes a problem."
The boyish 37-year-old was recently pegged as one of the 100 most creative people in business by Fast Company, and was named Wall Street Journal's Architectural Innovator of 2011, because of his ability to take a fresh look at bricks-and-mortar solutions.
Other works include the 8Tallet residential village in Denmark (built in figure-eight formation when viewed aerially), and his award-winning entry for the renovation of the American Kimball Art Centre, which tilts like an accordion due to stacked timber planks reclaimed from the Great Salt Lake - one of the building's many green features.
Then there's the tongue-in-cheek approach to the circular Danish Pavilion, part of the Expo 2010 in Shanghai, where BIG convinced the Danish government to transport the beloved Little Mermaid statue from her perch in Copenhagen into the centre of the building's pool.
"It's considerably more resource-efficient to move the Little Mermaid to China than to move 1.3 billion Chinese to Copenhagen," Ingels said about the stunt.
To calm the Danes, he persuaded dissident Chinese artist Ai Weiwei to create an installation called Remote, in which surveillance cameras streamed footage of the Little Mermaid back to her Copenhagen home, so that the locals could still keep an eye on her.
"I think what we try to do is design buildings that look different because they perform different functions," he says when asked about BIG's design style. "It is what the building does that makes it look different."
Watch the Talk with Bjarke Ingels