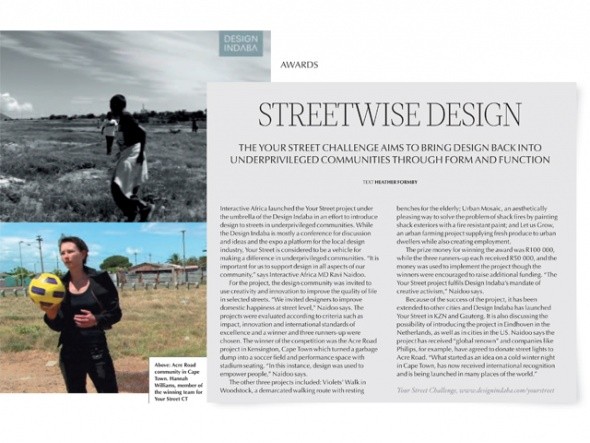 Interactive Africa launched the Your Street project under the umbrella of Design Indaba in an effort to introduce design to streets in underprivileged communities. While the Design Indaba is mostly a conference for discussion and ideas and the Expo a platform for the local design industry, Your Street is considered to be a vehicle for making a difference in underprivileged communities. "It is important for us to support design in all aspects of our community," says Interactive Africa MD Ravi Naidoo.
For the project, the design community was invited to use creativity and innovation to improve the quality of life in selected streets. "We invited designers to improve domestic happiness at street level," Naidoo says. The projects were evaluated according to criteria such as impact, innovation and international standards of excellence and a winner and three runners-up were chosen. The winner of the [inaugural Cape Town] competition was the Acre Road project in Kensington, Cape Town which turned a garbage dump into a soccer field and performance space with stadium seating. "In this instance, design was used to empower people," Naidoo says.
The other three projects included: Violets' Walk in Woodstock, a demarcated walking route with resting benches for the elderly; Urban Mosaic, an aesthetically pleasing way to solve the problem of shack fires by painting shack exteriors with a fire resistant paint; and Let us Grow, an urban farming project supplying fresh produce to urban dwellers while also creating employment.
The prize money for winning the award was R100 000, while the three runners-up each received R50 000, and the money was used to implement the project though the winners were encouraged to raise additional funding. "The Your Street project fulfils Design Indaba's mandate of creative activism," Naidoo says.
Because of the success of the project, it has been extended to other cities and Design Indaba has launched Your Street in KZN and Gauteng. It is also discussing the possibility of introducing the project in Eindhoven in the Netherlands, as well as in cities in the US. Naidoo says the project has received "global renown" and companies like Philips, for example, have agreed to donate street lights to Acre Road.
"What started as an idea on a cold winter night in Cape Town, has now received international recognition and is being launched in many places of the world."