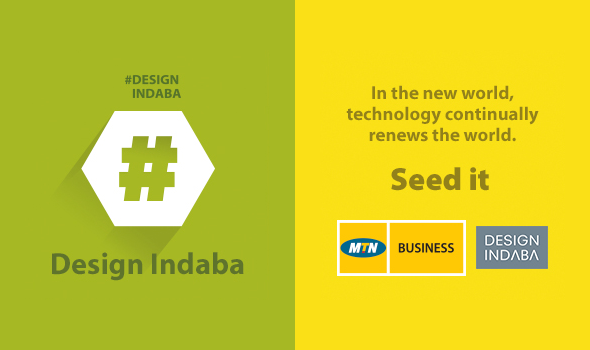 MTN Seed it.
Combining technology and creative thinking can ensure a better world for all.
Design Indaba is passionate about sustainability and the environment. We, too, has taken this cause to heart and established a number of initiatives over the years to ensure a greener MTN.
This year, we hope that what we have brought to Design Indaba through our sponsorship initiative will bring about some change.
When we discovered that one tweet emits 0.02g of carbon dioxide, we put our thinking caps on. We wanted to find a way to turn carbon dioxide emitted by delegates' data usage and social sharing into oxygen.
So we decided to start off by sponsoring Wi-Fi at Design Indaba 2014 Conference. In anticipation of all attendees using it, we'll be able to measure the data used via our Wi-Fi network, calculate the carbon dioxide emissions and know how much oxygen we need to generate to offset it.
And, if that's not enough, we will also be tracking social shares using #designindaba and adding these emissions to our calculation. At the end of the Indaba, we will calculate the total carbon dioxide emissions and offset these by planting trees that emit oxygen.
If you're attending Design Indaba this year and would like to know how much oxygen you have personally created through your tweets, visit our Expo stand.
We'll see you there, where you can help us create oxygen and SEED IT.