Design Indaba is proud to unveil the 10 most beautiful and beguiling designs made over the past year, which have been nominated for the Design Indaba Expo's 2012 Most Beautiful Object in South Africa (MBOISA) award. This year, we invited a dynamic line-up of design journalists and cultural commentators to nominate their Most Beautiful Object, resulting in a diverse and exciting mix of designs.
Every year, the country engages with the question of what constitutes beauty through the MBOISA award. While some may consider beauty an aspect of taste and others know it on sight, beauty becomes far more profound than a visual sensation when design attributes such as social significance, economic impact, usability, sustainability and even humour are thrown into the mix.
All of the MBOISA finalists will be on display at the Design Indaba Expo, open to the public from Friday 2 March to Sunday 4 March at the Cape Town International Convention Centre. The award will be determined by public vote via SMS or online vote, and the result will be announced on Sunday afternoon in the DStv Events Arena.
The Most Beautiful Objects in South Africa for 2012 are:
MBOISA 1: //Hapo Museum by Office of Collaborative Architects – GAPP Architects + Urban Designers, Mashabane Rose Associates and MMA Architects
Nominated by Kojo Baffoe, editor of Destiny Man magazine
The //Hapo Museum, which takes its name from the San word for "dream", forms the primary entrance to Freedom Park in Pretoria. The concept evolved into the creation of large boulder-like volumes that contain the interior storytelling spaces. The boulders are planted at the base of the Salvokop hill like a rock outcrop. The copper-clad walls and roof will eventually rust to green and merge with the natural landscape. The interior spaces of the museum are designed with a cave-like quality, with natural light dramatising the large volumes and 'outcrop' forms of the buildings.
MBOISA 2: Bird Neckpiece by Eric Loubser
Nominated by Chris Roper, editor of the Mail & Guardian Online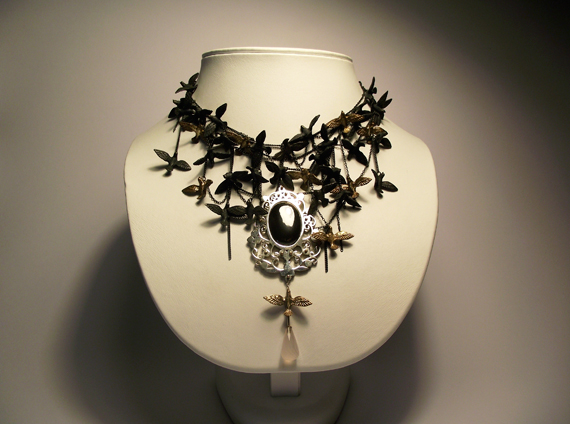 Johannesburg-based jeweller Eric Loubser's design conveys the idea of a flock of birds around the neck, as if they are actually carrying the necklace and hovering around the wearer. It is inspired by a Victorian aesthetic, and made out of 9ct gold, silver, rose quartz, haematite and rubies. It is as light as air but also substantial; pretty and feminine but with a dark edge; precisely engineered with a messy, thrown-together look.
MBOISA 3: Consol Solar Jar by Ockert van Heerden and John Bexley
Nominated by Gregor Naudé, editor of Enjin magazine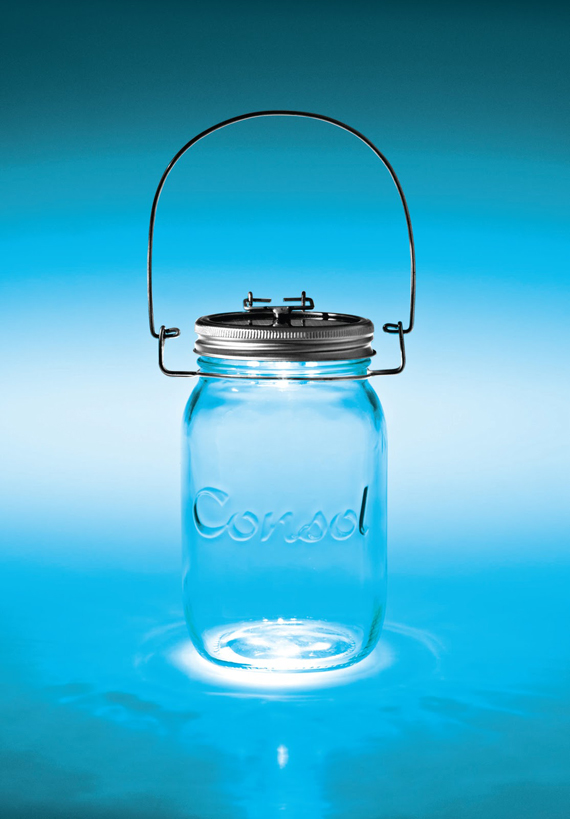 Housed in a one-litre Consol Classic preserve jar, which provides a practical and attractive casing, this alternative light source is literally bottled sunshine. Solar-powered LED lights are powered by sunlight, which is harnessed through a solar panel fitted on the lid. The Consol Solar Jarreceived the Special Recognition Award at the 2011 Institute of Packaging SA Gold Pack Awards. Although not strictly packaging, the judges decided that this clever use of a packaging material deserved an accolade.
MBOISA 4: Frail Flower Paper Sculpture by Rebecca Jones
Nominated by Laureen Rossouw, editor of ELLE Decoration magazine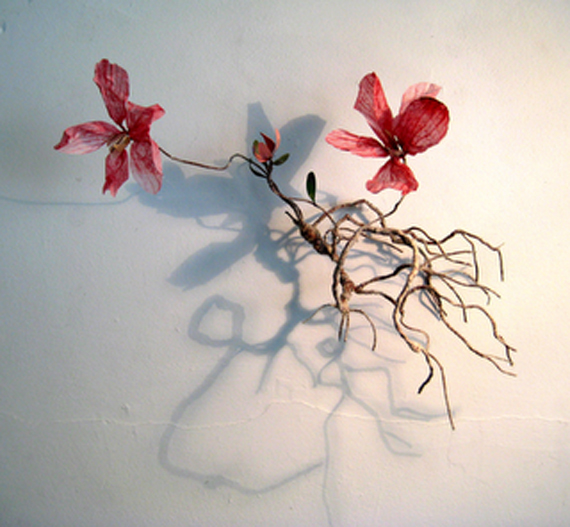 Artist Rebecca Jones's work reflects the precariousness of the world. She uses paper because it is an everyday medium that, though fragile, lasts indefinitely. The plants she depicts are not true botanical specimens but her work is so intricately constructed that each sculpture seems alive. The shadows thrown by the plants extend and emphasise their linear quality.
MBOISA 5: Fish-Scale Dress by Suzaan Heyns
Nominated by Milisuthando Bongela, founder of MissMilliB fashion blog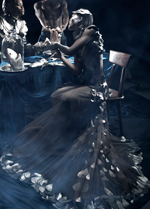 This dress is an extension of Suzaan Heyns' Autumn/Winter 2012 show, "True Colours", which reflects on the dichotomy of human nature and who we really are when no one is looking. Our double-sided nature is symbolised by the different materials in the dress. The fragile nude netting reflects our natural vulnerability. It is juxtaposed with the repetitive pattern of hand-cut metallic leather scales representing the self-important parts of ourselves – our more cold-blooded, reptilian nature.
MBOISA 6: Curious Couch by Margaret Woermann (Heartworks) and Peta Becker (Projekt)
Nominated by the Design Indaba Expo Team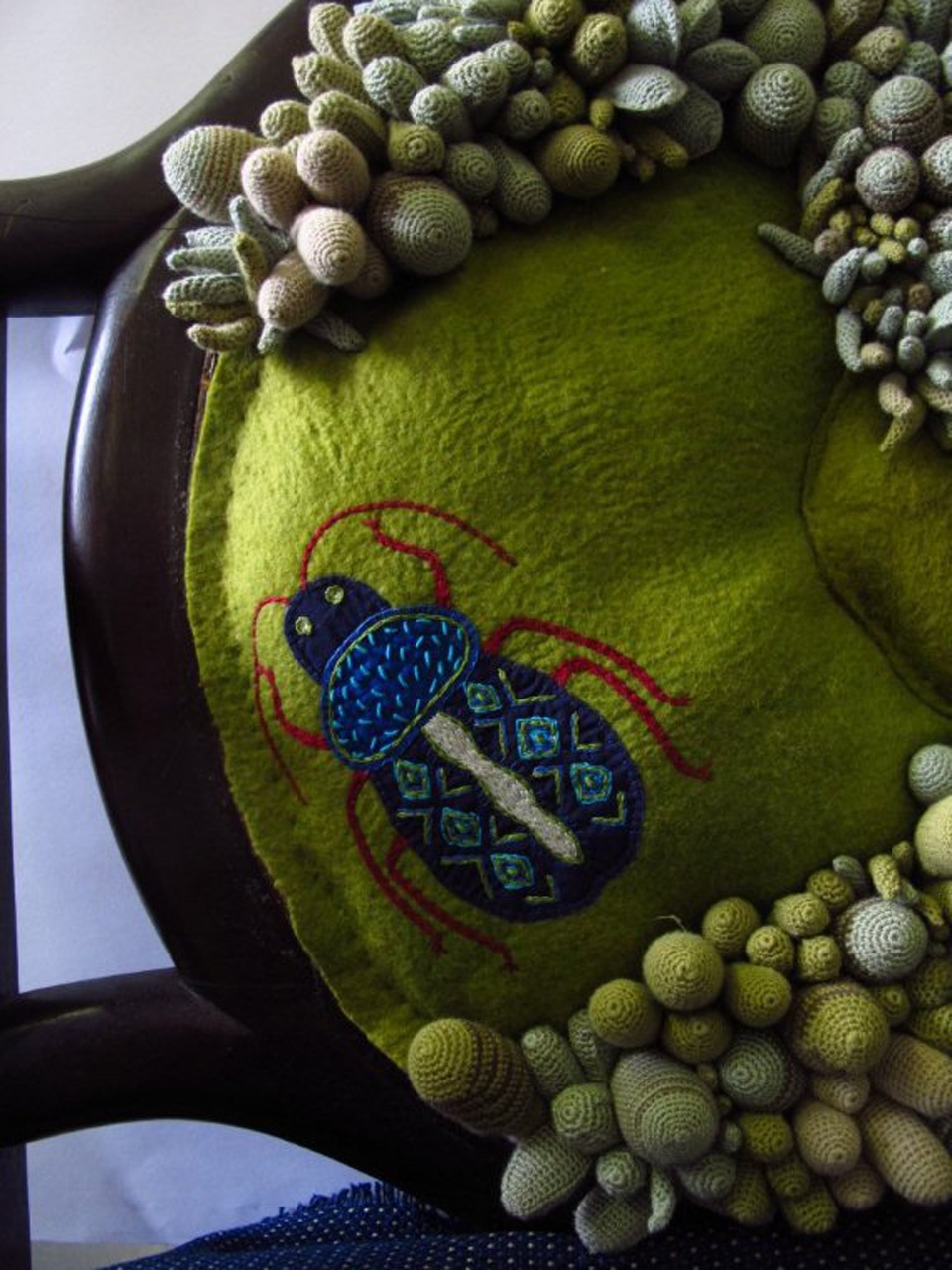 Margaret Woermann and Peta Becker have transformed an old ball-and-claw couch into a functional work of art literally bursting at the seams with life and creativity. The couch is the product of a new collaborative project between Woermann and Becker called The Curious Room, an experimental design lab where the pair focus on one-off pieces. The Curious Couch has been worked on by more than 25 people who designed, recaned, embroidered, crocheted and upholstered it. A reaction to standardised mass-produced design, the couch was inspired by the idea of metamorphosis.
MBOISA 7: Ridge Forrester Hanging Planters by Joe Paine
Nominated by Sarah Buitendach, editor of Sunday Times Home Weekly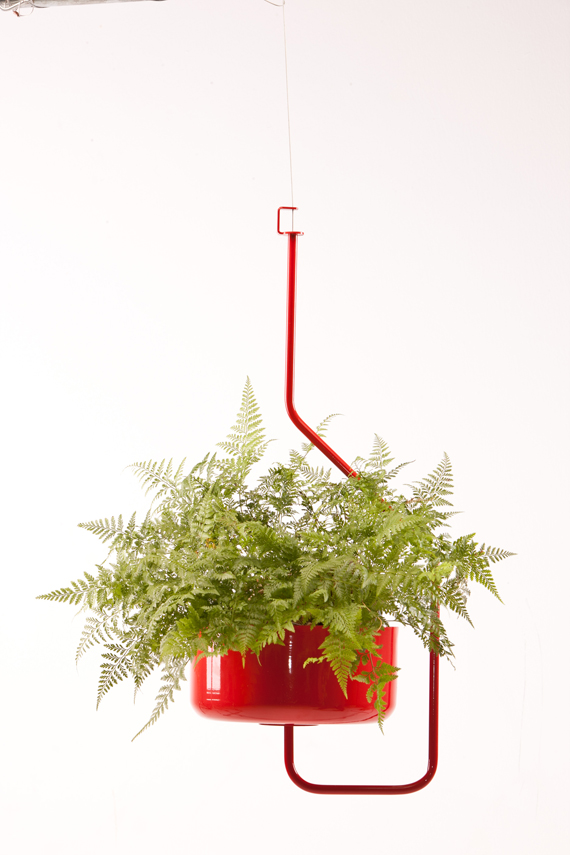 This amusingly named planter was born from the designer's observation that television directors use plants as a key device in soap operas. "Through the bougainvillea and amaryllis we are privy to the most sordid capitalist lives," says Joe Paine. The planter, manufactured from bent tube and handmade mild steel spinnings, reflects the bold jaw line of Ridge Forrester from the American soap opera The Bold and The Beautiful.
MBOISA 8: "A Travel Journal, Volume 1 and 2" by Mornè Visagie
Nominated by Garry Cotterell, editor of Business Day's Wanted magazine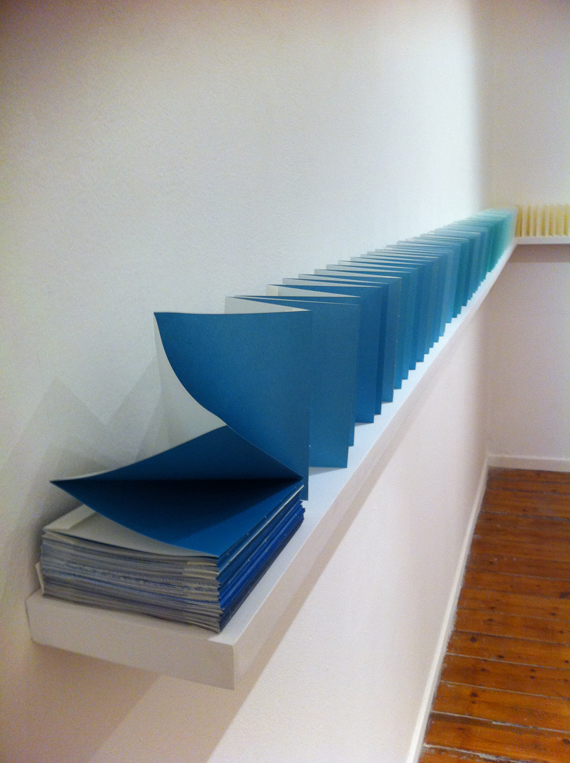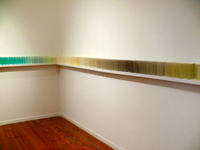 This hand-stitched lithograph on paper was part of a body of work for Mornè Visagie's exhibition at the 2011 UCT Michaelis Graduate Art Show, which took Robben Island as a site of personal, social and aesthetic exploration. Visagie spent the first five years of his life – from 1990, when his father was posted to the island by the Department of Correctional Services, to 1995 – living among its small community of mostly prison employees. This piece distills the hues of the scrub-filled landscape and its surrounding sea into a slowly changing spectrum of pure colour.
MBOISA 9: Lily Pad Ring by Kirsten Goss
Nominated by Jacquie Myburgh Chemaly, editor of VISI magazine


The Lily Pad Ring exemplifies Kirsten Goss's contemporary design style, combining intriguing organic lines with a playful edge. Goss returned to South Africa after launching her eponymous design label in London in 2002. A qualified jewellery designer and Stellenbosch University alumni, she has a passion for experimenting with metal-smithing techniques, stone cutting and inspirational combinations of the two. All her pieces are handmade.
MBOISA 10: PASTE mural by Linsey Levendall
Nominated by Uno de Waal, publisher and founder of Between 10 and 5 website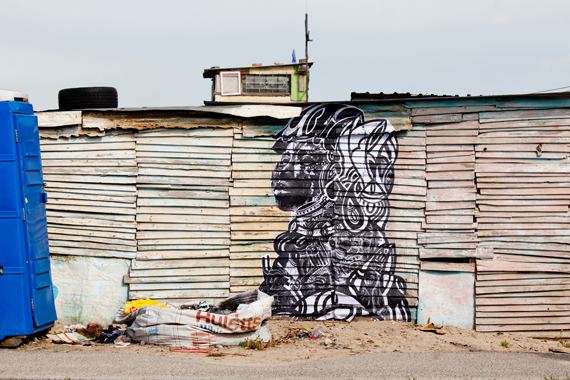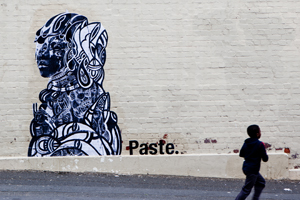 This mural appeared as part of PASTE, a street art exhibition curated by Shani Judes that took art out of the gallery space and into the streets of both city and township. Linsey Levendall was one of 15 local artists selected to design, illustrate or photograph work around the theme of Khayelitsha culture. The work was turned into a large-scale print that was pasted in Khayelitsha and the inner city of Cape Town.
To vote for your Most Beautiful Object, SMS the word "MBOISA" and the number of your entry, followed by your name and contact number to 43431 (SMSs cost R2).
OR: Vote for your Most Beautiful Object in South Africa online.
Now in its seventh year, the MBOISA award recognises the evolving nature of beauty and the ever-present diversity that emerges from within the local creative industry, allowing for the celebration of a new definition of beauty every year.
Last year's winner was Woza Moya's Dreams for Africa Chair, which symbolises hope and the importance of dreams, while also raising awareness about HIV/Aids and the design significance of traditional Zulu beadwork. Woza Moya will get 6sqm of floor space at Design Indaba Expo 2012, ensuring that those who voted for the Dreams for Africa Chair will get another opportunity to behold its beauty.
Design Indaba Expo 2012
The Design Indaba Expo 2012 is open to the public from Friday 2 March to Sunday 4 March 2011 at the Cape Town International Convention Centre. Tickets are available at the door or through Computicket, from 1 February 2012.
Opening and closing hours
Friday 2 March 2012 from 10:00 – 20:00
Saturday 3 March 2012 from 10:00 – 20:00
Sunday 4 March 2012 from 10:00 – 18:00
Admission costs
Adults – R60
Students – R40
Pensioners – R40
Scholars – R30
Children – R30
Children under 10 – Free