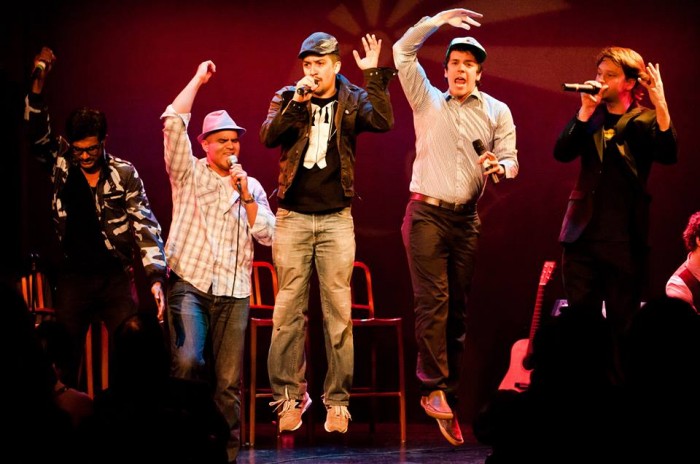 Two Touch, Jelly Donut, Shockwave, Urk the Inc., and The Geniuses are five members of Freestyle Love Supreme (FLS), a hip-hop crew with a live-recorded TV show in which the performers take the crowd on a non-stop, hiphop improv ride with no script. Prompted by words offered by their audience, the spontaneous performers weave a totally new and unique web of music, beats and rhythms every time they open their mouths. These five performers are going to treat our Conference delegates to hip-hop highlights of each of the Design Indaba Conference days, summarising speakers' talks in improv rhyme. AND they are performing a dedicated improv show on Thursday night at 9pm as part of Design Indaba Nightscape. Tickets are available now!
We talk to two of the members of Freestyle Love Supreme, Anthony Veneziale aka Two Touch and Andrew Bancroft aka Jelly Donut, on how they keep up the rhythm as freestyle specialists.
How did you each get into improv hip hop?
Jelly Donut: I started writing rhyming poems and songs early in childhood. I had a wide range of influences, including Dr. Seuss and Young MC. When I got to college (also Wesleyan University), my friend Jeff Malamy played an instrumental Das FX cassette tape in his dorm room and said "I bet you'll be good at freestyle rapping." I was like, "Im not so sure about that." But we started freestyling, and it has been one of my favourite activities ever since.
Two Touch: I started listening to hip hop as a kid and then got into improv at Wesleyan University where I auditioned for a troupe called Gag Reflex. After graduation I started a theater company in NYC and we worked on In the Heights with Lin-Manuel Miranda. Lin and I would freestyle rap any chance we got and so I created this show with him.
How do you practice? And how do you warm up before a performance?
Jelly Donut: I used to work in 17 different high schools in California and I would rhyme in the car as I drove. The great thing about freestyling is that you can do it anywhere. Standing in a circle and rapping while someone drops a beat ("cyphering") is something we do as a group, but also something I've done at dinners, at party, with strangers, and even at the church where my Mom is a pastor.
When you tell people that something is improv they think it's just an inherent trait and therefore something you can hone and work on. That's not the case. In fact it's the opposite – very few people are born great at freestyle. It's something you iterate upon and fail and then iterate upon again. Just like good design. So you gather with your crew and grab headlines from newspapers and cypher and practice the form of the songs you will be performing. Wash and repeat. – Two Touch
Two Touch: We also do a warm up before the show where we sonically all get on the same page by creating something we call a sound bomb. All of us stand in a circle in darkness and get subtle environmental cues that we then translate into an organic soundscape, which turns into a song of some kind. It's pretty fun to be a part of and it locks all in to a common mindset.
What's the biggest challenge?
Two Touch: Getting us all in a room together. At this point the crew members of FLS are all pretty busy and scattered to the winds so having an opportunity on our calendars is more and more rare. The show is the easy part.
I think the one thing most new freestylers struggle with is the pressure to "do it right." Or to be amazing, or not mess up. The trick for me, though, is to take that pressure off and be 100 per cent cool with messing up. Some of the funniest or most interesting rhymes I've made came from speaking gibberish or stumbling through a phrase. That's the fun part. – Jelly Donut
What's the biggest joy it gives you?
Jelly Donut: The interaction between the group's members is hilarious and thrilling. We all have each other's backs in the unified goal of entertaining the audience and each other. At the same time, we are interacting with the audience itself, which makes it one big room of connection, laughter, and music. Gotta love it.
Two Touch: Oh wow. Just about everything to do with the performance and creating in the moment with your friends is amazing. The feeling you get after a show is unlike anything else I know. It's exhilarating, terrifying, surprising, and it just sounds lekker (am I using that right?).
Does the energy of the audience vary much from episode to episode when you're filming the show?
Jelly Donut: Sure. We've played for such different venues and groups of people. I've rapped for drunken college students on a Friday night as well as for very sober corporate execs at 9am on a Wednesday. Our show breaks down the wall between performers and audience, so we work to connect with every crowd in whatever way feels right.
Two Touch: Of course. A lot of times when we are doing this in a new country or new venue there's a bit of "What's going on with these okes?" and eventually by the second or third song into our show they catch on that this is in fact all happening in the moment and the swell of enthusiasm is palpable.
Do you ever suffer from freestyle block? And if so, how do you shake it off?
Jelly Donut: Absolutely! Sometime's I'll pause or say something that doesn't rhyme before going in a whole new, unexpected direction. It's a really fun thing to witness. When you hit that moment, the key is to TRUST, because something new is always right around the corner.
Every single show you will hear someone have "freestyle block" or the inability to come up with the rhyme and that just proves our show is happening in the moment. It's a "mistake" and mistakes are the best thing that can happen to you in improv. Again, similar to in design where you didn't see a new approach until something went wrong. – Two Touch
Two Touch: Often our funniest moments are those blocks or mistakes and when you do make them, the rest of the crew is right there to celebrate it and help you to move on or explore that new direction.
Have any of you been to Cape Town before?
Jelly Donut: No, and I can't wait. I'm sticking around a few extra days to explore the peninsula and surf, but I'm hoping people at the conference will have travel suggestions for us!
Two Touch: NO. We are so looking forward to it! Except for the windy part – we hear it can clear knock you off your feet.
Is there anyone (from the other speakers we've announced) or any of the musicians that you are particularly excited to meet?
Jelly Donut: Kate Moross has some great illustration and an interesting multi-discipline career. I'm excited to hear about her process with musicians. Chido Govera's work sounds extremely inspiring, and as a regular Airbnb-er, I'm interested to hear Joe Gebbia as well.
Two Touch: Oh yeah. I'm a fan of Chido Govera's work with sustainable income for kids in Zimbabwe and I can't wait to hear her speak. I also am looking forward to Dokter and Misses and what their process around design looks like.