Popular predictions indicate that 80% of the world's population will be living in cities by 2050. It's a startling figure that raises concerns about how existing infrastructure might support this growth and what the implications are for the world's current quality of life.
Focussing mostly on "developing" cities, the newest edition of Design Indaba magazine, "Metropolis" considers these questions in a design context. What role does design play in guiding the development of the future city? What problems can be pre-empted through judicious design? Can this extreme urbanisation become a positive when fortified by design?
First Design Indaba asks the architects. Mokena Makeka and Luyanda Mpahlwa weigh in from Cape Town, Francis Kéré from Burkina Faso, Rohan Shivkumar from Mumbai and Jorge Mario Jáuregui from Rio de Janeiro all talk of their own practice in relation to the so-called "informal city".
More colloquially known as "slums", the informal city is predicted to experience the most challenges in coping with the population influx, as the curator of Design with the Other 90%: CITIES exhibition, Cynthia E Smith, explains. This growth is visualised on the magazine's cover, designed by Cape Town design studio Black Hat and Nimbus. An engaging visual abstraction at first glance, the key on the inside front cover breaks down the percentage urban population expected to be living in slum by 2020 and 2050 is depicted.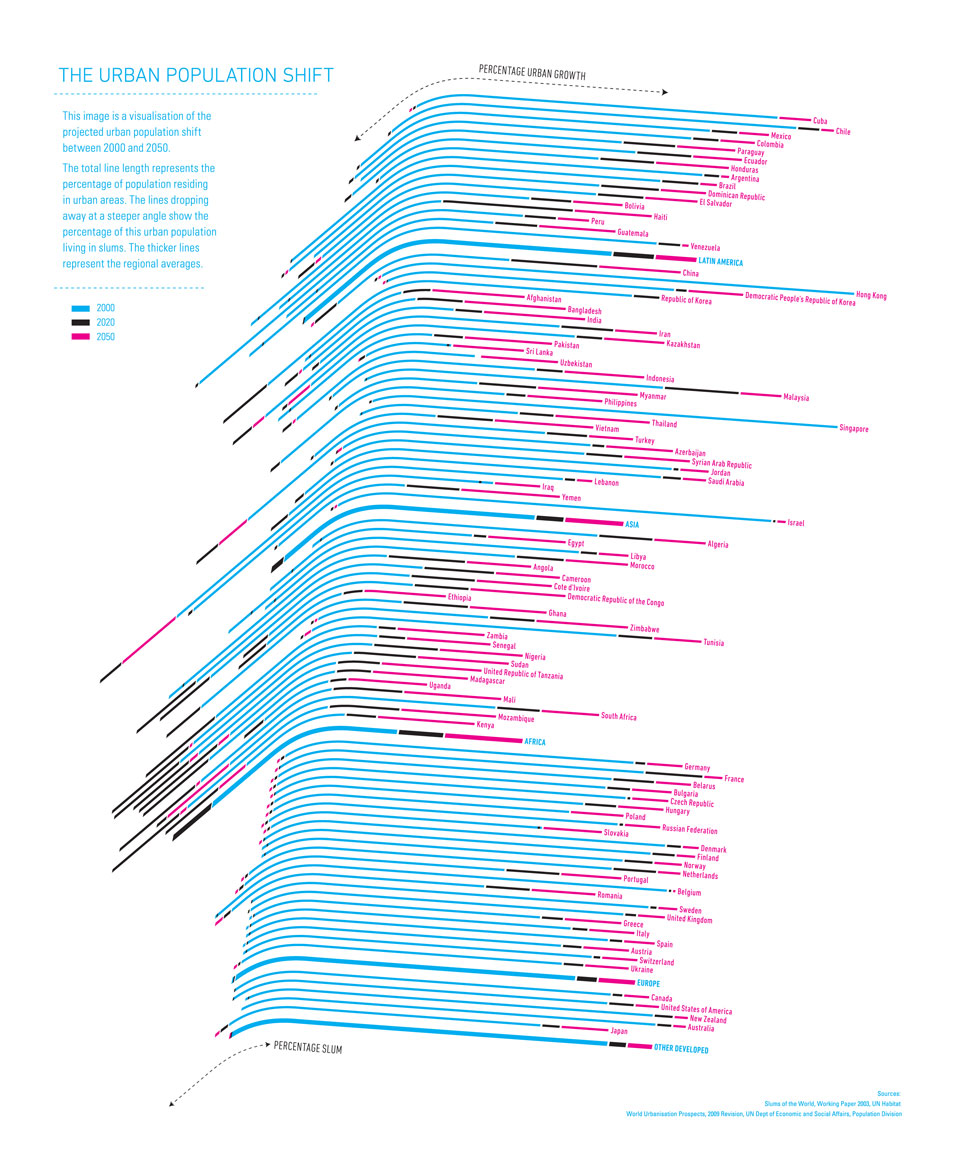 After the architects and the information designers, Design Indaba magazine turned to the photographers to get out there and show us what's happening on-the-ground. Michael MacGarry reported from Luanda, Angola; Mikhael Subotzky and Patrick Whitehouse from Johannesburg; Patrick Wack from Shanghai; and Damien Schumann from the cities along the Mexico-USA border.
Finally, case studies. How the city of Beirut is slowly shaking off the remnants of years of civil war while working to preserve its heritage. What the Gautrain means for Johannesburg and Pretoria after last year's World Cup. How the ExpoTENtial project in New York is pushing creative, progressive urban change by activating designers.
A selection of design snippets and book reviews put you on top of what's happening in the world of design. Also be sure to read our report on the What Design Can Do Conference in Amsterdam and browse some of our favourite pieces from the Venice Biennale and Art Basel.
Design Indaba Q311 "Metropolis" is on sale now. Find it at selected Exclusive Books, Woolworths and other stockists, or online.
Watch the Talk with Francis Kéré
Talks
• Duration: 00:32:02
•
30 Jun 11