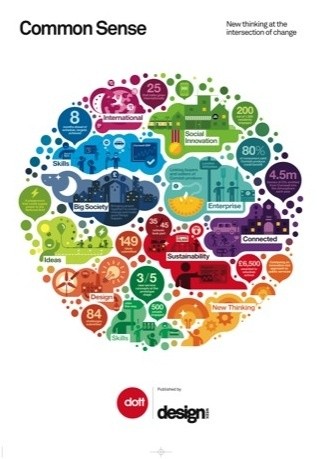 Of course, it is ever thus, but with so much in flux in design - and elsewhere - designers owe it to themselves and their clients to take time out to explore new ideas, technologies and ways of doing things.
This is what the Intersections conference in Cornwall offered last week - as, indeed, did Cape Town's Design Indaba the week before. But while Design Indaba is generally acclaimed by those who have been there as a massive source of creative inspiration, Intersections was more a window into new worlds against the harsh realities of Government cuts, oil price rises and the burgeoning roles of co-design on the one hand and social media on the other.
No designers can afford to ignore these seismic shifts as they will impact on everything the creative community does and customers expectations. Global giants such as Gap have already undergone a change of heart, having prompted an overwhelming thumbs down from punters and people power looks set to remain a determining factor in branding and beyond.
Intersections caught the moment in this respect. Held, appropriately, at the Eden Project - Nick Grimshaw's environment-savvy botanical compound near St Austell - it brought to the fore co-design, which had been a major theme of the Dott Cornwall (www.dottcornwall.com) venture for which it provided a valuable full-stop. But one of the conference's more pertinent outcomes was to stress the importance of entrepreneurs and social enterprises in business success, whatever the size or nature of their business.
This is the stuff David Cameron's Big Society is supposedly about. But it is heartening to see Cornish concerns such as diaster relief company Shelter Box, which helped to create a 'hotel' out of tentpoles within Eden's Mediterranean 'biome' - a covered, translucent dome - and environment-friendly kids clothing business Frugi identifying and meeting a need before such ventures became politicised.
Interestingly, one theme that linked both Intersections with Design Indaba was the design of data - serious stuff these days amassed by governments and brands, like it or not, via subscriptions, loyalty cards and social networks. For example, some subscribers to Wired magazine will, like me, have had their own details annoyingly splurged over a personalised cover on the March issue, with varying degrees of accuracy.
But to get the best out of data it needs to be intelligible - and some might go so far as to say beautiful. And this is where blogger and author David McCandless (Intersections) and Ben Fry of US digital design and software company (Design Indaba) excel. The infographics they produce are engaging and the data quite startling when you start to manipulate it.
Check them both out. Their work puts an interesting new spin on the role of design in society.
Watch the Talk with Ben Fry