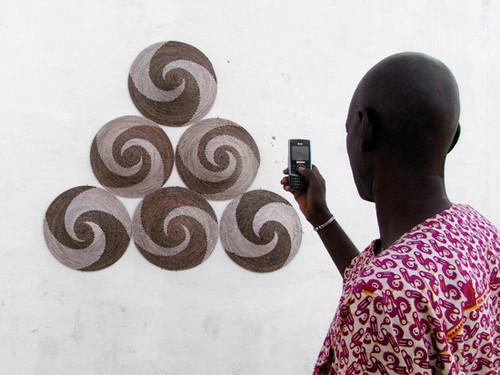 Alice Rawsthorn's article in The New York Times last week, Design Gets More Diverse, confronted the issue of race in design and discussed why there are so few black designers in the industry and relatively few black teens choosing to pursue careers in design.
Possible reasons discussed in Rawsthorn's article include a dearth of black role models in design, a lack of funding in arts education, poor perceptions of art and design as a career, and the dominance of European modernism and standardisation in the 20th century.

Art Car by Esther Mahlangu at The Global Africa Project
Rawsthorn's article was published in advance of last weekend's conference at Parsons School of Design in New York, which was held as part of its Diversity Initiative. The conference, called Black Studies in Art and Design Education, aimed to explore the underlying issues of why black communities and their cultural histories continue to have a marginal presence in art and design schools.
Works by Gail Anderson
Another positive development is the recent success of The Global Africa Project, an exhibition at The Museum of Art and Design in New York that highlights the new talent emerging from the African continent and around the world. The exhibition, on show until May 15, received a rave review from The New York Times' notoriously tough art critic Roberta Smith. You can see an overview of the exhibition on WGSN-homebuildlife here.
Lowery Stoke Sims, a curator at the New York Museum of Arts and Design, speaking at Design Indaba last month about the critically acclaimed exhibition, The Global Africa Project, which she co-curated last year.
Having visited South Africa's Design Indaba last month, WGSN-homebuildlife observed a new generation of young black designers who are making a name for themselves and showing that there is a brighter, more diverse future for design.
Wire chairs by Raymond Masara exhibited at Design Indaba last month
We spoke to young designer Raymond Masara about Rawsthorn's article and asked why there are so few renowned black designers "Yes, it's because they don't get enough exposure but there are so many other reasons. In some cases it's because they are not passionate enough about design. Some teens underestimate themselves and believe that white people would not buy furniture designed by a black person. For example, a friend of mine told me to change my name and use an English name so white people would buy my designs - I refused because this is my passion."
Stephen Burks and Gail Anderson
New York-based designers Stephen Burks and Gail Anderson, both featured in Rawsthorn's article stating that they would hope that their skin colour doesn't effect the way in which people perceive their work and that their success can be attributed to their talent, courage, charisma and strong work ethic. Raymond's comments echo this sentiment: "Things are changing, it's no longer about black or white, it's about your designs and how good they are. I think the future is great for those who believe in themselves and their work."
Light Frame ceiling light by Stephen Burks
WGSN-homebuildlife highlights the work of some of the inspirational black designers and architects seen at Design Indaba:
Gando Primary School by Francis Kéré
During the three-day conference last month, architect Francis Kéré's presentation received a standing ovation. Showing the audience a primary school project that he built in his home village of Gando in Burkina Faso, Kéré explained how he worked alongside villagers using traditional construction methods to build a life changing schoolhouse made out of locally made, compressed earth bricks. The design combats the summer's sweltering temperatures with a clever air-flow system and heat absorbing materials. All of the people involved in the project management were native to the village and, using the skills they learnt on this project, have gone on to build an extension to the school and housing for the teaching staff.
Close up of a Coffee table with ceramic elements by Andile Dyalvane
Ceramicist Andile Dyalvane was born in Qoboqobo in the Eastern Cape. His ceramics are contemporary but draw inspiration from traditional Xhosa designs. In particular his work often references "ukuqatshulwa", a Xhosa scarification ritual, which he incorporates as a design element by using innovative surface treatments where the clay is artistically cut open like flesh.
Knitwear by Laduma Ngxokolo
Laduma Ngxokolo is a young knitwear designer from Port Elizabeth who presented his first collection at Design Indaba. His range of colourful designs are inspired by the traditional Xhosa initiation ritual, which marks a Xhosa boy's transition from childhood to manhood. The initiation process can last from a month to 6 weeks, and during this time the boys are circumcised. After the initiation, it is tradition for parents to buy their sons new clothing, including high-quality men's knitwear. Seeing a gap in the market, Laduma developed a range of sweaters with patterns based on Xhosa beadwork from locally sourced mohair. The collection has already earned him first prize from the International Society of Dyers and Colourists, and now a nomination for Most Beautiful Object at Design Inaba 2011.
Addis Ababa by David Adjaye
A prominent feature on the shelves of design stores throughout Cape Town was architect David Adjaye's book Urban Africa, which was published in June last year. Urban Africa is a vast photographic survey of Africa's 53 capital cities, all shot by Adjaye himself. The photographs were first exhibited at London's Design Museum in March last year. Adjaye views the work as part of an ongoing project to study new patterns of urbanism and also a personal quest to address the scant knowledge of the built environment of the African continent. Although Adjaye was educated in and now lives and works in London, he was born in Tanzania and is the son of a former Ghanaian diplomat.
WGSN-homebuildlife subscribers can see our full coverage of Design Indaba online here.
Watch the Talk with David Adjaye
Talks
• Duration: 00:43:07
•
9 May 19