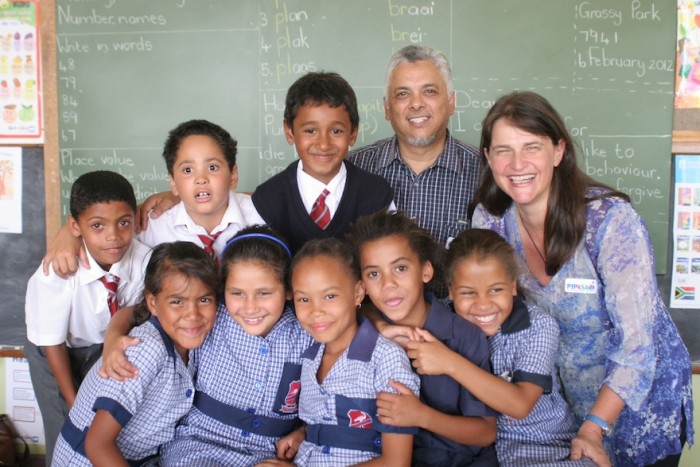 Ridwan Samodien and Louise van Rhyn with Kannemeyer Primary School learners.
Little by little, book by book, a room at Kannemeyer Primary School in Grassy Park is being turned into a library. In partnership with The Bookery, Design Indaba's BOOK.exCHANGE project has sent out a call for books and the donations are flooding in. The second-hand books will be sold at the BOOK.exCHANGE stand at Design Indaba Expo 2015. All the proceeds will go towards filling the empty shelves at Kannemeyer Primary School, while the stand's shelves themselves – designed by Leg Studios – will be donated to the school after the Expo.
Books have the power to inspire, incite change and unlock potential; BOOK.exCHANGE hopes to do the same by helping to grow the Kannemeyer Primary School library. You can help upgrade its library by browsing the curated daily selection of preloved books at Expo and giving one of them a new home, or by bringing books and stationery to the Expo and donating them at the stand.
Since 2010, Kannemeyer Primary School has been working with Partners for Possibility to enhance the quality of education, improve the school's environment and encourage engagement between parents and teachers. Principal Ridwan Samodien works with business leader Louise van Rhyn to achieve these goals. Watch the video below to find out more about this important initiative.
We need all the adults in the room to help us get our children to matric and beyond...so thank you, Design Indaba, for the greatest gift an adult can give a child...the gift of education.
- Ridwan Samodien
BOOK.exCHANGE will also be selling a variety of new local and international titles that speak to design in all its forms, with a selection of authors and comic book artists stopping by to launch and sign their books.