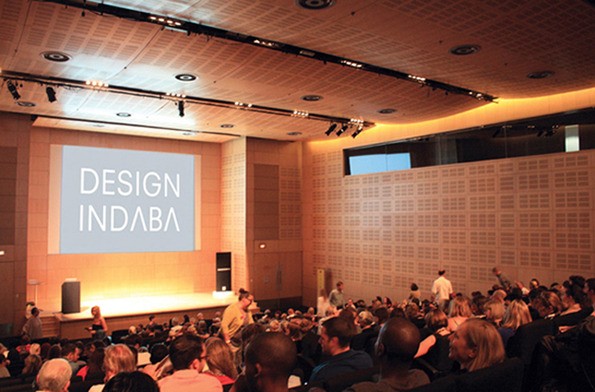 Sadly we were unable to make it to South Africa for Design Indaba last week but we were struck by the excited online chatter coming out of the two-day event. In a bid to gatecrash the creative party, we asked Alix-Rose Cowie, editor of amazing South African design showcase Between 10 and 5 to share what she learned…
Design won't save the world, go volunteer at a soup kitchen you pretentious f*$#.
As a once-disillusioned advertising junior I thought this statement tee was funny – I have since had my eyes pried open. Whoever wrote it would've had their cynical beliefs obliterated by the design super heroes who spoke at the 2012 Design Indaba Conference in Cape Town last week.
Masters in their fields of interactive design, art, architecture and food, and dropping slogans like "stop working & start living", this league of most extraordinary is changing the world for the better, all through design, innovation, science and courage.
Rebel South African ad agency FoxP2 named after the creativity gene, opened the conference with a George Lucas/Star Wars analogy for sticking to your vision to create something truly original. While studio execs coaxed Lucas to follow best practice of the day to ensure that Star Wars was a success, he stuck to his guns and produced one of the greatest film series of all time.
Best practice at the time included using a big name actor (Burt Reynolds was suggested), a catchy disco soundtrack and putting pants on Chewbacca, so as not to offend 1970s movie goers. Cue Fanboys wincing. FoxP2 left us with some novel advice for when you find yourself taming a 'crazy' idea – don't put pants on the wookie.
Another speaker, René Redzepi knows about having faith in your vision. Founder and head-chef of Noma in Copenhagen, he was the joke of the town for four years for trying to create the flavor of the future using only local ingredients. Noma is now ranked "number 1 restaurant in the world," serving foraged foods like pickled rose petals, beech leaves and deep-fried moss. I'm guessing you have to try it.
US Designer John Bielenberg shared his philosophy that "thinking wrong" à la Picasso, Steve Jobs and Phillipe Starck is the key to a better world. His initiative Project M challenges young creatives between 18 and 30 (at their brains' peak synaptic performance) to think unconventionally to solve community problems. Legendary ad man Alex Bogusky skyped in at the end to leave this pearl: "If changing the world isn't fun, nobody's gonna do it."
Living Bogusky's sentiment are open source advocates, "ex pro skater and art director Pete Hellicar & interactive designer Joel Gethin Lewis" who together created free, interactive software for autistic children. While their ReacTickles project is therapeutic, Somantics lends a self-expression tool to kids that have been labeled uncommunicative.
We were encouraged by rogue South African conceptual designer Porky Hefer to "make the ideas that give you a weird feeling in your tummy" and hilarious writer and associate director of Delhi Belly, Akshat Verma, who urged us to give up the fear of public humiliation.
We were inspired by architects Alfredo Brillembourg and Heinrich Wolff using their expertise to improve the Third World. Brillembourg introduced cable car systems to favelas in South America and Wolff's design of a township high school in SA doubled the pass rate.
We were amazed by the Berlin SMELL RE_search Lab's Sissel Tolaas whose enthusiasm for her job has fueled her frenetic collection of almost 7,000 scent specimens, and half-English, half-Japanese Sputniko!'s way-out inventions which she launches through Pop music videos. Her most notable being a Menstruation Machine which provides a life-like 'that time of the month' experience for curious guys. Wild!
Greyworld creates public art installations like a giant sun in Trafalgar Square to brighten up the 23rd of January – the most depressing day of the year. Clive van Heerden of Philips Design works on far-future technology like that which reacts to the emotional data of its user, think a dress that blushes or an excitable body suit.
Feeling like you've wasted your entire life on frivolity but at the same time getting a sense that all the world's problems are being solved makes for a rather strange combination. That's Design Indaba for you.
Watch the Talk with Sputniko!
Talks
• Duration: 00:08:25
•
4 Mar 13