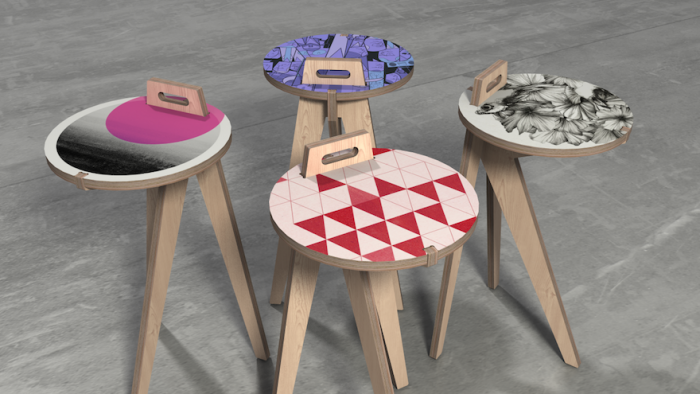 Each of the customised Leg Studios' Carry Tables will be one of a kind.
The CREATe.CHANGE project was born out of Design Indaba and Leg Studios' desire to tap into the innate creativity of local artists and harness this talent to Make.Change.
We sent out a challenge to some of South Africa's most exciting artists and creatives to take Leg Studios' three-legged, flatpacked birch Carry Tables and transform them into works of art. Expect to see work from Renee Rossouw, Frank van Reenen, Unathi Mkonto, Lauren Fowler, Daniel Ting Chong, Dani Loureiro and more. All these artists are donating a little of their time, and a lot of their creativity, to join our #Make.Change campaign for 2015.
And here's where you come in. Visit the CREATe.CHANGE stand at Design Indaba Expo and choose a table that captures your attention. Write down your bid (minimum bid is set at R1 500), and drop it in the slot. It's that simple. The bidder with the highest amount will win their Carry Table of their choice.
This project showcases how real change can be effected quite easily, through the combination of creativity, collaboration and committment. Together, we are all hoping to assist Mr Ridwan Samodien in his efforts to provide the children at Kannemeyer Primary School with an inspired and sustainable library space. We would like to challenge the public out there to get involved and... Make a bid. Make a difference.
- Kim Seeliger, Design Indaba Expo Manager
All the funds from the sale of the Carry Tables will go towards improvements at the library of Kannemeyer Primary School in Grassy Park. This partnership has been made possible by The Bookery – an NGO that concentrates on setting up well-equipped libraries in South African public schools.