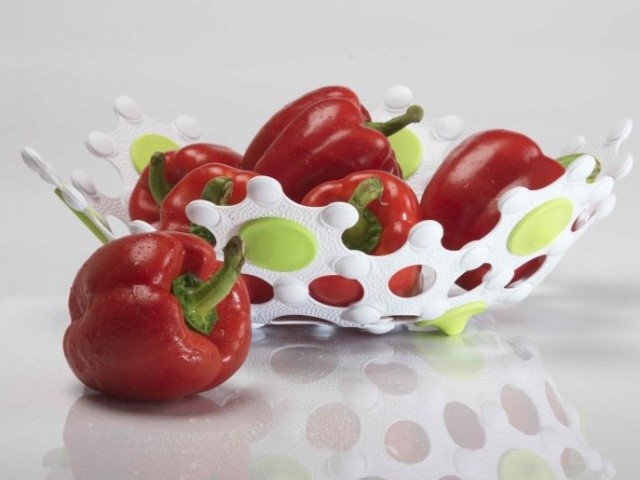 This fruit bowl is one of the items in local designer Andy Cartwright's range of Korol products. Looking at its form, it's not hard to see why it won the prestigious 2012 Design Indaba Innovation Award.
'We devised a modular design system that uses geodesic mathematical formulas to create star-shaped components that when joined together at their points, can form limitless features both functional and decorative,' explains Andy. 'The Korol product range currently boasts lamps, bowls, clocks, candle-holders and murals. But the sky is the limit and these components or 'building blocks' can create just about anything imaginable.'
Andy is proud that the range is made from 100 per cent recycled plastic, and that it's supporting the local economy. 'Korol is also a proudly South African product that is assembled by hand in our factory and as a result, contributes to economic growth through job creation and skills development,' says Andy.
We've chosen to feature the small fruit bowl for the simple reason that it's Andy's favourite from the range. 'It was the first shape that we made using the Korol concept. I love it because it epitomises Korol's versatility and has many other uses in the home. Without letting the cat out the bag, I am also very excited about the new additions to Korol which we plan to launch later this year,' he says.
'Korol emerged from our desire to move away from traditional home decor and create something that is less 'serious', provokes interactivity and brings some fun, inspiring designs into the home. We also wanted a range that would suit society's quickly changing design tastes and appeal to the more socially aware buyer. So it was also imperative that Korol was versatile, sustainable, cost effective and eco-friendly,' says Andy about creating the range. We think he and his team have ticked all the boxes.