Design Indaba has always focused on employing the power of creativity, in all its forms, to boost the economy, and investigate solutions for socio-economic change and sustainability.
Over a four-year period, from 2009 until 2014, the Design Indaba Festival contributed R1.7 billion to the country's GDP. Since then, we've injected in upwards of R200 million into the country's economy annually.
This growth and the jobs it creates directly and indirectly are crucial to our growing nation. It's also a testament to the business power of design and creativity. But we cannot make these meaningful contributions without addressing the current water crisis in the Western Cape.
As we draw nearer to the festival, which is taking place at the Artscape Theatre between 21 and 24 February, we would like to highlight the mitigation plans in place to ensure that no water is wasted during the event.
We have worked with our host venue to ensure that we adhere to their water-saving policy. The majority of toilets within venue will be closed to preserve water. Design Indaba is providing plenty of additional toilet facilities outside. These will be chemical flush toilets, provided by Sanitec.
Basin taps have been switched off at the Artscape, and waterless cleaners and hand sanitisers are in use.
We're also working closely with our suppliers to ensure that any water brought into the event is ethically sourced. This is to remove the reliance on municipal water and to ensure that the water we use is procured sustainably.
Water bottles will be provided, with refill stations that use water brought in from a natural spring. We do encourage delegates to bring a bottle of water with them in the morning as well, as part of their 50 l allowance.
Delegates' lunches will be served in pre-packaged food and coffee and tea will be served in eco-friendly cups. Recycle points will be on site, and we ask you to help us keep the planet strong.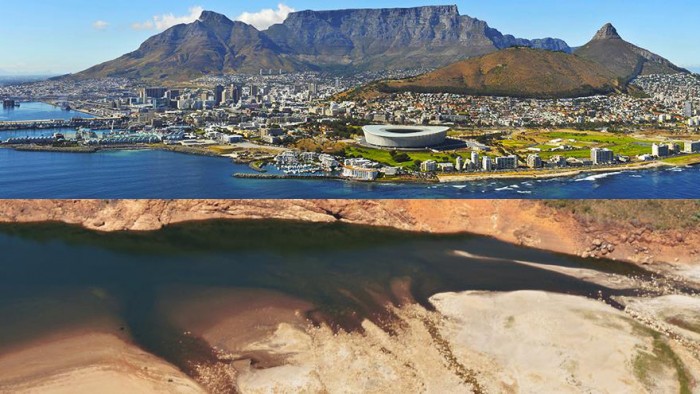 Pictures via the City of Cape Town's Think Water initiative. Find more tips, news and information on the management of the water crisis.
HOW THIS AFFECTS YOUR 50l LIMIT
The City of Cape Town is currently enforcing level 6B water restrictions. This means daily consumption per person, per household has been cut to 50 litres. As the majority of our attendees are living in the Western Cape, we remind you that the 50l at day limit applies to your whole day – whether you are at home, work, the gym or Design Indaba!
To our attendees visiting from outside the Western Cape, and abroad, whilst we are sure you are aware of our current crisis and will adhere to the same measures as our local attendees, we ask that you consider these visitor tips:
Bring a few additional clothing items with you, so you do not request washing services from your hotel
On arrival, your hotel will advise you of their own water-saving policies for guests. Remember, you will be creating dirty laundry from the hotel during your stay, so reduce the number of towels you use. One towel should be sufficient.
Your hotel may have closed their swimming pool, or may be using salt-water pools.
Hotels will no longer allow baths, and have removed plugs. Please be understanding.
Limit the number of towels you use, so as to minimise laundry for the hotel.
Speak to your hotel staff to ask for other ways you can assist with water saving whilst a guest in the City.
Our water is still safe to drink, but consider buying bottled water for drinking water, where possible.
DESIGN FOR CHANGE
In typical Design Indaba fashion, a number of Conference speakers will use the platform to raise awareness around the crisis.
Firm believers in turning ideas into action, Design Indaba hopes to begin a meaningful exchange with designers, business leaders and more as we build a better world through creativity.