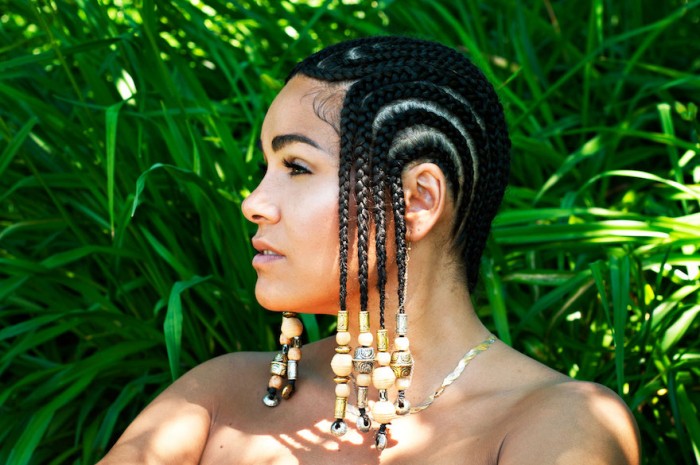 Zaki Ibrahim image by Gillian Mapp
Zaki Ibrahim recently did a sold out performance for the release of her new album, The Secret Life of Planets in Toronto. But she says, it is her upcoming performance at Nightscape at Design Indaba that she has been anticipating and planning around.
"When we began the conversation of performing at the Design Indaba, the most exciting part was the encouragement and support in wanting to provide an immersive experience. While the show will essentially be a live musical concert it will also tell a story and be a kind of ceremonial, healing."
The album was released days before boarding a plane from Toronto, through Ethiopia to Cape Town. The Toronto release show was "a sold out, emotional and ecstatic event," adds Ibrahim. But she says that the preparation for her one-of-a-kind performance at Nightscape feels like a more profound release.
Nighscape is an urban night festival that happens as part of Design Indaba Festival of Creativity where the Artscape Piazza is turned into a creative playground featuring a special installation by our speaker and designer, Morag Myerscough. There will also be film screenings, food experiences, pop-up galleries and plenty of unique performances from artists created especially for Design Indaba's audiences.
Ibrahim adds: "I am working with an Inka Kendzia, a visual alchemist I had been hoping to collaborate with for a long time. I'm excited to share this special moment with the City of Cape Town and what an amazing festival to be able to do it."
The Secret Life of Planets, which was released last month, is a follow up to her last full-length album, Every Opposite. The latter came out in 2012 and earned her a nomination for the 2013 Polaris Music Prize.
The first single off her new album is called Cold Feet.
This new album has already earned her good review with Anupa Mistry declaring on Pitchfork: "Ibrahim's space odyssey somehow feels like both the dewy coast of British Columbia, where she was born, and South Africa's sun-blanched expanse. Musically, she's connecting a lineage of black styles across eras and oceans."
Music has always been a part of her life. Her late father Zane Ibrahim was one of the founders of Cape Town community radio station, Bush Radio. She grew up between South Africa, Canada, the UK, Lebanon and France.
After spending a few years living in Cape Town and Johannesburg, she is back in Canada, living in Toronto.
"I've come to accept and understand that I have been nomadic since day one. Perhaps something in my DNA, cellular memory, lineage or just the type of spirit that I am. I believe that movement is healthy. Making things, creating, expressing...all a beautiful form of therapy and a healer."
She continues: "I've never been able to figure out exactly where my soul feels the most indigenous to. I've always had a feeling that space is the place. Perhaps a layered lineage of migration and movement. This latest move to base myself and my new family, husband and child in Toronto, was probably due to the work around this album and creating some structure and consistency. Let's see how long that idea lasts though. For now, Toronto is sharp."
Her approach to making music is about sinking into projects like a fine artist or a novelist would, with the creation of a story arc, the visual expression of a sound as well as having a good sci-fi twist to give love its very own governing system.
She and co-producer, Alister Johnson, had began working on the album by talking about integrity, texture and using tone as a way of carrying meaning.
"Alister is a vinyl collector and travelled to South Africa to work on our album and dig deep for rare and forgotten vinyl. I was opened up to the way he listened to music as well as his production techniques. We definitely taught each other through the process. About halfway through, we were joined by another young producer and writer by the name of Casey MQ."
Ibrahim says that the three of them went deep, listened to countless texture, tones and far from perfect recordings.
"We sought out a certain feel. We wanted to deliver an uncompromised album and build it from osmosis of our emotional and spiritual experience and at the same time, fall fearlessly into whatever guilty pleasure needed to feature."
She continues: "The album speaks scientifically about non-linear timelines, matter and energy being continual, with the idea that everything that exists now, has always existed and how the 'Music of the Spheres' is a very real thing.
"The album is an analogue album, borrowing from important eras in soulful pop music, with a nod to nostalgia and distinct newness. Songs got super deep. I lost my father and became a mother and everything just rolled into a timeless catharsis, that I will forever be grateful for and utterly humbled by. Otherwise, I feel that it is a joyful and effervescent body of work that I feel really proud of."