Kevin Karanja is a young Kenyan designer who spent just over 3 years perfecting the design of his own typeface, Yuwote Charvet. Melding together South African craft, ancient Liberian writing systems and geometric design, the typeface emerged as a unique and futuristic font.
Karanja grew up in Nairobi where he gravitated toward the art and motion graphics of video games. We spoke to the young designer about his influences: "As a kid, I was heavily drawn to art in video games and anime. I'd spend all my playground time and bus rides regaling my friends (or anyone willing to listen) about how amazing Crash Bandicoot and Viewtiful Joe looked. I'd also spend time admiring Flash web banners and Flash games on Miniclip."
Karanja's creative journey kicked into gear during his second year of high school after he was captivated by a poster designed by Kenyam filmmaker and visual artist Jim Chuchu.
"I came across Just A Band's poster for their exhibition "TRNSMSSN" while in a shady cyber-café in Nairobi. I was mesmerised that a Kenyan was able to come up with something as simple and eye-catching. The fictional bio they had hooked me completely," he said.
"Up until that point, all the digital art I had hoarded in my hard-drives (and still do) had been from foreign, well-established artists and hobbyists from websites like DeviantArt, Behance and Cargo Collective.
Their work was daunting and I had reserved myself to being a consumer rather than a creator but seeing the work of Jim Chuchu in Just A Band was enough to make me try being an artist myself, or a hobbyist at the very least. A pirated copy of Photoshop later and I was well on my way."
Some time after that, Karanja got to meet the designer behind the artwork. Chuchu and his colleague George Gachara at The Nest Collective challenged Karanja to create a typeface that was inspired by African writing symbols.
"Jim had handed me a book on ancient African writing systems and it was my companion through it all. I absorbed knowledge and tried out hundreds of iterations of Yuwote Charvet. I also incorporated a few African motifs into the final iteration namely that of the Ndebele painters of South Africa and the writing system of the Vai in Liberia."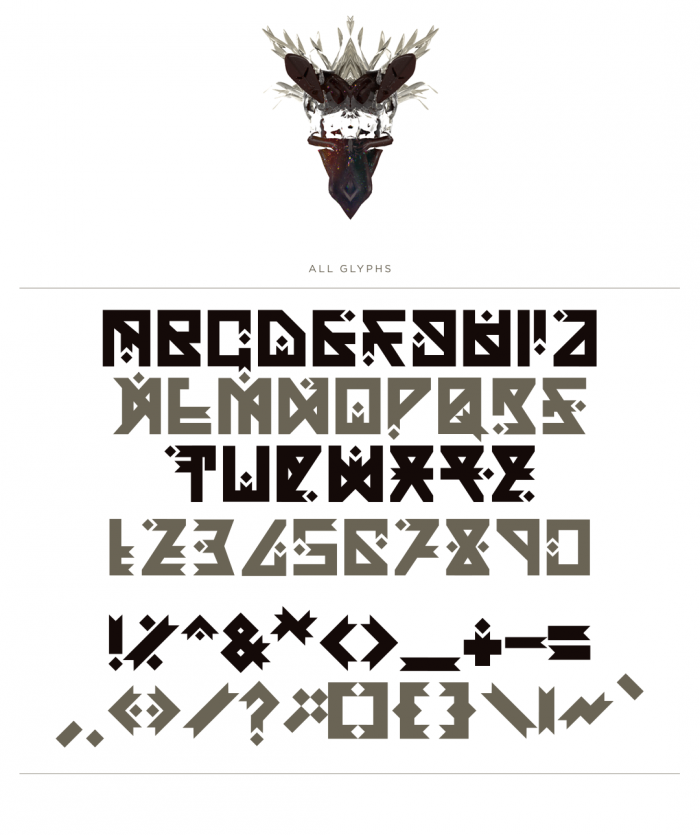 Karanja's typeface was born as pencil sketches which he refined and improved using Adobe Illustrator and Fontographer. These days, this self-taught creative works as a freelance motion graphics designer, drawing from his experience in typographic design, a stint in the world of advertising agencies and his longstanding love for video game animation.
Looking forward, Karanja aims to widen the scope of his design work to investigate more ethereal topics.
"The reception of Yuwote Charvet has been very validating and I'd love to make new typefaces [that are] incorporated into much larger projects about African psyches and dreams."
Yuwote Charvet is available to download here.