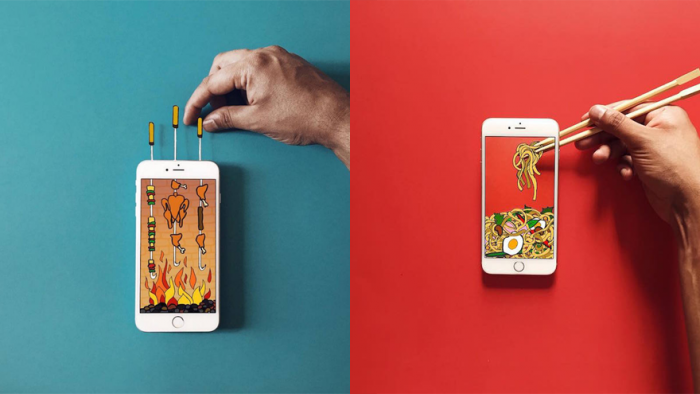 Anshuman Ghosh is a South African creative whose colourful artworks have caught the attention of scores of folks on Instagram. Operating under the moniker Moography, Ghosh produces quirky designs that merge the tangible with the intangible in playful style.
Brightly hued paper, photography and hand-drawn digital illustration come together to turn the screen of an iPhone into an imaginary window of infinite cartoonish realities. Using these simple visual ingredients, Ghosh produces vibrant illusions featuring his smartphone as the vehicle for his ideas.
Writing to Bored Panda, Ghosh describes his open attitude when it comes to inspiration, a freedom of creativity that allows him to draw the artworks of Moography on the fly and in an ongoing way.
"I think one can find inspiration everywhere. My artworks are inspired by everyday occurrences, common observations and most importantly, the things that I love," says the artist, "Depending on the complexity of the work at hand, it takes me between 2 to 4 hours to complete an artwork from start to finish. At the end of the day, my goal is always to create art that brings a smile to the faces of people who see it!"
When he is not curating his own Instagram feed with cheerful and vivid artworks, Ghosh works as a designer to impart his signature sprightly visual style to advertising campaigns and other social media channels. Have a look at the artbook of Moography.