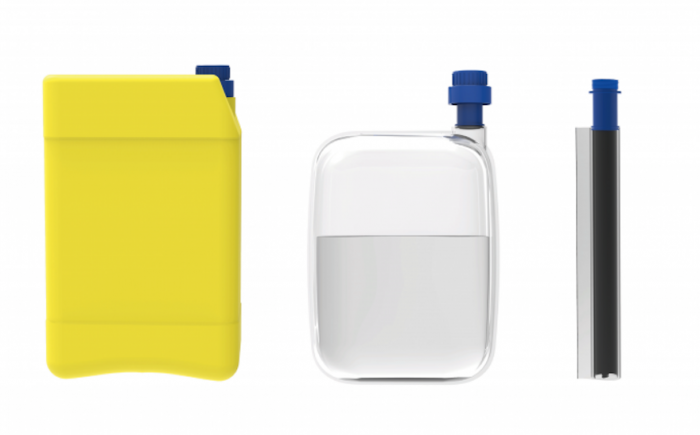 Inspired by the silver bag inside of a wine box, the Wat'bag pouch prevents drinkable water stored in reused jerry cans from becoming contaminated.
Chloe Louisin and Nadine Nielsen, both Industrial design students at the Strate School of Design in Paris, have developed Wat'bag, a sterile plastic pouch that refugees in water-scarce areas can insert into a jerry can to keep water clean.
On a humanitarian trip with Doctors Without Borders to Togo and Mugunga, the largest refugee camp in the Democratic Republic of Congo, Louisin and Nielsen realised that there were several NGOs working to make water accessible but not many working to keep water bacteria and disease free.
It is especially difficult because refugees, who often have to travel great distances to find water, store water in old plastic jerry cans formerly used to carry oil or petrol. Jerry cans are the most inexpensive and readily accessible containers.
Inspired by the heavy-gauge silver bag inside of a box wine, the two French students developed Wat'bag – a sterile plastic pouch with its own neck and cap that the user fits into a jerry can. The accordion-fold pouch expands to fit into a 25-litre jerry can when filled with water. The pouch keeps the water clean by acting as a barrier between the walls of the jerry can and the water in the jerry can.
The design also incorporates a plastic ring that fits around the nozzle and holds the Wat'bag in place while it fills with water, and a cap to close the nozzle for easy transportation and storage.
The Wat'bag is a simple, adapted design that would have a positive impact on a problem that threatens the millions of people who store their water in jerry cans. Doctors Without Borders have decided to develop Wat'bag, which is still in prototyping stage.
Louisin, Nielsen and their Wat'bag were awarded the James Dyson Award 2015.