The Minimoog Model D was the world's first portable synthesiser, much loved by innovative musicians such as Sun Ra, Gary Numan, Kraftwerk, Pink Floyd, Stevie Wonder, Chaka Khan, Bob Marley and Michael Jackson. Originally released in 1970 by Moog Music, the company named for its founder, American engineer and electronic music pioneer Dr Robert 'Bob' Moog, the Minimoog Model D has served as the archetype for all electronic keyboards since.
Now, Design Indaba alum and Pentagram partner Yuri Suzuki has collaborated with Moog, web development team Counterpoint and illustrator Rob Pybus to create the Mini Moog Factory, an interactive web experience that explores the rich history of electronic music. As a self-proclaimed Moog superfan, Suzuki has created a digital experience that dives into the Minimoog Model D to celebrate its lasting cultural impact.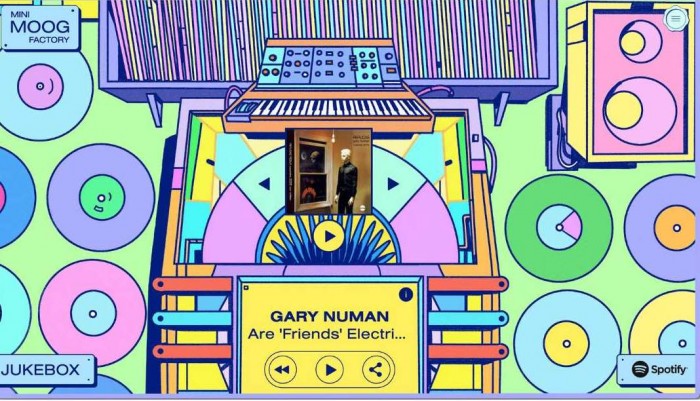 'Their [Moog's] synthesisers' special sound and beautiful design hold a special place in my heart,' said Suzuki, a sound artist. 'I still vividly remember our first discussion years ago where we envisioned a web experience that celebrates the Minimoog Model D. Our goal was to craft a tightly interactive and fun experience that would capture the essence of Dr Bob Moog and his team's groundbreaking innovation.'
Visitors to the Mini Moog Factory will have the chance to explore a variety of 1990s video-game-inspired 'rooms' exploring different facets of the beloved synthesiser.
The 'Jukebox' features a collection of more than 45 of the most influential songs made using the Minimoog Model D.
The 'Practice Room' allows you to play your favourite Minimoog lead, bass and percussion sounds using the site's free emulation inspired by the Minimoog Model D, then save and share your recordings.
'Build-a-Synth' enables you to print and 'build' your own mini Minimoog.
The 'Face Synth' is an Instagram filter that integrates with your mobile device to use your facial expressions and body movements to trigger the Minimoog's controls.
Finally, the 'Model D App' allows users to discover the sound and workflow of the classic Model D from iOS or macOS devices, to create their own unique style.
In 2022, Moog revealed that the Minimoog Model D would be returning to production for the first time since it was discontinued in 1981 and briefly reprised in 2016.
Enter the Mini Moog Factory here https://inda.ba/3NnBTug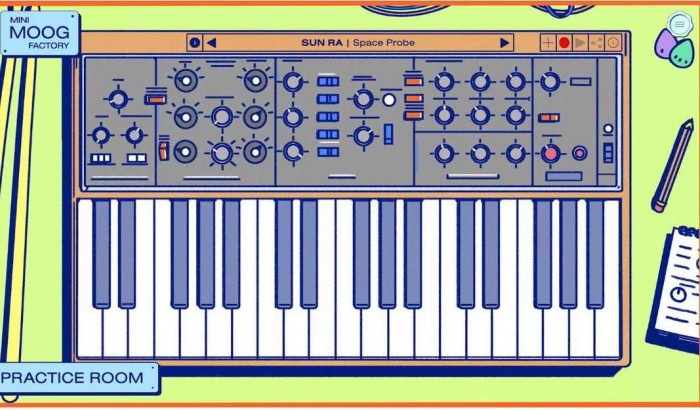 Read more
Yuri Suzuki on combining his passion for music and design
Photographs: Moog, Yuri Suzuki.