For the more vulnerable in Somalia, a simple flu can sometimes lead to death, and those especially at risk are infants and newborns, with the African nation laying claim to one of the highest infant mortality rates in the world.
Sweden has a considerable population of refugees from Somalia, with a large concentration living in Bergsjön, a suburb of the city of Gothenburgh.
Though the local private health clinic, Nötkärnan, had been highly successful in providing rapid treatment to these anxious mothers, it needed to expand to treat the influx of patients.
Designed by Wingårdhs architects - a firm who are among the more famous in Sweden - a parking lot in front of the existing clinic provided the space for the expansion of the clinic. Rejecting the traditional strict clean lines typical of medical centers, the design team explored the concept of a bright facade with an unusual 3D effect.
Envisioning it as a gift that would stand out in and empower its community, it was carefully wrapped in an elaborate glass 'packaging', with a Baltic background and fragments of Rothko artworks reflected in its facades.
Awarded two international design awards - one at the 2016 World Architecture Festival in Berlin and another at the European Healthcare Design Awards in London - and nominated for several other prestigious national awards, the building's glass facade displays a spectrum of colours, designed to offer a contrast to the surrounding concrete.
The site, a dull, built landscape of concrete elements, was a consequence of the Miljonprogrammet - an ambitious public housing programme implemented in Sweden between 1965 and 1974 by the governing Swedish Social Democratic Party to make sure everyone could have a home at a reasonable price - and demanded colour. By standing out it imbued the area with a new energy.
Because of Somalia's typically arid climate, Wingårdhs designers added four walls of dense, damp and excessive vegetation to the clinic's waiting area. The thought behind this was the idea of paradise imagined as a flourishing garden for those from a dry country and was inspired by the garden of Eden. "It was [team leader] Gert Wingårdh's idea," explains architect Christer Andersson. "There is a Somalian tale that paradise is a place of fertile greenery that lies on the other side of the Gulf of Aden. It conveys a sense of calm and harmony."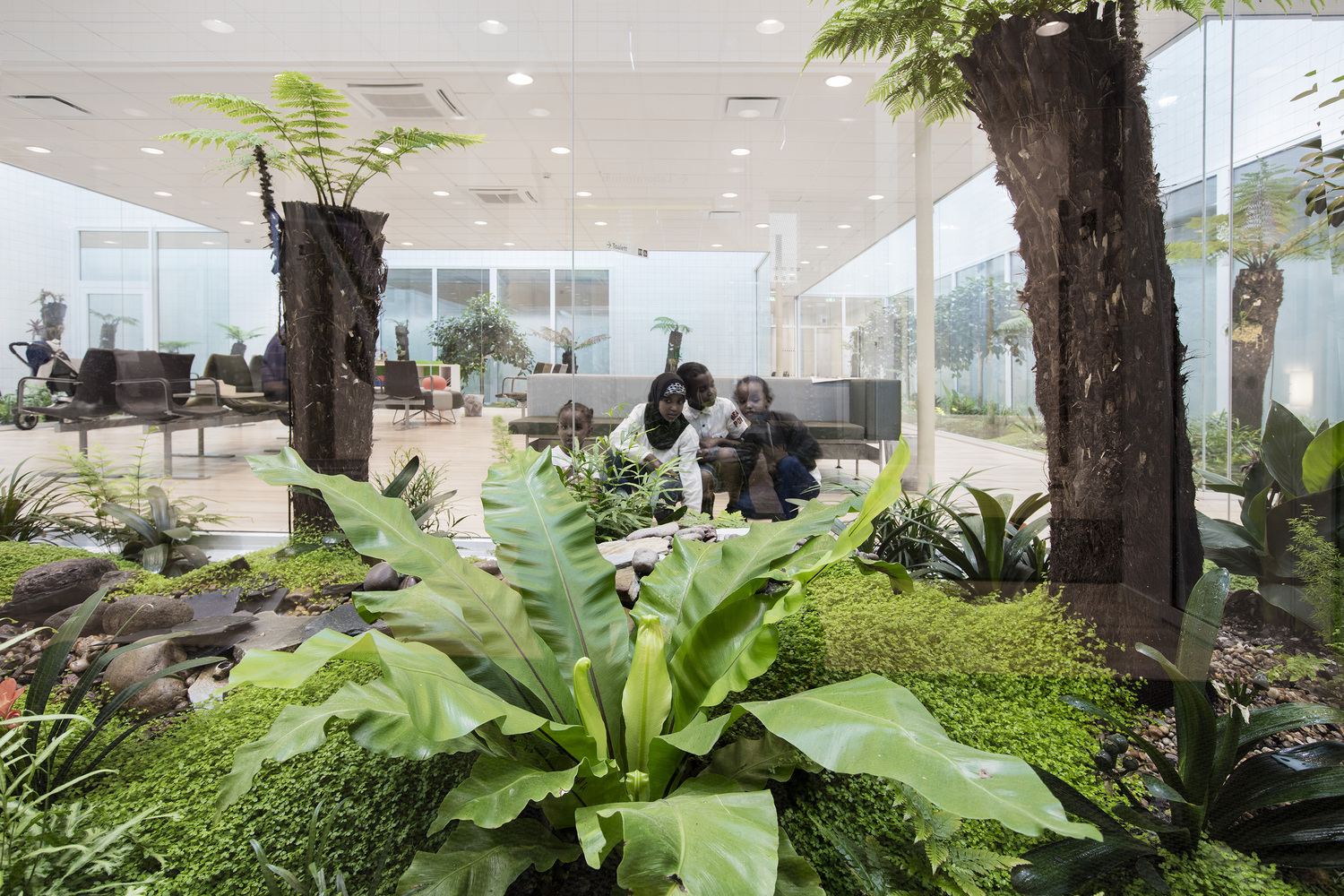 "If you are also in the middle of the asylum process, possibly separated from your family and have left your home behind, you are likely to worry even more about your health, so this helps," Andersson added.
Unique rasterised multicolor print patterns make up the outer walls, the inner glass characterised by a different pattern. Adequate distance between the overlaid patterns results in a different pattern emerging depending on the angle they are seen from, shifting with the viewer's vantage point and evoking the illusion of movement, shimmer, shadow and depth.
"If we were going to build new premises, why not create something that stands out – something attractive that local residents could enjoy and be proud of?" posits Andersson. A colorful and optimistic statement, the Nötkärnan clinic is exactly that.