On average, New Yorkers spend more than an hour every day in the subway. Metallic noises, dark lights, dirty walls, and phone screens are their everyday experience underground.
The New York Subway system carries a large number of degraded, unused, and abandoned areas such as rails, tracks, platforms, and stations. Many have fallen into disuse or have been abandoned, no longer used by the Transit Authority for their original purpose: serving passengers.
Enter antenna 2021 participant Pietro Quintino Sella and his graduate thesis project, Subline. Subline considers new transportation routes and modes for cyclists and pedestrians in New York City. It is an approach that both enhances mobility and expands the existing city map through its study and use of abandoned subterranean spaces as a design possibility.
"My design wants to create a space, a system for humans, or better - an adaptive environment for abandoned underground spaces. The research explores the possibility of turning the rail tracks and tunnels into bicycle lanes and pedestrian walkways. Developing more humanised, individualistic, and alternative ways to commute," states Sella.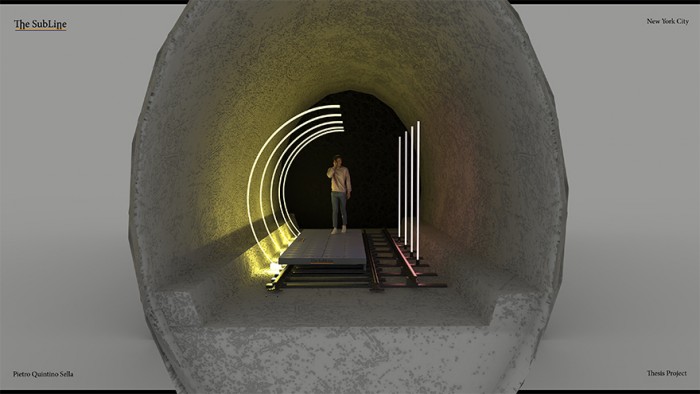 His design proposal relates to the modernisation of a rail-bicycle concept from 1899, together with an adapted self-sustained pavement for pedestrians. He believes it is beneath the ground that New Yorkers must look, in order to distinguish themselves as the greatest city in the world.
"New York City has an incredible real-estate infrastructure completely left to degradation with great potential. Investors, engineers, and designers are already exploiting these spaces and similar ones with beautiful creations, some of these have the potential to change the future of metropolis forever," adds the designer.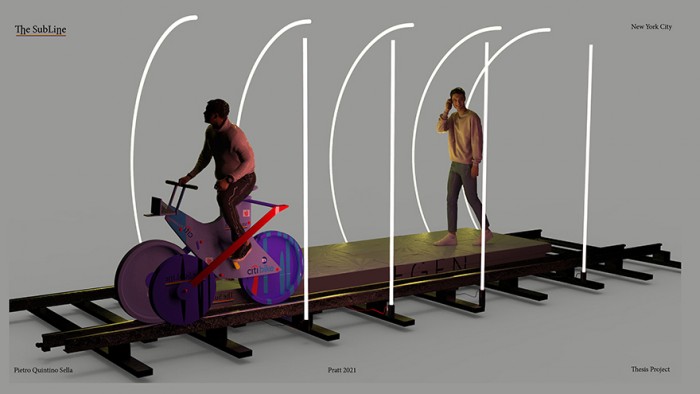 The idea of taking bicycles and pedestrian walkways underground makes total sense to Sella. It's not difficult to see how his concept could indeed become a reality in today's New York City. Examples of retrofitted spaces that are already in existence include the prominent Highline and Lowline. And with the Big Apple being one of the world capitals of ideas, creativity and forward-thinking, his design proposal could fit the city well.
Sella is an Italian-Portuguese designer who works at the intersection of art, architecture, technology, and environmentalism. His work addresses socio-economic and environmental issues through the synthesis of theoretical frameworks, contemporary aesthetics, and pragmatic design solutions. Each project Sella does seeks to highlight problems that he considers to be overlooked and the invisible.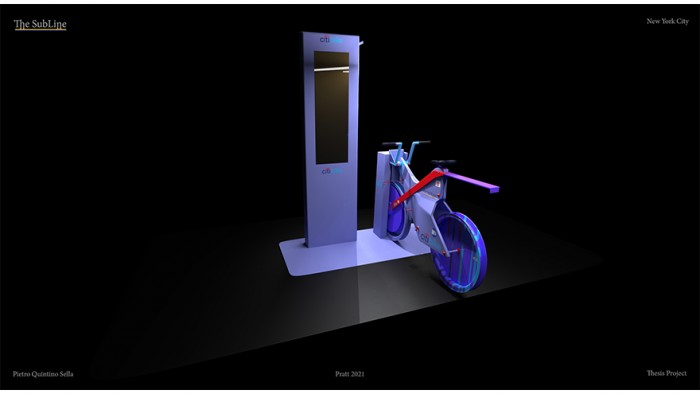 At age 12, Sella moved to Rome to attend the Caravillani art school. He graduated from high school in 2011and travelled for a year, paying attention to the customs and needs of different cultures. In 2012, he undertook an industrial design degree at the University of Venice. His undergraduate thesis project Motherpack was showcased at Milan Design Week. In August 2017, Sella was awarded a scholarship to pursue a Master's degree at the Pratt institute in New York City and graduated in June 2021. Subline won the NYX Design awards in the student category.
Read more:
antenna 2021 presents a fresh approach to design dilemmas.
antenna 2021 graduate Anandita Ayesha Rangarajan's Hate, Spaces, Ghettos project uses architecture as a means of political and social critique.
antenna 2021 design graduate Rosana Escobar redefines the value of materials with her project, Unravelling the Coffee Bag.