Heeze, a small town in the Dutch province of North Brabant, will soon be home to eight houses made of straw, thanks to a competition for the best environmentally friendly and climate-friendly house. The competition was convened by the Dutch construction company Ballast Nedam Development.
The attractive houses will be both environmentally friendly and scalable and can be adapted to different climates. The modules are load-bearing up to five layers. The winning concept was proposed by designer architecten|en|en (a partner of Strotec) and construction company Bouwbedrijf Van Herpen. Strotec supplies prefabricated straw panels from the company EcoCocon.
The goal is to introduce the Natuurhuis (Nature House) as the "new normal" for housing in the Netherlands and to "initiate a material transition".
The prefabricated building system is made of over 80% bio-based materials. It combines the insulating properties of straw with the structural integrity of wood to create a highly effective and safe structure. With its excellent resistance to fire, durability and easy maintenance, it is an outstanding housing option.
"We are focusing on a growing group of Dutch people who want to consume less and reduce their environmental footprint. We take them with us, raise their awareness, and offer them added value," architecten|en|en says of their design.
Each "Natuurhuis" house will save 90 tonnes of CO2 compared to buildings made of conventional materials. In addition, the homes will generate more electricity than they consume, making each house a "small power plant". A green roof and façade will contribute to efficient water management on the property. Through rain barrels and a continuous wadi, each house can collect and use its own water resources.
The houses will be raised slightly above ground level to create a more seamless transition between the homes and the surrounding landscape. They will achieve this with the addition of a deck at the front and a porch at the back, both of which accentuate the houses' height. The ground floor also projects outward, giving the buildings a more commanding presence.
Every detail of these homes is in balance with the surroundings – from the enormous wooden ceiling beams to the white plastered clay walls, there is a singular connection between indoor and outdoor. "We believe that with our natural house, we have reached the highest possible standard in bio-based construction," says the architecture firm.
The pilot building is scheduled to start in mid-2023.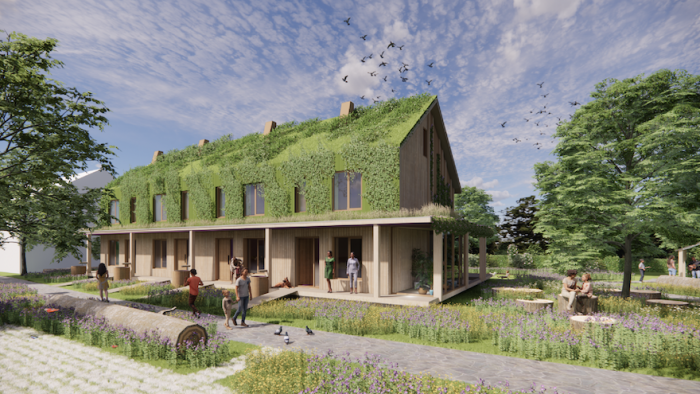 Read more:
Sustainable housing 3D printed with mud and straw.
Diébédo Francis Kéré wins Thomas Jefferson Foundation Medal for Architecture.
New Shenzhen Natural History Museum.
Credits: Ballast Nedam