Japanese artist Chiharu Shiota is renowned for her installations that use a wide array of materials, including yarn, fabric and everyday objects, to examine the idea of human connections and emotions. Signs of Life, her latest exhibition – and her first in New York in almost a decade – features two large-scale installations exploring these themes, alongside a series of previously unseen sculptures and drawings.
Created on-site over two weeks, both the installations explore the notion of the web of human connection, taking inspiration from structures that make up the universe and our own bodies. The first, reminiscent of our network of blood vessels, is a large-scale piece made of interconnected red threads, symbolic of the collective memory of humankind and the world's knowledge, which cuts across cultures and continents. At its heart are two arms – the artist's own – cast in bronze, with palms facing up to the sky.
The second of the two site-specific installations is a mass of white threads reminiscent of a spiderweb, festooned with book pages. Shiota envisions the installation, created over a two-week period, as connecting personal memory and the universal collection of knowledge.
Shiota, who once thought that 'if death took my body, I wouldn't exist any more', says she is now convinced that her spirit will continue to exist, 'because there is more to me than a body. My consciousness is connected to everything around me and my art unfolds by way of people's memory.'
The two installations are accompanied by a series of sculptures of objects from everyday life. 'I feel that the objects we possess are like a third skin,' Shiota says of the aged suitcases, stained dolls, miniature furniture and tiny bottles that weave, interconnected, across the gallery space. 'We accumulate these things and transpose our presence and our memory to them.'
Signs of Life is on at Galerie Templon in New York until 9 March 2023.
For more information about the exhibition visit the Templon website https://inda.ba/3kbIpby.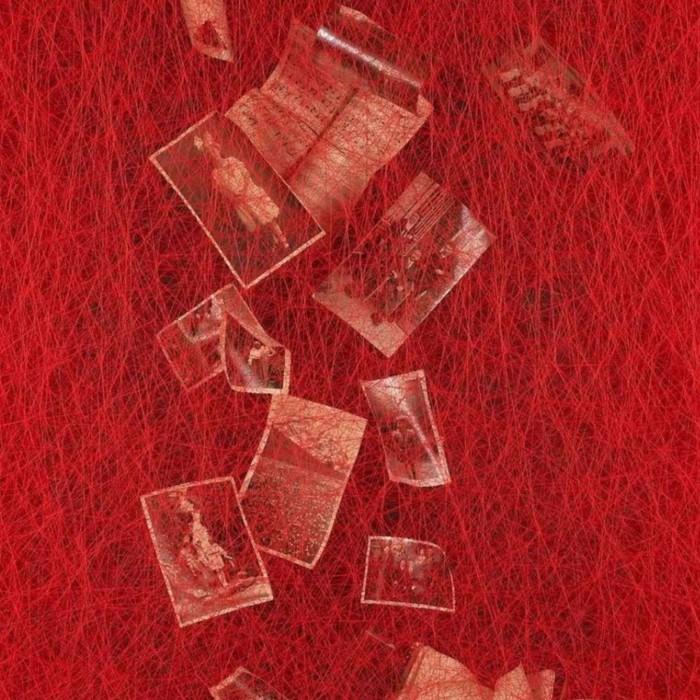 Read more
Photographs: Chiharu Shiota, Templon.