DRIFT unveiled its first tree-shaped sculpture during the Burning Man festival in 2017. The artificial installation, created with a team that included artists Zachary Smith and Mark C Slee, was designed to light up in response to the heartbeats and brainwaves of people interacting with it.
The installation consisted of 25 000 sculpted leaves containing 175 000 LED lights. DRIFT used its own Flylight technology to cause the LEDs in seven different colours to react in 'light swarms' when a number of people coordinated their interactions with the tree.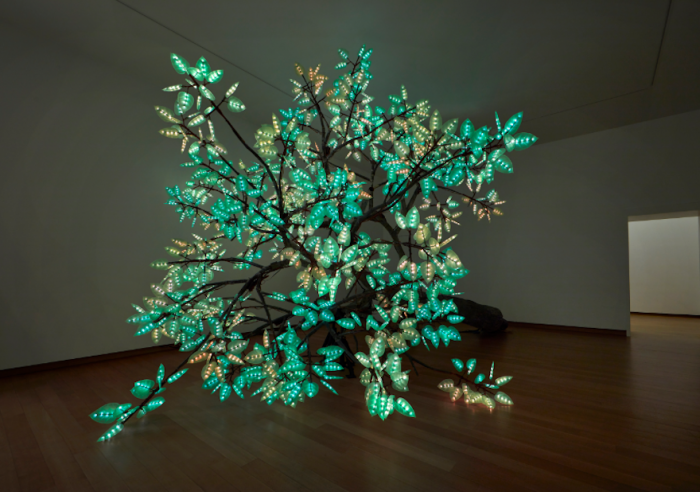 DRIFT's "tree" is named after a 300-year-old acacia that grew all alone in the Sahara Desert, and is intended to be a symbol of resilience, flourishing in a difficult environment. Sadly, the original tree of Ténéré was destroyed when a driver crashed into it in 1973 - the spot is now marked by a metal sculpture.
After its debut at Burning Man, a second iteration of DRIFT's mechanical sculpture has now found a home within the mixed-use project The Epic in Deep Ellum, Dallas. It will be on permanent display in an outdoor area. It has essentially been redeveloped for a commission by Goldman Global Arts and Westdale Management. A unique digital method ensures that the tree 'grows' just as a natural tree does, in response to actual, local environmental factors like wind and sunlight.
DRIFT's swarm algorithm is once again in place, creating a dynamic choreography, particularly at night, when its environment-reactive LED lights begin to sparkle. This is an impressive sight, since the tree is over 10m tall and consists of more than 120 branches, 840 twigs, and 12 000 leaves.
The tree will elevate the quality of life for local residents and visitors alike, in its new location at 2550 Pacific Avenue. It seems appropriate for the tree to set down its roots in Deep Ellum, home of art, music, history, and cultural appreciation. DRIFT hopes the tree will reawaken an appreciation for both the environment and how technology can connect us to nature.
DRIFT artist Lonneke Gordijn says it is essential for humans to reconnect with nature and recognise our interdependence. "Humankind is the only species that doesn't react to the changing planet, being numbed by motionless environments, with little or no direct contact with nature," she says. "With this sculpture, we want to connect people with each other and their environment."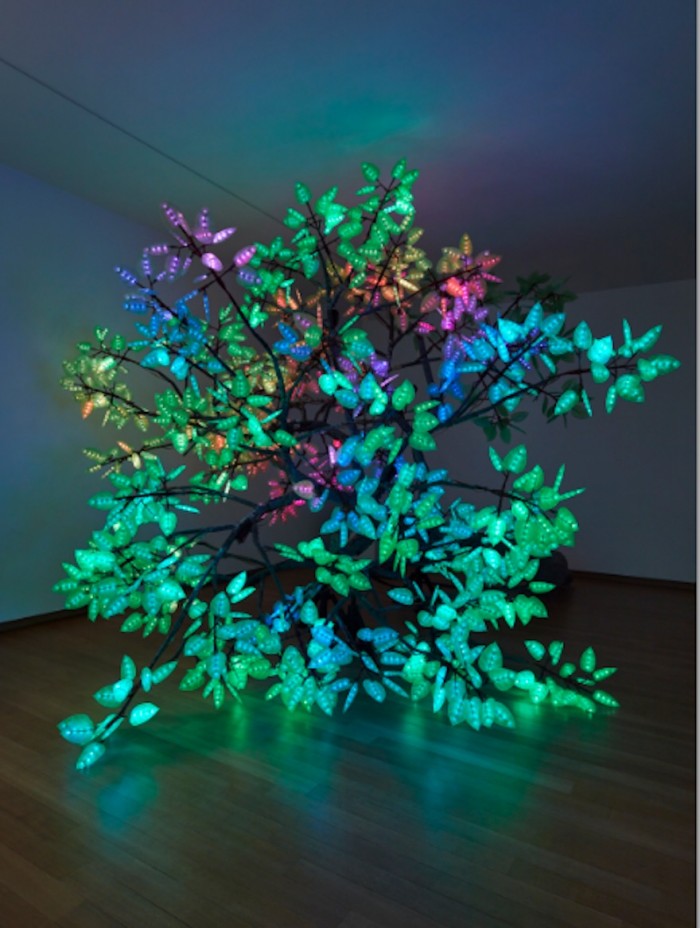 Read more:
Tech that reawakens awe – studio DRIFT's kinetic installations to light up #DI2020.
Former Design Indaba Speaker, Es Devlin, presented her Conference of the Trees at COP26.
Credits: Arjen van Eijk, Xinixfilms, DRIFT, Supplied.