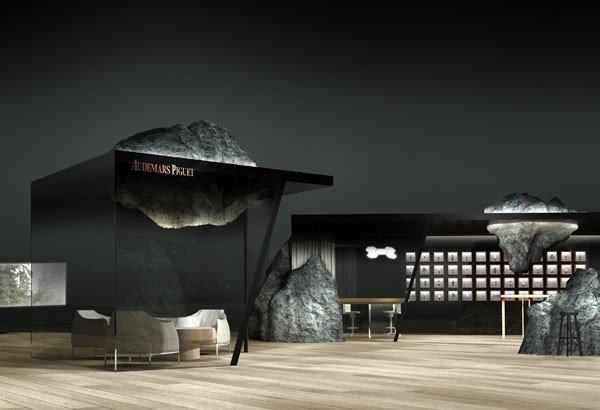 Mathieu Lehanneur's lounge design for Audemars Piguet.
Mathieu Lehanneur explores the theme of nature versus technology in the design of a lounge to be unveiled at Art Basel 2014.
French designer Lehanneur's imaginative designs take inspiration from the worlds of science, nature and technology. His latest installation for Audemars Piguet, a Swiss watch manufacturer, is no different and seeks to reveal the brand's origin.
For the design concept, Lehanneur used the latest technology in resin and fibre moulding to cast replicas of rocks in Audemars Piguet's home in one of Europe's remote and pristine forest regions. Lehanneur masters the art of recreating the landscape of one of the continent's most isolated and challenging environments through taking exact prints of the ancient Swiss rocks to create his own version of nature all executed without leaving behind any trace of human activity on the environment.
For this project, I wanted to bring the captivating landscape of the Vallée de Jous, which has played such a key part in both Audemars Piguet's history and its legacy of craftsmanship, to three continents across the globe by taking prints of the mineral rocks I discovered in the region and casting replicas through the latest technological processes, says Lehanneur.
The cast resin and mineral rocks will be displayed in the Audemars Piguet booth in the Collector's Lounge, bringing the rugged, natural landscape of the company's origin to Art Basel 2014.
Watch the Talk with Mathieu Lehanneur