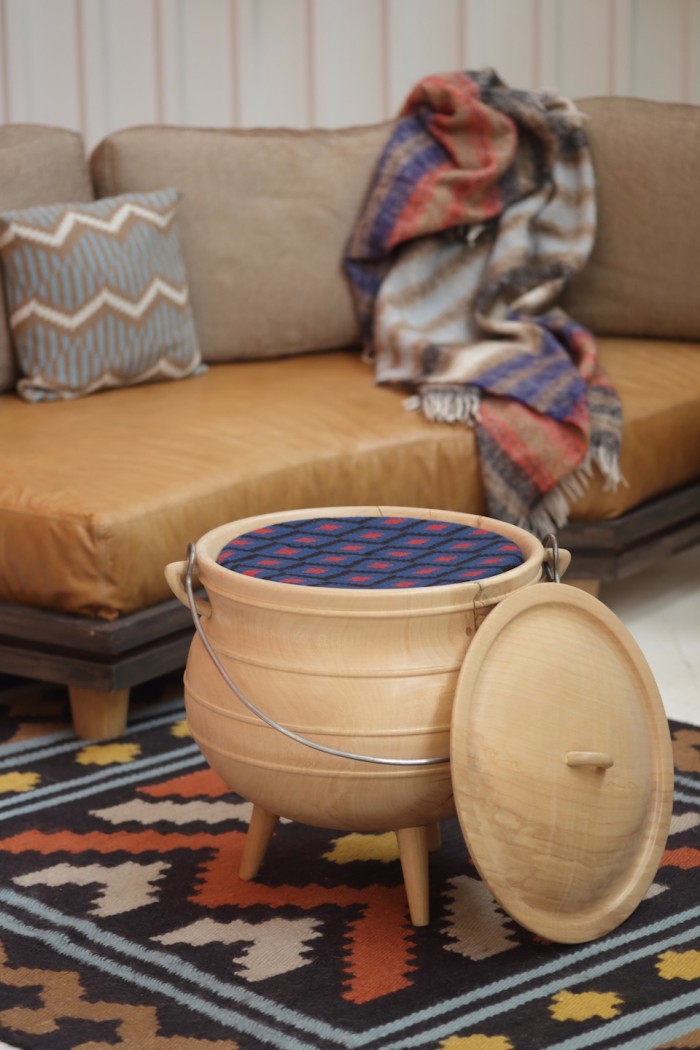 Wooden Potjie Pot by Mlondolozi Hempe and Laduma Ngxokolo. Image: Henk Hatting.
The traditional South African potjie, a three-legged cast-iron pot for cooking over an open fire, has been reimagined in wood as a piece of sculptural furniture by Mlondolozi Hempe, co-founder of Cape Town-based multi-disciplinary design studio Broad Based Design.
Hempe has a strong cultural connection to the potjie pot, known as "imbiza yesiXhosa" in his native tongue, as it is regularly used in traditional Xhosa ceremonies. "We often cook our slaughtered meat using the pot ­– you can't have a traditional ceremony without some of these pots cooking up a storm on the day," he explains.
Hempe wanted to integrate the object into the South Africa urban lifestyle so he translated its form into a solid wooden piece that functions as a small side-table or stool.
I was inspired to take an often forgotten object in my culture and transform it into something present in everyday city life, says Hempe.
Hempe approached renowned knitwear designer Laduma Ngxokolo to design a cushion for the wooden potjie chair. Ngxokolo's design for the machine-knit circular cushion reflects his on-going interest in traditional Xhosa beadwork, giving an extended Xhosa aesthetic to the unique object.
The wooden potjie chair forms part of Hempe's Inanimate to Animate furniture collection and was showcased for the first time at his Xhosa-inspired living space designed for the 12 Rooms exhibition at Leon at CCXIX in Cape Town, which runs until 30 August.
Watch the Talk with Issa Diabaté