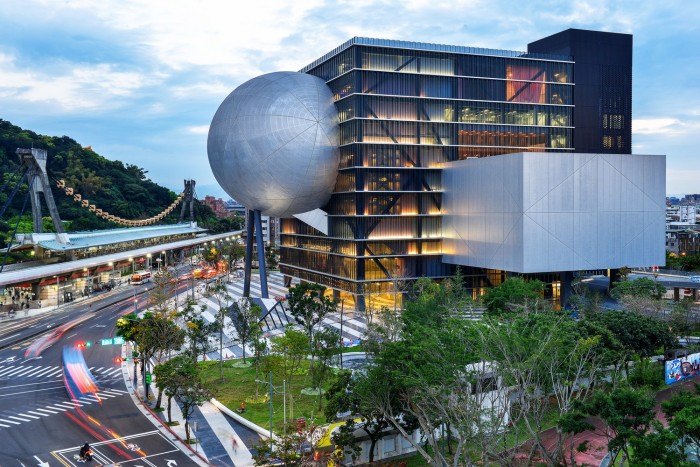 On 7 August 2022, the Taipei Performing Arts Center opened to the public after almost a decade of development delay. The centre, which is located alongside Taipei's Shilin Night Market, is an experimental take on theatre design and features three different theatre structures that are 'plugged' into a central cubic building.
The Office for Metropolitan Architecture, more commonly known as OMA, was founded in Rotterdam in 1975 by Rem Koolhaas and his associates. The studio, which has offices around the globe, is behind other contemporary buildings such as the Galleria in Gwanggyo, Potato Heads Studios in Bali and the Qatar National Library.
For the Taipei Performing Arts Center, Rem Koolhaas – who was the project lead – wanted to stray from contemporary performance-theatre design that has become standardized with 'conservative internal operation principles'. The key question Koolhaas posed during the design process was: "Can a public theatre still be inclusive, accommodating the classic and the serendipitous, the highbrow and the masses, the artistic and the social – a place for the creative life of all?"
The resulting creation is a monumental building with multiple elements that protrude above ground level, each separate theatre boldly unique yet connected by a central cube that allows for the potential of a shared experience. The building has also been configured to allow a shared backstage and support area to serve all of the theatres, which together can seat over 3 000 people.
Arguably the most notable of the three theatres is the 800-seater Globe Playhouse, a gigantic spherical structure containing an auditorium bulging out of the central cube for which the Performing Arts Centre has become widely recognized. Another notable and unusual feature of the centre is the Public Loop – a publicly accessible walkway that runs through the theatre, offering a glimpse into its backstage and production areas and connecting the street life of Taipei directly with the arts.
The arts centre, which was commissioned by the Taipei City Government, officially opened at the beginning of August with a performance by the Taipei Symphony Orchestra. The debut performance marked the end of an extremely delayed production process that saw the building open seven years after initially scheduled, nine years after development started and 14 years after Koolhaas first started designing it.
Find out more about the Taipei Performing Arts Center on the OMA website https://www.oma.com/projects/taipei-performing-arts-center.
Read more:
Credits: OMA