More than 70 million people are displaced in their own countries or living as refugees, and half of these are under the age of 18. Faced with this appalling statistic, global non-profit organisation Education Above All saw a need for infrastructure that could serve as classrooms, temporary housing and medical centres for these communities.
The foundation teamed up with world-renowned London-based architecture firm Zaha Hadid Architects, known for its innovative and distinctive designs, to create a series of tents for these purposes. Designed to be highly adaptable and flexible, with sloping roofs and curved walls, the tents have a modular structure that can be quickly assembled and disassembled, and easily transported to different locations. They're energy-efficient, with natural ventilation and lighting, and materials that help to regulate temperature and reduce the need for artificial lighting and heating.
Education Above All, founded in 2012 by Sheikha Moza bint Nasser (one of the three consorts of Sheikh Hamad bin Khalifa Al Thani, the former emir of Qatar), aims to provide education for children and young people in disadvantaged communities around the world. The organisation focuses on providing access to quality education to those living in conflict-affected areas, refugees, and children living in poverty. One of the last structures designed by the founder of Zaha Hadid Architects, Zaha Hadid herself, who passed away in 2016, the tents offer safe, versatile and sustainable spaces for children to use for play, learning and development.
'We have a like-minded partner in Education Above All,' notes Zaha Hadid Architects' project architect Gerry Cruz about the collaboration. '[Education Above All] are committed to investing in innovative design for the good of disadvantaged and vulnerable communities.'
Three of the tents are being used as schools for displaced Pakistani and Syrian children in Pakistan and Turkey, while the remaining tents will be donated to the International Organisation for Migration and the Qatar Red Crescent for use in Syria, Turkey and Yemen.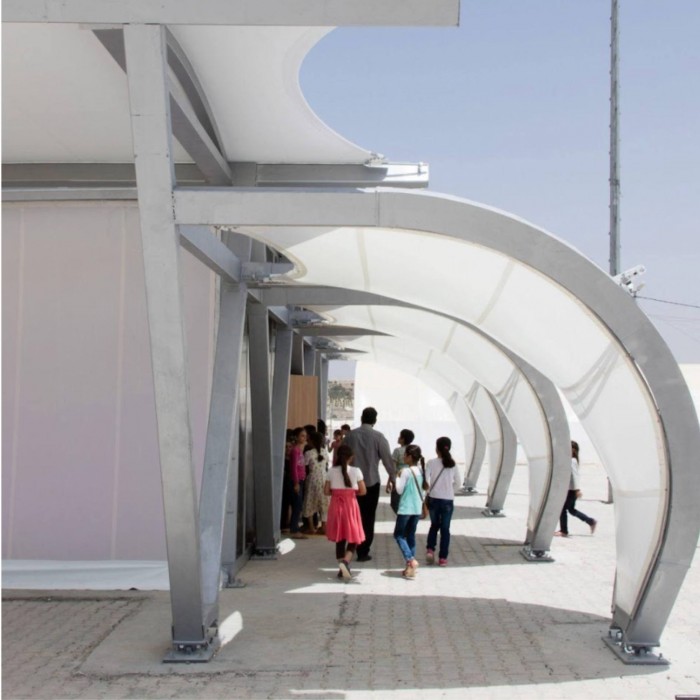 Read more.
A tribute to world-renowned architect Zaha Hadid
Flood-prone affordable homes empower slum residents
Photographs: Zaha Hadid Architects and Education Above All.