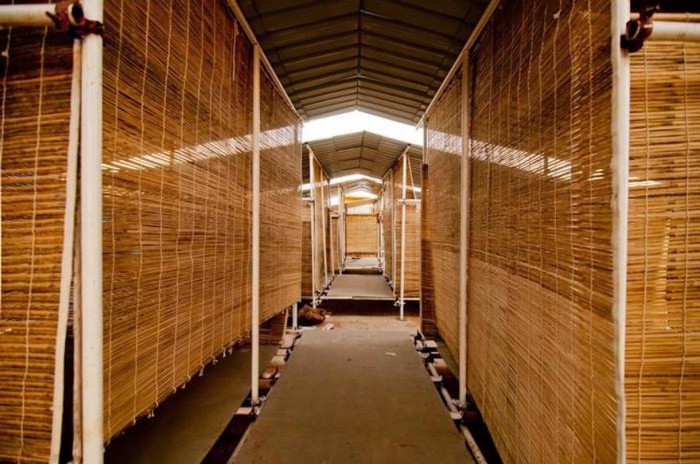 Alok Shetty's slum dwelling design
In collaboration with non-profit group Parinaam Foundation, architect Alok Shetty created an improved slum dwelling for Bangalore's LRDE settlement, which houses approximately 2 000 residents. The low-cost housing model is a response to the poor living conditions in the area, afflicted by flooding, disease and cramped, unventilated spaces.
Shetty's housing design is built to withstand seasonal monsoon flooding with a raised framework constructed a foot above the ground and a sloping roof that directs rainwater off the edge away from the dwelling, enabling residents to collect the runoff water for household usage.
To address the lack of space in the existing residences, Shetty split up each 100 square foot dwelling into two units divided by a corridor. The corridor provides an open space for cooking to prevent the inhalation of smoke, soot and carbon monoxide in the living space. To further increase ventilation, the design features a window and a raised roof, which creates good air circulation. In addition to this, various partitions provide ample light and allows residents to choose how to divide their spaces.
With a sustainable approach to low-cost housing, Shetty incorporates scaffolding and metal straps as a support system for the units and study wooden sheeting for the flooring. According to the architect, scrap material salvaged from just one construction site could provide the materials to build 150 new homes.
The compact housing design is also easy to set up, taking only four hours to assemble or dismantle. The quick setup and portability of the dwelling is important to slum residents who often need to pack up and go where they find work.
Currently the flood-prone houses cost 300 US dollars to make but Shetty hopes government subsidies will further decrease the price.