The Blanton Museum of Art, located at the University of Texas in Austin, recently had a comprehensive grounds redesign by architecture and design firm Snøhetta, which includes a central courtyard covered by a canopy of petal sculptures, large-scale artworks, two murals and an outdoor gallery dedicated to sound art.
Over the last five years, Snøhetta reinterpreted a 185-square-metre area to revitalise it into a space for public gatherings, civic events and art installations. The new design connects the university campus to the vibrant city of Austin, unifying the museum campus with Congress Avenue, the city's prominent avenue, through a choreography of planting, geometry and art.
At the heart of this new landscape is the central Moody Patio gathering space, with its canopy of lily-like sculptures creating a shaded microclimate with dappled light that follows the sun. From Congress Avenue, visitors will now approach this courtyard, which offers respite from the busy streetscape as well as views of late American artist Ellsworth Kelly's famous stone building with its colourful glass windows, named 'Austin' for its location.
The petal canopy complements the museum and the Kelly building through a layering of geometry, landscape and light. The curving outlines of the structures, inspired by the arched vaults of the loggias that line the museum, highlight views of Kelly's 'Austin' and the Texas state legislature building.
Standing at 12 metres tall, each petal is made of perforated panels and spans nine metres in diameter. The petals fulfil a dual role by efficiently gathering and purifying rainwater, which is used to water the indigenous plantings adorning the neighbouring pathways.
The Butler Sound Gallery offers visitors a multisensorial experience. It opened in late 2022 with a site-specific 'sound sculpture' by sound-art pioneer Bill Fontana that incorporated recordings of Texas wildlife, as well as sounds associated with the region's geological features, made over the course of four seasons.
One of the murals, 'Verde, Que te Quiero Verde (Green, How I Desire You Green)', is a site-specific piece by renowned Cuban-American abstract painter Carmen Herrera. Spanning the length of the building, with the museum's entrance in the middle, it is the artist's first public mural.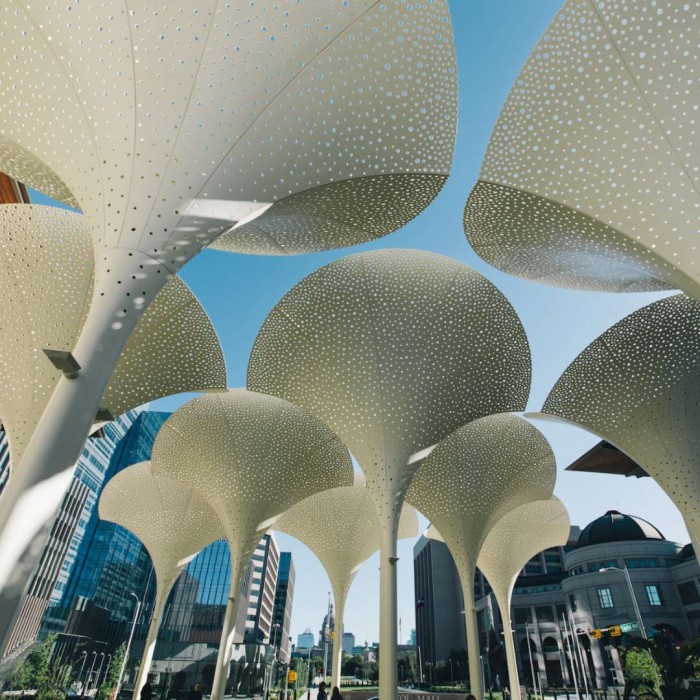 Read more
Photographs: Snøhetta, Sloan Breeden Photography.