Perseverance, achievement, vibrance and excellent character are the core values of the PAVE Academy Charter School in Brooklyn, New York, which serves a high-needs population of low-income children.
Paula Scher has designed a set of environmental graphics for the school that captures its mission and values in large-scale typography seen throughout the school building.
Positive messaging is one of the key motivating tools at the school so Scher worked with Mitchell/Giurgola Architects to integrate these uplifting phrases into the architecture.
Dimensional signage at the school's entrance greets students with the words "PAVE Academy" emerging from the surface of the building in deep letterforms.
"Building citizens and scholars brick by brick" is the school's motto and inside the school various educational slogans have been combined with the architecture to create a dynamic environment for learning.
Tiles and paint have been used together in innovative ways that allow phrases like "hammer it home," "be sharp" and "do the right thing" to stand out. Phrases have also been rendered as intricate tile mosaics in the school cafeteria and in painted typographic friezes running along the hallways.
Meanwhile the "brick by brick" motto comes to life as a two-metre-high painted mural that wraps around the walls of the school's gym.
Watch the Talk with Paula Scher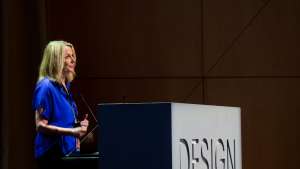 Talks
• Duration: 00:25:19
•
10 Oct 13