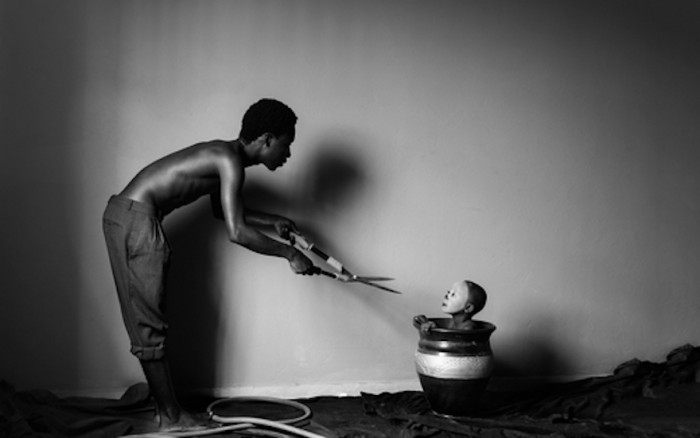 An entry of work by Eric Gyamfi, Asylum: fathers and sons 1 (3) (2014)
African creative Nana Oforiatta – Ayim is at the helm of a project that aims to document African art and culture in a way that has never been attempted before. The project, titled Cultural Encyclopaedia Project, is subversive by its very nature, challenging notions that technological advancements and innovation are both rooted in the west. Oforiatta – Ayim is setting up teams all over Africa with an aim to document, collect and distribute a comprehensive archive of African art and culture.
Speaking to the New York Times, Oforiatta – Ayim said she was inspired by academic texts. The research would often go unseen by the public. "I would get completely sidetracked reading about things like the technology of kente cloth. And at the same time I was also thinking that the narrative that is told about Africa is still the backward narrative: no innovation, it's ahistorical and stuck. Yet with everything I was reading, it was stories of innovation, of knowledge, of technology."
The encyclopaedia will start in Ghana. Oforiatta – Ayim is currently gathering historical and contemporary Ghanaian art, literature music and more with the help of a team of Ghanaian musicians, filmmakers, photographers, and writers.
While the internet-based repository will take a number of years to complete, Oforiatta – Ayim says she'll also create a manual and establish teams in the 53 other African countries so that the curation can take place all over the continent simultaneously.
"So if other countries are going to take it on, then we are going to have a manual like, 'this is how we collect things, this is what we did wrong and this is what we did right.' There is no reason that, once we have the manual, there can't be five countries at the same time working. So what I am doing is building teams in different countries," she adds.
The project received a $40 000 grant from the Los Angeles County Museum in 2015.