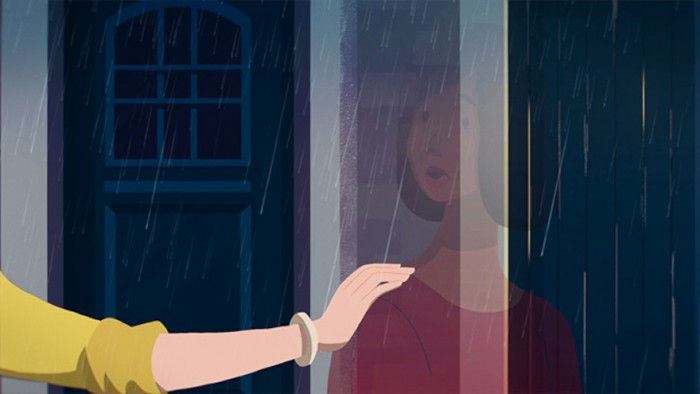 Domestic violence is an insidious beast, one that thrives on isolation, insecurity, and self-doubt. Victims are often difficult to reach given their seclusion and inevitable fear of their partners; their reluctance to seek help combined with friends and families' failure to notice signs can be a deadly blend. In an effort to raise awareness, UK domestic violence charity Refuge partnered with award-winning animation studio Le Cube and BRIT-nominated singer-songwriter Frances for a music video that doubles as a public service announcement.
Based on one of Refuge's real-life cases, the animated short and music video for Frances' latest single 'Grow', follows a woman as she goes about her day, transparent as a ghost and growing less visible with each frame. A silent victim of abuse, many of the video's other characters barely see her and the route she walks is well trodden. As the film progresses, she encounters a character representing Refuge, who recognises and understands her experience and offers her help in escaping and rebuilding her life.
"I understand what it's like to feel as though nobody knows what you are going through. I was living with domestic violence behind closed doors for years – I kept it all to myself and told my family and friends," said Melanie Clarke, the survivor whose story inspired the film. "My ex-partner had deliberately isolated me; his controlling ways made me isolate myself from people. When I received support from Refuge, it was like somebody turning on a light."
Featuring a colour palette that grows in vibrancy as Clarke nears her happy ending, the team at Le Cube used their considerable skills to tell a sensitive story in an uplifting manner. Directed by Gustavo Karam, the film's 2D and stop-frame animation combined with Frances' haunting vocals produce an emotive narrative that urges viewers to pay closer attention and remember that they are not alone.