Empathy is what sets the human race apart from other animal species. But, from xenophobia in South Africa to harsher immigration controls in the United States and the United Kingdom, our defining characteristic seems to be in short supply. Experience designer Siphilele Magagula used this lack of mutual understanding as a catalyst for her thesis project: a conceptual museum that puts the viewer's emotions at the centre of the exhibit.
Born in the landlocked Swaziland in southern Africa and educated at an international school, Magagula was already accustomed to living among people from different walks of life when she immigrated to Florida in the United States (US) in her later years. There, she was confronted with a form of segregation reinforced by an extreme level of inequality. "Everyone sees the other person as "the other" and we don't really understand each other. A lot of the Americans I encountered hadn't experienced different cultures," she explains. "I felt like more and more of the world needs to be able to see difference as a good thing as opposed to a bad thing."
She conceptualised a museum experience that would start with the viewer's preconceived notions of the people around them before subtly, and intimately influencing their beliefs as they move through specially designed spaces. "I've always been interested in how people work. Initially, I wanted to design some kind of memorial museum to get someone to feel what it was like to be in that experience but then again, that's already been done. So I did some brainstorming with friends from different majors and came up with the idea of empathy. I basically wanted someone to feel what it's like to be someone else," she adds.
I wanted to create a space in which the viewer is part of the experience. It's not a passive experience that you'd find in a normal museum.
But how does one design to influence people's reaction to a physical space in a way that also influences their reaction to one another? To answer this question, Magagula explored gestural architecture as a medium. Playing on the innate curiosity we share as people, architecture communicates to the viewer through gesture to infer a message or an idea, encouraging the user to explore further.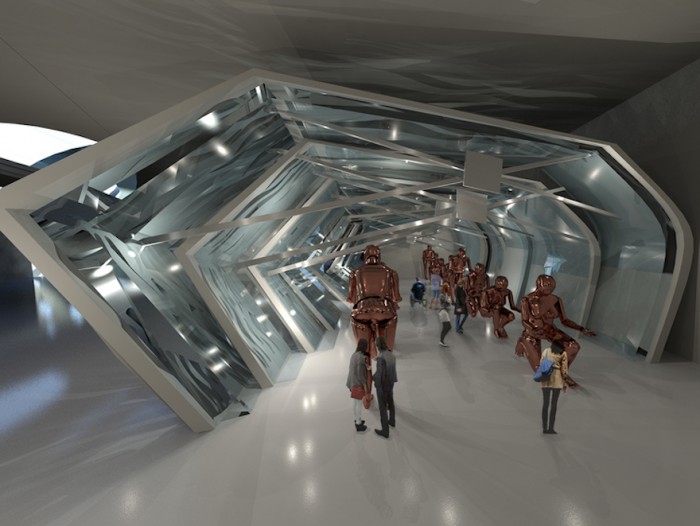 "I was trying to figure out how to use architecture to evoke an emotion," she explains. "Through my research, I found that every single architectural building is a gesture. Through those gestural forms, I was able to create intimate spaces versus more public and open spaces. So throughout the design, you'll see a lot open and closed spaces. I saw that viewers don't want a place that completely closes you in. People need to be comfortable."
The museum begins with a wall of emojis as a play on the ability to see through emotions. This leads to exhibition spaces that play on different gestural forms of void and mass. Going further, participants would find themselves in spaces such as the "Exchange" restaurant which caters to experiences that foster conversation in different forms, including a round-table form called "Speedy Exchange" that promotes equity in a structured amount of time.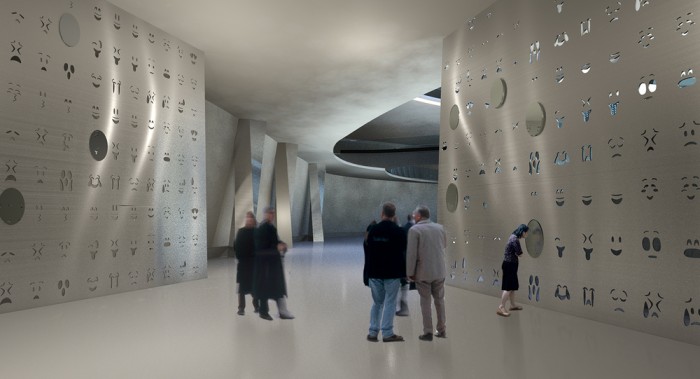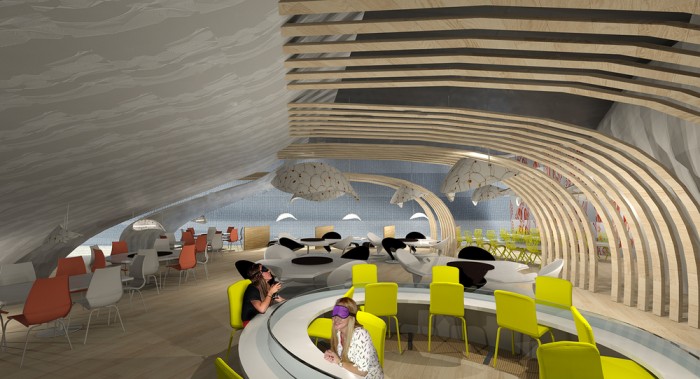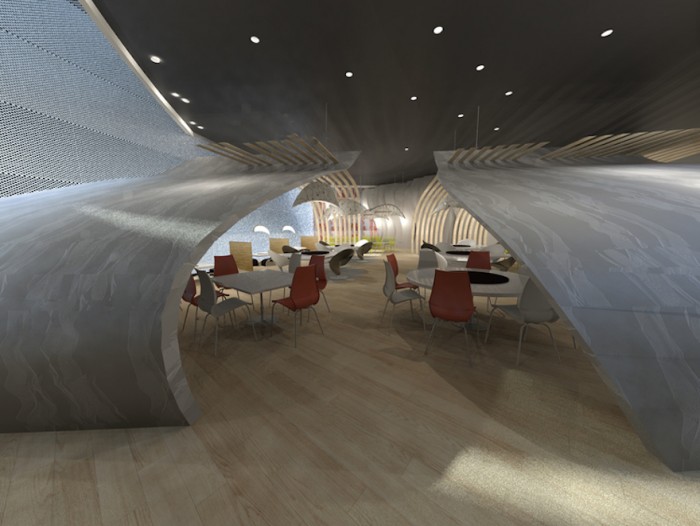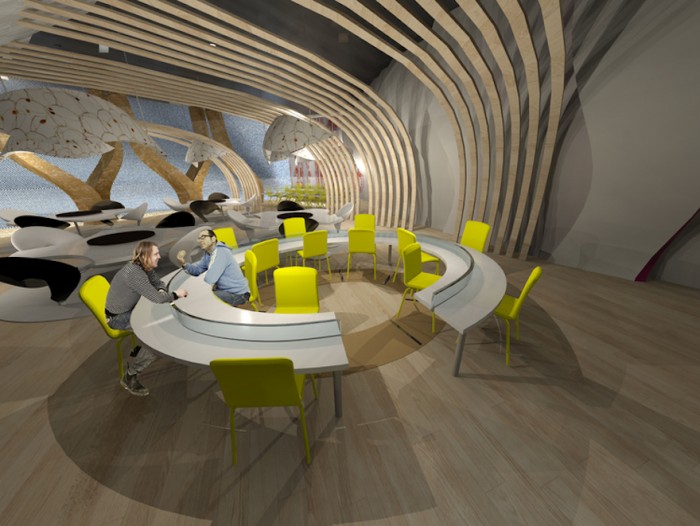 The museum would also include a virtual reality experience called "The Shoe" in which participants would immerse themselves in the stories, pictures or music sourced from various artists around the world. "We would collaborate with artists and videographers from the areas so that it's constantly changing. We'd use those and augment them into the VR experience.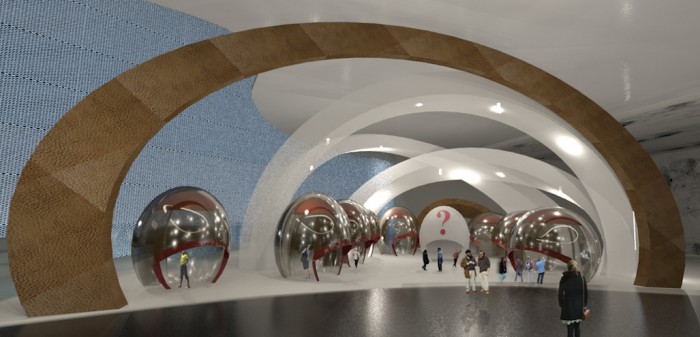 Throughout these interactions, participants are required to log their view of "the other". A section titled "The Unfinished" offers a space for reflection that attempts to illustrate how every action has a reaction. Participants are given the opportunity to view all that was logged by visitors in screens throughout the museum. "I feel like it would have a mix of responses," says Magagula "People who come in with an open mind would be happy about it. I envision it having a ripple effect on the artists involved because I want it to be an interchanging space. The experience should never be the same."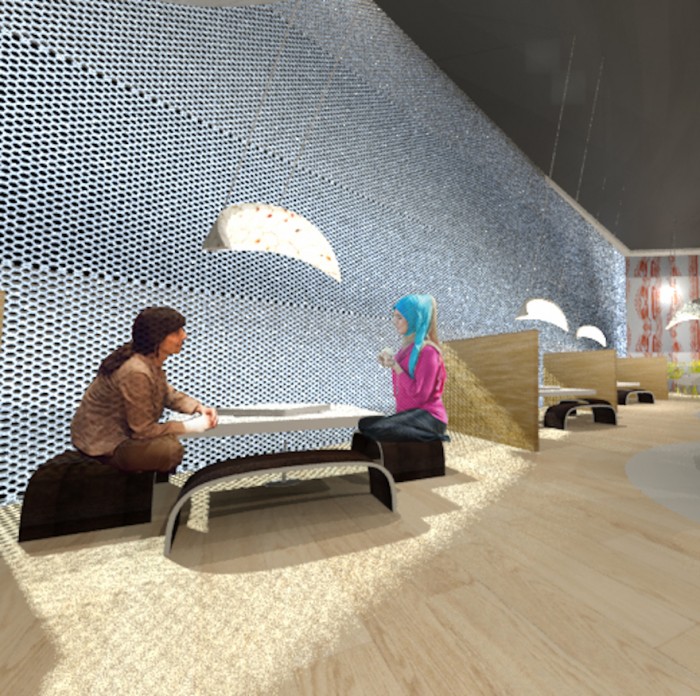 While the concept is not completely figured out yet (there is a safety concern when addressing sensitive issues), Magagula hopes that it would be free so that a diverse range of people would be attracted to the experience. "I feel like we've always needed it. I feel like there's never been a time when we're all on the same page.
"You could place this anywhere in the world and it would be relevant because we're constantly not seeing eye-to-eye. It takes a small step to start the conversation of acceptance and accepting change as a people."