When a 2020 study found that distressingly few 18- to 39-year-old South Africans who were eligible to vote in the 2019 elections did so, a team of young innovators decided to create a 'political dating platform' called Yoh, Vote that matches users with political parties based on their ideals.
The study, by University of Stellenbosch political-science lecturer Collette Schulz-Herzenberg, found that 'only 15% of all eligible 18-19-year-olds, 30% of eligible 20-29-year-olds and 43% of 30-39 year-olds' voted in the 2019 elections. 'The disheartening lack of engagement in the last national election, particularly among young people, motivated us to create a fresh and non-partisan platform to simplify political engagement,' the Yoh, Vote team said.
Ryan Young, Yeshav Sewlal, Shannon Stodel, Santhea Sinivasan, Nthatisi Mota and Daniel Klopper – all of whom are under the age of 25 – conceptualised an easy-to-use, simple process where individuals can make informed decisions about the country's political parties without having to do their own extensive research. Speaking to Design Indaba about the inspiration behind the platform, they explained, 'No one has a good time reading party manifestos, and a dating app is an engaging and fun way to discuss these pretty boring topics.'
The welcoming, pastel-hued website opens with a countdown to the 2024 National Election and a button that leads users to the 'Match-Maker'. There, they are led through a series of multiple-choice questions, and ultimately presented with one of the five political parties on the platform that best matches their answers – the African National Congress (ANC), Action SA, the Democratic Alliance (DA), the Economic Freedom Fighters (EFF) and the Inkatha Freedom Party (IFP). The parties' 'dating profiles' include basic information from their manifesto, including history, principles, signature policies and figures in power.
While the platform presents voters with the political parties' ideals, users have to do their own research on whether or not their real-world actions are in keeping with their manifestos. 'We wanted to make sure the youth don't get overwhelmed with information and use the party they receive on the quiz as a starting point into further research,' the team explained, clarifying that the inspiration for creating Yoh, Vote stems from their belief in the potential of South Africa. 'We aim to empower every citizen with the right and responsibility to be politically informed and engaged in their democracy.'
Visit https://www.yohvote.com/ to take the quiz.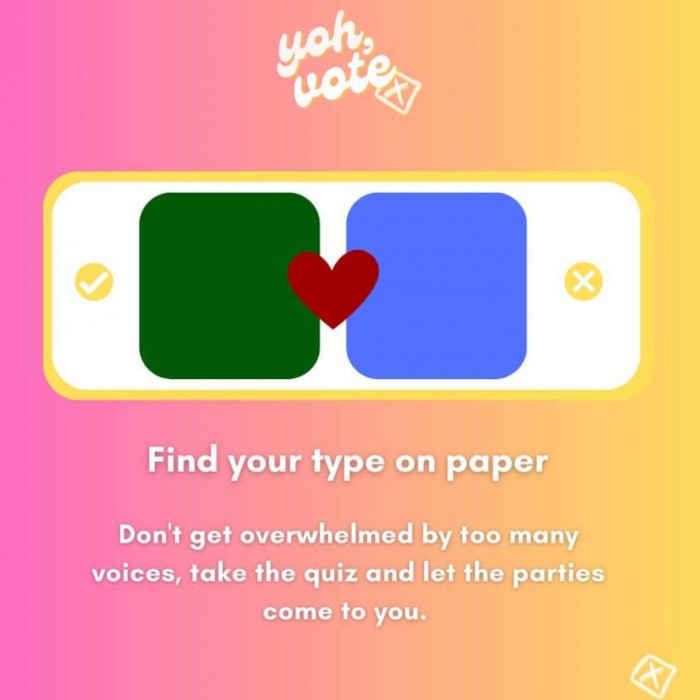 Read more
Photographs: Yoh, Vote.