Former Design Indaba Emerging Creative Thebe Magugu has partnered with Adidas on a new 2023/2024 season kit for Orlando Pirates, one of South Africa's biggest and most-loved football clubs, often referred to as The Buccaneers.
The range for the Johannesburg-based club consists of two designs: a 'home' jersey in black, and an 'away' jersey in pistachio green. Both feature the legendary Orlando Pirates skull-and-crossbones logo reimagined in a captivating maze pattern. The jerseys are rounded off with a Thebe Magugu back-neck sign-off and a unique raised crest. Crafted from 100% recycled materials, the jerseys - which are paired with matching shorts and socks - keep athletes cool and dry with cutting-edge innovations including Adidas Aeroready breathable fabric and ClimaLite lightweight fabric that wicks away sweat.
Raised in the South African cities of Kimberley and Johannesburg, Magugu drew on Africa's 'storied past, complex present and imagined future' for the close-to-home Adidas collaboration. 'My brand is all about exploring and bringing to light unique facets of our history and culture, and none has left more of an impact than the legacy of Orlando Pirates, and I am honoured to contribute so significantly to that history,' he says.
The latest alliance between performance sportswear and streetwear showcases the ongoing global fusion of sports and fashion: the iconic football jersey, acting as a creative canvas, effortlessly transitions the wearer from the field to the urban streets, exemplifying the cultural overlap. 'Global sport is a phenomenon that will continue to rise,' Magugu observes. 'It's fascinating to see other industries align uniquely to become a part of it, from music to luxury fashion.'
Thandi Merafe, media and PR manager of Orlando Pirates, acknowledges how a team's fashion is far more than just practical: 'A football jersey stands as a powerful emblem of pride and togetherness, binding Buccaneers from diverse backgrounds into a unified force.'
Orlando Pirates are set to take to the football pitch in the new kit for the first time in their 2023-24 DStv Premiership opener against Stellenbosch FC at Danie Craven Stadium on 5 August 2023. 'As we set forth on a new football season that includes the CAF Champions League, we carry Thebe Magugu's exceptional creation on our shoulders, a true testament to our proudly South African identity and unity,' says Merafe.
This latest Magugu/Adidas collaboration follows a 2022 partnership on a line of sports apparel inspired by African women designed by Magugu, who won the 2019 LVMH Prize for emerging talent – the first African designer to be awarded the prize, the most lucrative in the industry.
Fans can purchase the new jerseys online at piratesshop.co.za and adidas.co.za/pirates, or in-store at selected Adidas stores nationwide.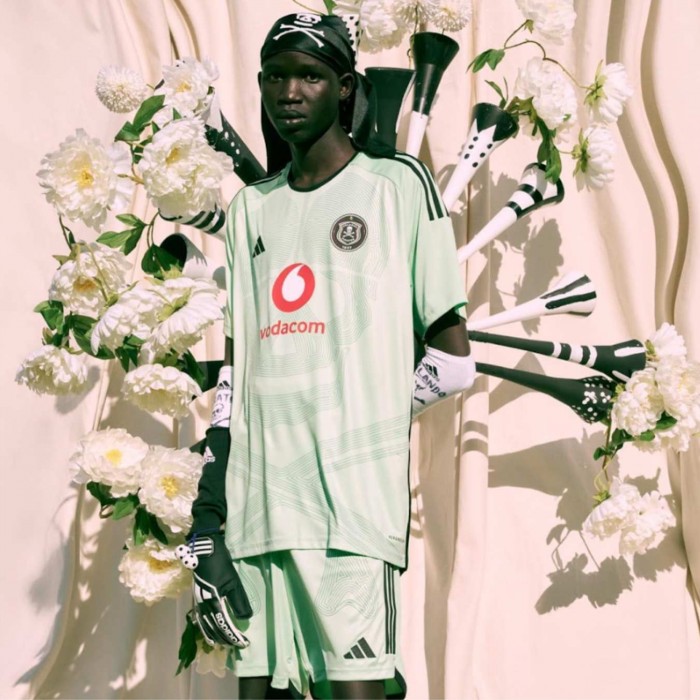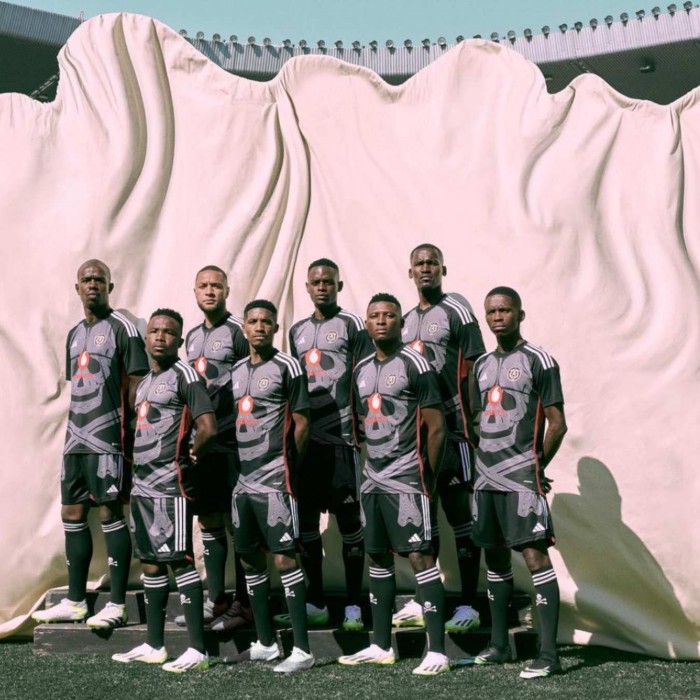 Read more
Photographs: Thebe Magugu x Adidas x Orlando Pirates.