An 'accidental designer', Design Indaba Emerging Creative for 2023 Shamyra Moodley began her professional life as an accountant. Now, the mother, writer and self-taught fashion designer is taking her sustainable designs to the international stage with her label LaaniRaani.
Moodley uses art and fashion to share her narrative about how she sees the world through the lenses of her African, Indian and Irish heritage. Timeless and quirky silhouettes act as a canvas for Moodley to share her passion for colours, textures and items that spark joy.
We spoke to Moodley about her journey to fashion design, showcasing her creations in the United States and Europe, and her ultimate inspiration.
Tell us about the name 'LaaniRaani'.
'Laani' is a colloquial name for 'boss', a person in the know, in South Africa, and 'raani' is the Sanskrit word for 'queen'. 'Laani' also means 'heavenly' or 'rare' in Hawaiian. The name just came to me and, as with most things in my life, if I love it, I roll with it! To me, 'LaaniRaani' is a girl who shows up, gets noticed and makes her own magic along the way.
What led you to take the leap from accountant to fashion designer?
Part of me has always been a fashion designer or creative. Ever since I can remember, I dreamed of creating, and woke up with an insane urge to make something using my hands. I am happiest creating; it's food for my soul.
Creativity is in my DNA: I come from a long line of women who can turn scrap and the crap life has a knack of throwing at us into something beautiful.
People have been telling me for the longest time that I was wasted as an accountant — trust me, I was brilliant at what I did! — but let's just say there's always been a sense that there must be something less conventional out there for Shamyra.
As fate would have it, in 2019 I happened to be sitting across the runway from Suzy Menkes, the editor of Vogue International, at an African Fashion International (AFI) show in Cape Town. She assured me that, in her experience, accountants make excellent fashion creatives, and that she would see my name in lights some day. I thought, 'How the heck did she come to that conclusion after speaking to me for five minutes, with me wearing a skirt made from a sack and a top from an old breastfeeding bra!' By George, good spot, Suzy!
So, there you have it: the story I want to tell with my clothes is, well, my own story! Be yourself, use what you have in your heart and in your hands, say a little prayer and take that leap of faith — ready or not.
What have been some career highlights for you so far?
I could write a book on this one – it turns out I have been ticking off bucket-list items I hadn't actually listed yet.
My international debut with Forbes in Abu Dhabi last year celebrating International Women's Day was simply magical, a reminder of what's good in the world and the army of women fiercely setting out to make change possible. To hear their diverse stories and have them receive and relate to mine using the medium of fashion was exactly what I needed, a signal that I am on the right track. I have always been guided by my heart and this is confirmation to keep doing it. Fashion can often feel fickle, but that was the perfect platform to inject purpose and passion back into fashion.
The year 2022 kicked off to an incredible start for me with the announcement of winning the AFI Young Designer of the Year, representing South Africa in Abu Dhabi and Barbados, debuting at South African Menswear Week, and then winning the Twyg Sustainable Fashion Nicholas Coutts Award to finish the year in style.
This year has taken me on a whirlwind fashion adventure, showcasing in the US and Paris. Selected as one of five Africa Fashion Up laureates, I spent a week in Paris attending masterclasses with some of the biggest global brands in luxury fashion, concluding the week showcasing at the Quai Branly - Jacques Chirac museum in the heart of Paris. And, just when I couldn't imagine things getting better, I bagged the special prize for eco responsibility.
Who serves as your ultimate inspiration?
First and foremost, it's me. I always make clothes that I would want to wear … forever – happy, timeless pieces that evolve with you as you make your way through life, wearable art I want to pass on to my children. I want my pieces to light up a room, to speak for themselves and for you when you need a bit of a pep. I can assure you, they make the best conversation starters!
I make clothes for women who want to spark joy and make a difference in the world – women who show up, conquer, and leave this world a better place than they found it.
What's up next for you in 2023?
Expanding my team. To date, it's just been me and my crafter Thembi Fuma – I do pretty much everything, and it's exhausting.
South Africa has an incredibly high unemployment rate and a shortage of skilled labour — my aim is to change this by providing employment and upskilling opportunities to as many people as possible, while fostering a climate-conscious culture. I want to fill my home studio with more passionate creatives who are happy to go against the grain, and who have a great sense of humour and a drive to turn this thing called fashion on its head, while earning a living.
My next collection always starts from my previous collection. I am the mother of reinvention: there's always a piece screaming for a LaaniRaani makeover filled with colour, texture and quirk!
What are your thoughts on the future of sustainable fashion in South Africa? How do you see it evolving?
Sustainability is all I know, and it's what I have always practised without even knowing the term existed. Every piece is handmade, homemade and unique, using vintage and donated fabric. Every button, every zip and every bead was taken off an old garment and blended into the next art piece. Every scrap off the floor today goes into whatever I will create tomorrow. I take the time to think of how you will wear every piece for many years to come, how it will adapt as seasons change, and how you and your body evolve over the years.
My clients become family; I get to know them and their journey. A little piece of me is there with them on their wedding day, when they take the podium to deliver that speech, take the stage to dance, and on those days they want to feel bloody fabulous. I make clever clothes for clever humans with stories and substance. My people are bloody good people. Some are scientists, entrepreneurs, activists and artists from different walks of life, but with one thing in common: they want to use their privilege to change the world for the better.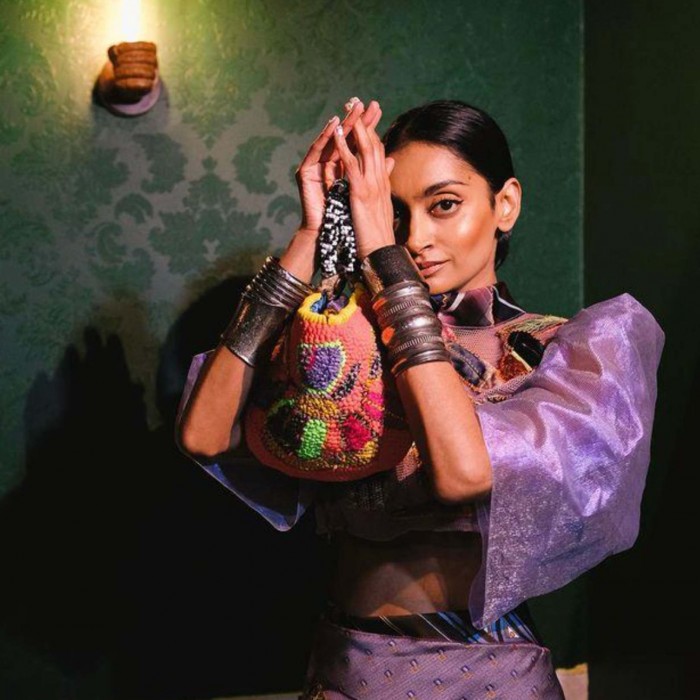 Read more
Photographs: LaaniRaani.