Johannesburg-based creative agency Joe Public prides itself on creating work that not only assists the growth of its clients, but also the growth of South Africa as a whole. Its latest social upliftment project, "Fonts for the Future", started as a fund-raising initiative for Joe Public's CSI initiative, One School at a Time. The non-profit organisation engages with schools across South Africa to improve the level of education in the country – its purpose is to create an educational system that's a shining example to the world. According to a UNISA report in 2012, 20 000 of the 27 000 schools in South Africa are rated as "dysfunctional".
The creative agency's brand design team Shift Joe Public, conceptualised the intiative by asking 200 learners from Forte High School in Soweto what they dream of becoming one day. Responses included a dentist, a graphic designer, a social worker and a human resources manager. Thereafter, each learner was asked to write out the letters of the alphabet which were then scanned, traced and programmed to create 200 new fonts.
All fonts were then grouped into categories that reflected the students' dreams and printed in a limited edition coffee-table book. The book serves as a catalogue of sorts that can be purchased as a collector's item.
Each font has also been uploaded to the "Fonts for the Future" website, where anyone and everyone can view and test each font while getting to know its designer through a series of video clips. All proceeds from the purchased fonts go towards the development of these learners.
Once purchased, the fonts can be used like any other font that has been loaded onto a computer.
"Fonts for the Future" scooped several awards at the 2014 Loeries: silver for Brand Identity & Collateral Design; and three golds for Publication Design – Book, Magazine & Newspaper Design, Campaign Design Mixed-Media Campaign and Design Crafts – Typography.
Chief creative officer Pepe Marais and executive creative director Xolisa Dyeshana of Joe Public will present at Design Indaba Conference, which takes place 25 ­– 27 February.
Watch the Trailer with Pepe Marais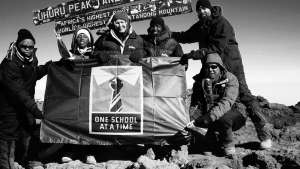 Trailers
• Duration: 00:01:35
•
1 Sep 15