Wesley van Eeden is a former Design Indaba Emerging Creative-turned-independent artist, based in the city of Durban. With experience in digital art and professional illustration, Van Eeden (also known as Resoborg) has revisited his passion for mural painting with Love Imvelo, which is now situated on Station Drive.
We asked Van Eeden about the motivation for Love Imvelo – he described a desire to step away from his studio in pursuit of support for the mural.
"A lot of my time is spent in the studio working on illustrations, graphic design or paintings for clients. However, doing murals is a strong passion of mine and something I'd like to do more, so I approached a few companies to see if they would like to fund this project.
"Luckily I got a good response from those that I approached and with their support, I got the chance to work on a self-realised mural," he said.
Describing the design and symbolism of the mural, Van Eeden said, "The artwork signifies the balance of opposites - there is a repeating pattern in the artwork on the left and if one of these patterns was removed, the balance would be thrown off. The artwork is a subtle communication of the importance of having an environmental conscience."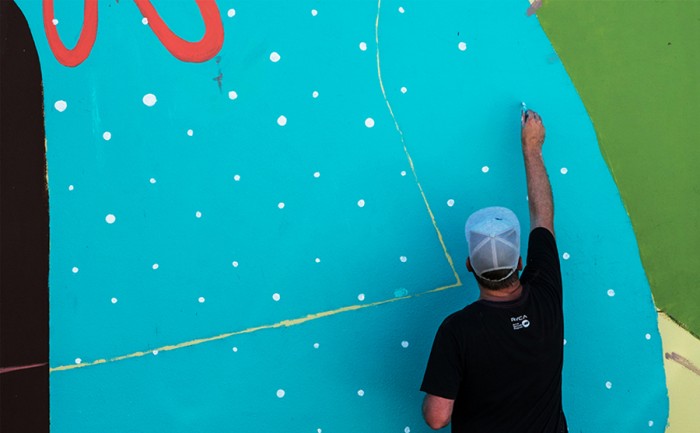 The mural inherits the latter half of its name from the Zulu word "imvelo", which means "environment". Even though Van Eeden gained support to create the mural, the project posed its own set of challenges along the way. Van Eeden described the obstacles that can fall in the way of a mural painting project – perhaps most prominent of which is bad weather.
"We painted this mural in September and October which is the rainy season in Durban. We encountered a couple of rainy days which really slowed us down. Also, the company that we rented a Cherry Picker [elavator platform] from double booked the machine and they wanted to drive away with it on the second day of the project.
Fortunately, a different company sponsored a Cherry Picker for the rest of the project. However, the machine was so big that it took up multiple parking spaces that local tenants in the area needed.
"Painting on the street really hones your skill as an illustrator and life is so much easier behind a computer!" he said.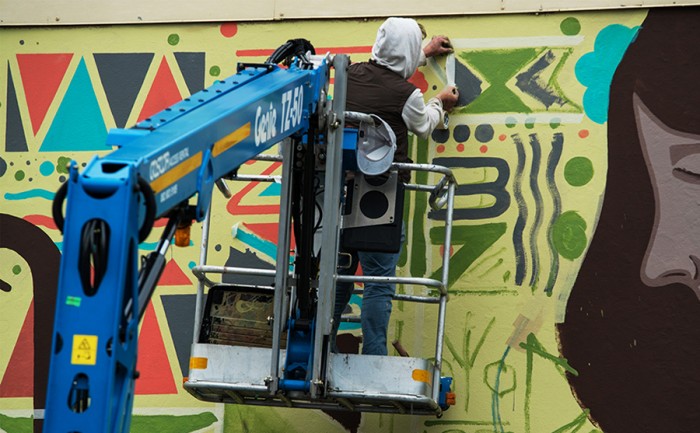 As a successful artist in the city of Durban, Van Eeden has an interesting perspective on the creative communities in South African cities. He said that Durban's own art scene has much room to grow and that being a largely isolated artist influences his work.
"It seriously affects my creative output and its hard to keep pushing one's work or find inspiration when you feel so isolated from the cultural scene. However, this isolation helps forge new ideas and perspective in the work that I do. There are some incredibly talented creative people here but most of my friends leave for bigger cities.
The only way to increase the momentum of a creative community is to have more support from the government, established institutions and fuel for grass roots projects. It's an interesting time as our country as a whole is facing much bigger issues. The way I'd like to use my work now is to help assist with these challenges in South Africa as opposed to creating a cultural scene. I am currently putting together a Durban street mural festival for next year which I hope will help showcase our city's immense talent," said Van Eeden.
Returning to his current brainchild, Love Imvelo, Van Eeden and his colleagues will be unveiling the mural painting today and to coincide with the event, a documentary film screening will be held at The Plant in Station Drive. The short film captured the 2-week creative process behind the mural painting project and can be viewed below.
Van Eeden will also be working with Book Dash later this month, a community-driven project where illustrators and writers come together for a day to produce a children's book that is printed and given to kids for free in South Africa.