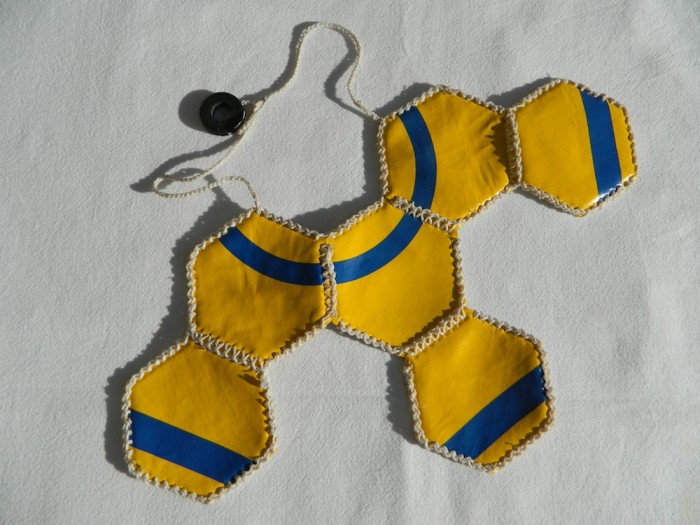 SKOP Medallion neckpiece.
SKOP consists of collaborators Lara Kruger and Roché van den Berg, who share an interest in transforming rejected and seemingly useless objects into cleverly designed and desirable objects.
SKOP (Afrikaans word for "kick") upcycled 1000 reject soccer balls into a dynamic range of functional and decorative interior objects, jewellery and surface designs. They unpick reject soccer balls and re-stitch and crochet the patches into new shape-combinations and patterns.
The neckpieces range from larger more elaborate statement pieces, to smaller ready-to-wear pieces that can be worn alone or layered.
Adopting a playful approach they use eclectic and often contrasting techniques, colours and textures to create objects that celebrate South African multiplicity, vibrancy and pride.
In addition to SKOP's focus on physical design work, the project aims to engage in social design practice by encouraging community involvement and exchanges, and creating opportunities for education, skills development and job creation. This is a multidisciplinary design collaboration that comprises a showcase of SKOP designs, a design workshop for school learners from both Langa and Durbanville, and and a collaborative project between SKOP and designers in Langa.
SKOP was on show at the Africa is Now exhibition at Design Indaba Expo 2014 as part of the "Africa is Transformed" theme that looks at African makers and creators have a singular, make-do approach to materiality, transforming what's at hand into unexpected objects and designs that delight.