Budweiser Europe, in collaboration with advertising agency BETC Paris and creative consultancy Frog Design, has designed an eco-friendly, electricity-free fridge that can keep drinks chilled, enabling local entrepreneurs in countries with compromised electricity systems to sell cold drinks on hot days.
With unbearable heat waves raging around the globe during the summer months, Budweiser and BETC wanted to design a cooler that could supply cold drinks in some of the hottest areas of the world. However, many countries don't have regular and reliable access to electricity, so the team knew they had to build something that could work without it.
The Bud Ground Cooler was inspired by a 40 000-year-old cooling technique used by Egyptians and Indus Valley civilisations that employs the geothermal cooling properties of the ground to capture freshness. To cool without electricity, the Budweiser team placed cylindrical clay pots four metres below the ground, where the air is refreshed by evaporation. And the ultra-performing pots enable double the air circulation, as explained by thermodynamics engineer Babatope Aiku: 'The fresh air below ground is cooled off even more thanks to an air current that descends through a mast that sits 4,5 metres high in a process known as the Venturi effect. Cool air above simply flows down the pipe directly into the ground', chilling beverages to under 8 °C.
In order to make the entire cooling design community-friendly, the mast that captures the air current doubles as an umbrella under which people can sit.
Bud Ground Coolers, which can hold up to 300 drinks that run on a conveyor belt, will first be installed in Morocco, but the company plans to bring more of its electricity-free refrigerators to regions with power shortages to support communities in need.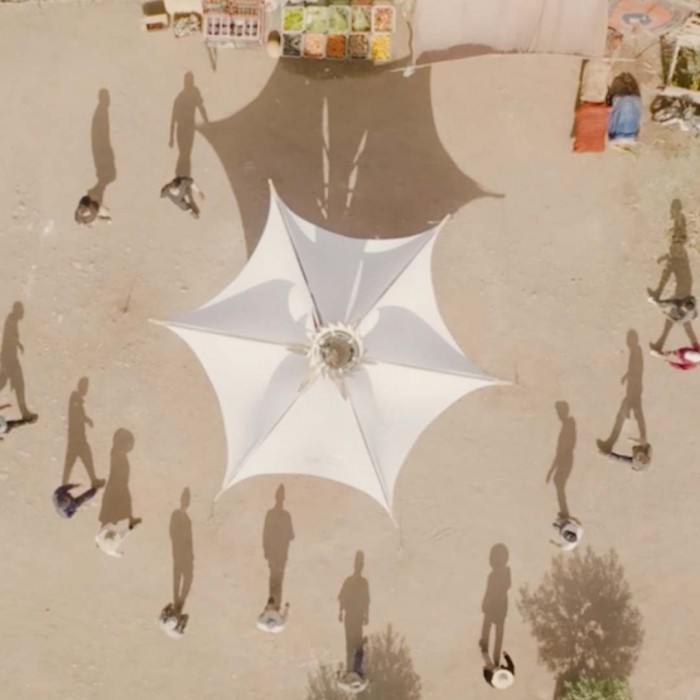 Read more
Photographs: Budweiser, BETC Paris, Frog Design.