Wikipedia, the free knowledge encyclopedia has come under scrutiny for the lack of diversity within its editors and contributors pool. But, speaking to Design Indaba at Wikimania, Wikipedia's annual conference, Founder Jimmy Wales says this is changing.
"There definitely isn't enough diversity in Wikipedia at the moment. One of the things that we know is that the editors are largely male, more affluent. People always say it's all white male but they've never met the Chinese wikipedians, obviously," the tech mogul says jokingly.
The Conference, which took place under the theme Bridging knowledge gaps—the ubuntu way forward, held dozens of plenary sessions strategising around the ways in which Wikipedia – already the fifth most popular website in the world – plans to expand and grow. This, says Wales, is as much a political issue as it is a practical one.
"The vision of Wikipedia is to imagine a world in which every single person on the planet is given free access to the sum of all human knowledge," he says. "So we've always been inherently global, multilingual and [we have] a desire to be in every language and every culture, on every continent and in every place. So for us it's quite natural."
What the platform hopes to address is the skewed demographics of those who collect, monitor and disseminate knowledge on the internet. Surveys indicate that only 10 per cent of Wikipedia editors identify as female and only 20 per cent of editors come from the global south (Asia, Africa and Latin America). In general, issues covering Western popular culture, notable Westerners, science, and technology are extensively covered but non-English versions of the platform are not as meaty in comparison.
These numbers are a reflection of Wikipedia's beginning – it was founded in America in 2001. But as the head of South Africa's Wikipedia Chapter Doug Scott explained in an earlier article, the current demographics are not a reflection of the people who use the internet in 2018.
For Wales, there's no quick fix but there are things the platform can do to make itself more accessible. The first is to make it as easy as possible to add, contribute and edit on Wikipedia using an easy to use visual interface, which he says will evolve over time.
The second is to just start writing. "We think, when we say we want more African participation, we want it in English to get a more African perspective there; to get more and more details that have just been neglected so far. But it can be quite… English Wikipedia is quite mature and it has a lot of procedures and things like that. What I love about some of the smaller and more local languages is that it's so much easier just to get started."
Making an example of Zulu, which now has 1000 Wikipedia articles, Wales elaborates on how knowledge in a local language can grow as its community grows:
"You can be the first person in a Zulu language and write 'Mars is a planet' and just hit save, right? That would never pass muster in a mature Wikipedia because it's not complete enough. But that's the way we started Wikipedia, just 'Mars is a planet' and then other people will go, 'oh, right and it's the third planet."
"Suddenly, something that you started that was very small, you worked together with your friends and created something that's really amazing that you could have never done on your own. And that spirit of Wikipedia is really the most accessible in the languages that we're not big in yet."
"So I think, well, if I spoke two languages, I would definitely work on the smaller one. I think it would be more fun."
It's a push to place less emphasis on English as the dominant language in knowledge gathering. Some other milestones celebrated at the closing of the conference included 100 000 articles in Welsh Wikipedia. Given that the number of people who speak Welsh as their main language is roughly under 9000 globally, it seems like a wasted effort.
"The interesting thing about Welsh is that much like some other languages that are successful [on Wikipedia], there is an argument that no one actually needs a Welsh encyclopedia," he said at the closing of the conference, adding that there are virtually no people on the globe who speak only Welsh.
"But that doesn't matter. What matters is that you have knowledge in your mother tongue. There are many communities like this where yes, people speak a more regional language but it's their language that matters."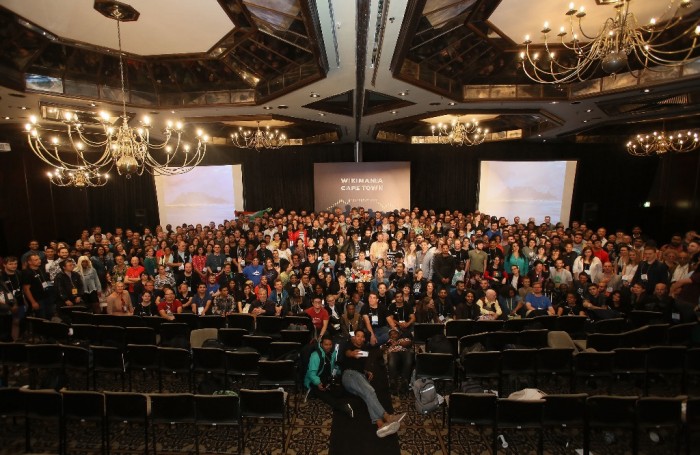 Some more notable outcomes of the conference include the announcement that as part of South Africa's centennial celebrations to commemorate the birth of Nelson Mandela, Wikimedia South Africa will partner with the Nelson Mandela Foundation to make the inspirational writings of Madiba's 1962 diary available to the world on Wikimedia Commons and Wikisource.
In addition, the Wikimedia Foundation also announced a partnership with Kiwix, the free and open-source software solution that will enable offline access to educational content, to expand and improve access to Wikipedia and other Wikimedia projects globally. The partnership will include a $275,000 contribution to Kiwix to further enhance offline access to Wikipedia in parts of the world where consistent, affordable internet connectivity presents a significant barrier to accessing Wikipedia.
Design Indaba was an official media partner to Wikimania 2018 and provided 20 scholarships to creatives in the city of Cape Town to attend the event in an effort to increase the amount of designers who are actively adding their knowledge to the world's biggest encyclopedia. Contact the South African Chapter of Wikipedia to find out how you can become an editor.
Read Next:
Wikipedia's Cape Town conference tackles the issue of diversity
Preserving Mexico's linguistic diversity
How the repeal of net neutrality will affect innovation