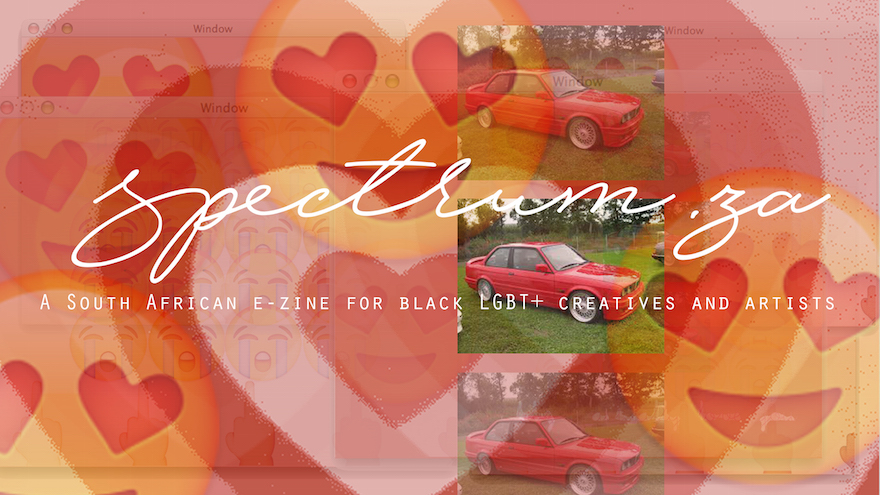 This week the very first issue of e-zine, Spectrum.za went live. A new publication featuring content specifically developed by young, black LGBT+ artists and creatives in South Africa. Aware of the monolithic light this community is often viewed through, the zine's creators wanted to counter this in some way. With Spectrum.za, they're providing a kind of media representation severely lacking in traditional publishing.
"The idea for the zine came almost a year ago with the realisation that a lot of young, black LGBT+ creatives were doing really important work," says Tiger Maremela, the zine's founder and designer. "I wanted to create and curate a space where we could document and treasure this work on a single platform."
"There's already a world of people trying to write or appropriate our stories, and fucking up very badly in the process," adds copy editor Wairimũ Murĩithi. "So we need to share our stories to give each other life -- the will to wake up, to do our work, to dance or fight or love or study -- when they keep trying to take it away from us. Overhauling a system means we're taking over the entire process, turning it on its head and showing ourselves the ways it can be done."
Named to reflect their vision of highlighting and amplifying voices from a spectrum of identities in post-apartheid South Africa – a spectrum that Maremela explains deals with the intersections of numerous identities – the first issue's theme is #URLbantwana. Maremela, intrigued by how South Africans interact with the internet – as a (sometimes violent) space, as a community, as a resource, and as a medium – decided to make it the focus of their first edition.
"Half of the country is thought to have access to the internet, and all these people have a different relationship with it," they say. "The content however, doesn't necessarily explicitly make mention of this to reflect our relationships with the internet, and living in a networked society."
The first issue of Spectrum is reflective of the LGBT+ community in the sense that it is rich in variety. There's a piece by Lelo Macheke which revisits the #IAmStellenbosch campaign – a response to the 2015 Luister documentary that caused a stir online – and a piece on transmisogynistic beauty standards inspired by Glow Makatsi's experience with vlogging and voice training. It even features a music mix compiled by artist PHATSTOKI cheekily called 'Mix for Pomp'.
Besides their plans to produce more zines, the team behind Spectrum.za is hoping that projects like their's will help further the conversation around LGBT+ issues in South Africa; issues that include inclusive sex education, gender identity, access and mobility as LGBT+ youths, and erasure of transgender people. And if you're considering submitting for the next issue, the Spectrum.za team has some words of advice:
"Trust your voice and take a chance on your truths," suggests copy editor, Mpumelelo Msomi. "Often writing is coming out of experiences, feelings and thoughts. It can definitely be daunting but integrity and authenticity can be liberating. Submit whatever you feel will uplift and inform the community."
"Do it," says Murĩithi "Or, if you're anxious about doing it now, there'll be another issue, so do it then. Spectrum.za magazine is a collaborative labour, and there's no point at which you won't have support, feedback, some really valuable lessons and some lolz. There's so much space for play in it, there's no reason we shouldn't fuck shit up bbz."
Check out the first issue here and be sure to follow them on Facebook and Twitter.